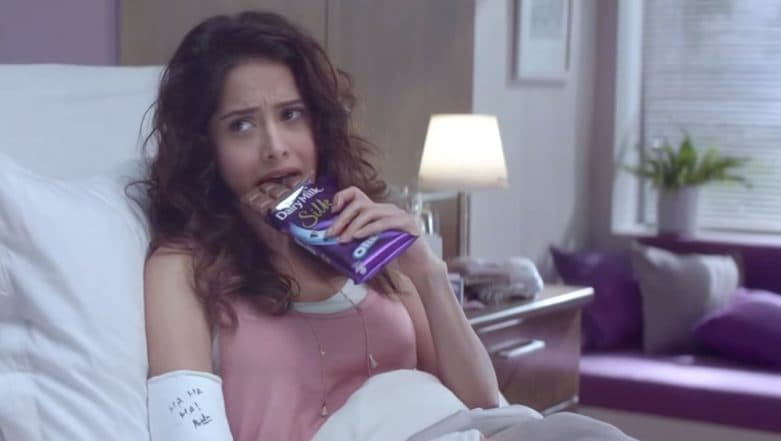 A Valentine's Day celebration is almost incomplete without chocolates. The first gift that comes to your mind when you think of your loved ones is chocolates. The best quality about chocolates is that it can bring a smile to the saddest of faces or light up the gloomiest of days. Chocolate day is celebrated on February 9. Some of the cutest moments of Television have been chocolate commercials. Popular faces such as Disha Patani have appeared in chocolate ads. Here are the romantic advertisements that will make you want to share chocolate with your loved ones now. Valentine Week 2019 Calendar PDF Download Online: List With Dates of Valentine's Day, Rose Day, Chocolate Day, Hug Day, Kiss Day to Celebrate the Festival of Love!
1. Disha Patani's Cute Expressions In The Bubbly Ad Will Remind You Of Your Love
One of the most loved ads of Cadbury Dairy Milk Bubbly was the one starring Disha Patani. The actress' cute expressions are all that you need to see to put a smile on your face. Without any dialogues, the chemistry between Disha and the boy are lovely.
2. Give Your Valentine A Chocolate Heart On Chocolate Day
If you've seen the latest Chocolate ad, you must have seen the lovely idea they have come up with that allows you to pop a heart-shaped piece from the chocolate bar. The ad shows a shy boy trying to secretly give his girlfriend chocolate. The commercial shows a relatable situation for real-life couples. Chocolate Day 2019: 5 DIY Chocolate Recipes That You Can Whip Up at Home This Valentine Week 
3. Nushrat Bharucha's Sweet Indulgence With An Injury Is  A Lovely Moment
In this ad, Sonu Ke Titu Ki Sweety actress Nushrat Bharucha is seen in a hospital with a fractured hand with her boyfriend. She cutely pranks him whilst he tries to write a message on her plaster by biting into a bar of crunchy chocolate, giving him the impression that he tore the plaster. The moment is extremely adorable and is sure to remind you of your loved one.
4. Warina Hussain's  Cadbury  Ad With The 'Kiss Me' Song Is Mushy Romance With Cute Expressions
Not long ago before her Bollywood debut, Loveyatri actress was a part of a chocolate ad for Cadbury. The commercial with the song 'Kiss Me' which has become a popular number was all about romance without words. Warina and the male model in the ad are seen exchanging romantic looks as they bite into the chocolate bars.
5. This Chocolate Ad Is A Pure High-School  Romance Goals 
Yet another ad that has to be on this list is this cute commercial where two young models are seen puppeteering dolls and sharing chocolate. Whilst doing so, we how the cute puppets are seen swinging holding hands. It is a lovely moment and will put a smile to your face.
We hope you enjoyed watching these romantic ads and are in the mood for a chocolate to share with your significant other.  This is a special time so bring out those fancy chocolates and gift them to your valentine.