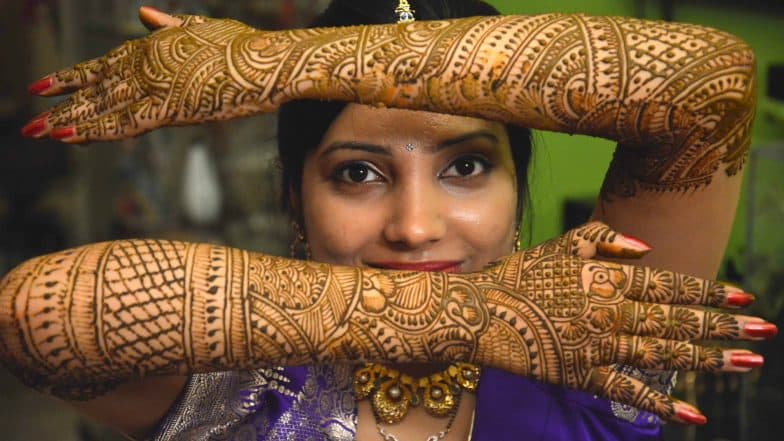 Girls and women do not need an occasion to apply mehndi and the craze for this awesome body art increases during the festive season. One such big festival is Hartalika Teej. One of the three main types of Teej (a generic name for Hindu festivals celebrated by married women in monsoons), Hartalika Teej 2019 falls on September 1. Vrat tithi (date to observe fast) is varying with some women observing Hartalika Teej Vrat on September 1, while others on September 2 as per shubh muhurat. However, the festival preparations have begun in full swing. And mehndi (also spelt as Mehandi) or henna designs on hands and feet is a must on Teej. In this article, we will look at a collection of easy-to-recreate different types of mehndi designs such as Indian mehndi design, Arabic mehndi design, Moroccan mehndi pattern, Indo-Arabic mehndi design, and more. You can also check out simple and minimal mehndi designs for the back of the hand and fingers. There are videos and photos for each type of mehndi design. It will help you learn and recreate them easily. Teej 2019 Latest Mehndi Designs: New and Easy Henna Mehandi Patterns With Pictures and Video Tutorials to Celebrate Hindu Festival.
Applying mehndi is part and parcel of almost all Indian festivals. It becomes more important during festivals such as Teej, Gangaur and Karwa Chauth that celebrates marital bliss. Mehndi is considered highly auspicious. Its colour represents love, affection and happiness in a couple's relationship. Women make sure to get the most beautiful mehndi designs on their hands. They go for full hand mehndi designs, which run up till their elbows. Indian mehndi pattern includes intricate designs and gorgeous motifs such as flowers, dotted lines, circles, peacock shapes, leaves, filled circles and hearts. Full hand Indian mehndi designs also look incredible.
However, if you cannot sit patiently for hours, then you can go for Arabic mehndi designs. Unlike Indian mehndi patterns, they do not boast of minutely done designs. They follow a free-flowing pattern. It also includes floral motifs but is broader and less complex in comparison to Indian designs. There will be vines and dots, and you can also include additives such as colourful glitter to make your mehandi design fancier. Some of the gorgeous Arabic mehndi designs will have floral patterns, twin flowers, latticework or crisscrossed pattern, flowers within a flower, rose motifs, lace and latticed patterns, nets, jaali, and more flowers. Easy Mehndi Designs for Teej 2019: Latest Arabic Mehandi Patterns and Simple Indian Henna Designs to Apply on Teej.
Full Hand Indian Mehndi Design
View this post on Instagram
Latest Full Hand Indian Mehndi Design
Full Hand Arabic Mehndi Design
View this post on Instagram
Simple Arabic Henna Mehndi Designs-Step by Step
Mehandi Pattern to Try on Teej
View this post on Instagram
Teej celebrations are not only limited to married women but also for the unmarried ones who are seeking a life partner. Now, they mostly opt for minimal mehndi designs. Many even prefer to apply mehndi on their palms. They like to go for latest mehndi patterns just for the back of the hand and fingers. They can check out designs like geometric framework, arches, floral and romantic vines, leafy lattice, dome motif, lotus patterns and more below.
Beautiful Mehndi Designs For Fingers
View this post on Instagram
Gorgeous and Simple Mehndi Design For Back Hand
View this post on Instagram
Easy Mehndi Design For Teej
View this post on Instagram
Back Hand Mehndi Design For Teej
View this post on Instagram
Teej is observed by women across the country, mainly in North Indian states like Punjab, Haryana, Chandigarh, Delhi, Rajasthan, Uttar Pradesh, Madhya Pradesh, Uttarakhand, Bihar and Jharkhand. As per Hindu mythology,  the divine couple Shiva and Parvati is an ultimate inspiration for a successful marriage and family life. To seek their blessings, women observe fast and pray to the almighty for marital bliss. Apart from prayers and fasts, Teej is also the time of the year when women get together and enjoy the colourful festival. We wish all the ladies celebrating Hartalika Teej, a very Happy Teej 2019.