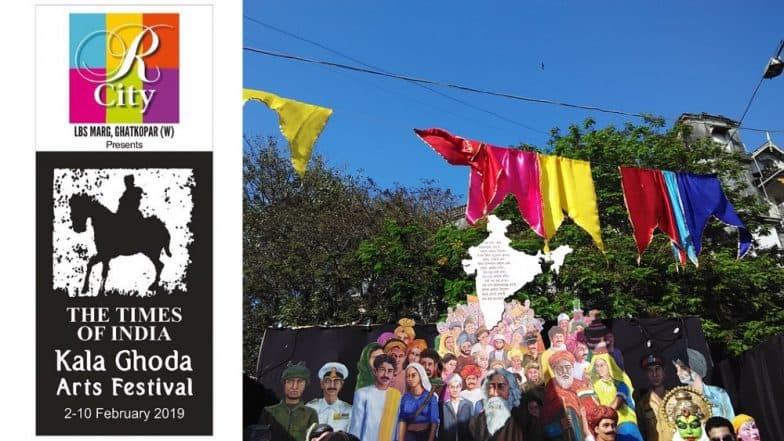 Kala Ghoda Arts Festival which is annually held in Mumbai has arrived. This year, the event will be held from February 2 to 10, 2019, in the popular Kala Ghoda grounds. 2019 marks the 20th year of the Kala Ghoda event which is a meeting point of arts from various walks of life. The art festival often highlights different important aspects of the city and its cosmopolitan nature. As Mumbaikars excitedly wait for the festival to begin, we bring to you full schedule of the nine-day event. Surajkund International Mela 2019: Know All About the World's Biggest Craft Fair Set to Begin From Feb 1.
While the installations can be witnessed at Kala Ghoda, different music, theatrical and literature events will be held in various parts of Mumbai. Kala Ghoda Arts Festival 2019 will also be celebrating the 150th birth anniversary of Mahatma Gandhi by screening various movies and hosting exhibitions showcasing values and principles of his life.
Here are some of our picks from the upcoming Kala Ghoda Arts Festival 2019:
1. Comedy: On National Comedy Day,  stand-up comics like Raunaq Rajani,
Agrima Joshua, Surbhi Bagga, Vaibhav Sethia, Ashutosh Gupta, Aayush Rathi
Shashwat Maheshwari and Anirban Dasgupta will be performing at the Irish House.
Venue, Date and Time: Irish House, February 4 from 4pm-6pm
2. Film: Late actor Om Puri's last film, Actor in Law, will be screened along with a talk by Nandita Puri who will explore his life and career over the years.
Venue, Date and Time: Visitor's Centre, February 3 at 2 pm
3. Film: 'The Last Irani Chai' a film on honouring the surviving spirit of the Irani chai shops in Mumbai will be screened after a food walk.
Venue, Date and Time: Visitor's Centre, February 9 at 12.30pm
4. Music: A performance of classical ragas by the renowned flautist and Padma Vibhushan award winner Pt. Hariprasad Chaurasia along with his students.
Venue, Date and Time: Cross Maidan, February 4 at 8.30pm
5. Talk: Uma Chakravarti, Kalpana Sharma and Varsha Ayyar will speak on the interface between gender and caste.
Venue, Date and Time: DSL Garden, February 6 at 8 pm
6. Heritage Walk: Dockyard Street Walk - A walk along the periphery of the city's first dockyard that created a legacy of shipbuilders and gave birth to the Indian Navy.
Venue, Date and Time: February 2, 9:30 am-11:00 am
7. Oval Maidan Walk- Discover the contributions of leading citizens - whom we today remember only as statues - in the city's growth, and marvel at the grandeur of the majestic institutions in a walk around the Oval Maidan.
Venue, Date and Time: February 3, 4:30 pm-6:00 pm
8. Literature: City Connections: Kala Ghoda Arts Festival joins hands with
ShethePeople.TV for this session on women in conflict zones: Rashmi Saksena, Teresa Rehman in conversation with Kiran.
Venue, Date and Time: DSL Garden, February 7, 8:45 pm-10:00 pm
9. Theatre: Drama Queen (English) by AGP World - A solo performance by Suchitra Krishnamoorthi, Drama Queen is an irresistibly honest biography that makes you laugh, cry and look at the modern Indian woman in a whole new
light.
Venue, Date and Time: Horniman Circle Gardens, February 2, 7:30 pm-8:45 pm
10. Theatre: Ghalib (Hindustani) by Storia Senza Storia - A sincere effort to play out the life of Ghalib and his poetry to find deeper hidden meanings.
Venue, Date and Time: February 5, NGMA 8:00 pm -9:10 pm
11. Urban Moments: Writing the City - A look at the city's character, which resonates with everyone who has ever lived in a city. Writer and editor Arpita Das Rebeiro discusses these urban moments with Madhura Lohokare, Sarnath Banerjee, and Kaiwan Mehta.
Venue, Date and Time: February 7, 7:15 pm - 8:15 pm
12. Gandhiji, his Life and Legacy: Celebrating 150 years of Gandhiji                Venue, Date and Time: Jehangir Art Gallery, February 5-11, 11-7pm
13. Life Lessons by Arundhati Bhattacharya: A look into lessons learnt during the journey at SBI, culminating into becoming the first
woman chairman of the largest bank in India.
Venue, Date and Time: BNHS Auditorium, February 3, 12-2 pm.
Venue of the art installations:
V. B. Gandhi Marg,
Fort, Mumbai, 400023
Maharashtra
The easiest way to reach Kala Ghoda if you are taking the Mumbai local train is by getting down at Mumbai CSMT (Central line) or Churchgate (Western line). You can easily find cabs outside the railway stations that will drop you right outside the festival ground. Walking upto the event may take 15-20 minutes. However, the venue of the events mentioned above is not the same. You can refer to the address mentioned in the list for the same. Check the entire PDF format of Kala Ghoda Arts Festival 2019 schedule online with dates and events here.