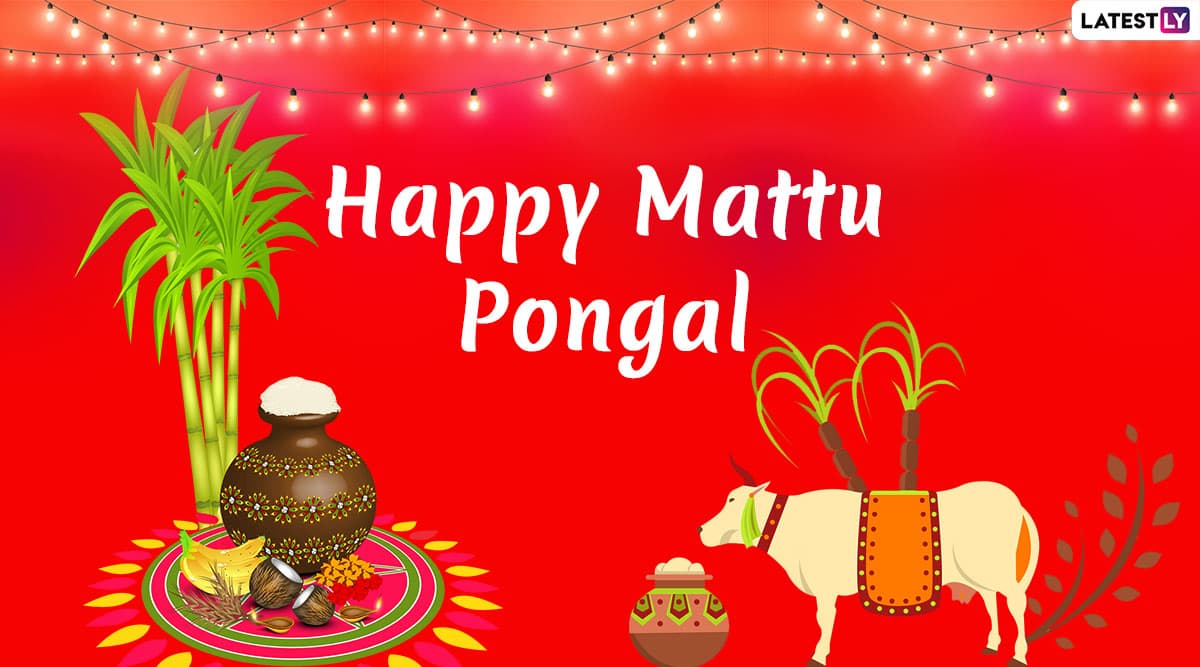 Winter is almost over, and the array of a winter festival is here. People in Tamil Nadu are all set to celebrate the annual winter-harvest festival Pongal. The four-day festival begins today (January 14), but the main day of the festival was Thai Pongal on January 15, 2020. Another important day during the festivities is Mattu Pongal, celebrated on the third day of the festival. It is called Kanuma in the state of Andhra Pradesh. An integral part of Pongal celebration is sending Happy Pongal wishes in Tamil and English, Pongal 2020 messages, Pongal Nalvazhthukkal WhatsApp Stickers and Facebook Status Pictures to our friends and family. We will look at a collection of Mattu Pongal images, HD wallpapers, Kanuma wishes, Kanuma 2020 greetings, Mattu Pongal 2020 greetings and a lot more. Happy Kanuma 2020 Messages in Telugu & Mattu Pongal Images: WhatsApp Stickers, Makar Sankranti Greetings, Quotes, SMS And Wishes to Celebrate This Andhra Pradesh Festival.
Pongal marks the end of the winter harvest season and people bring in this festival with traditional sweet and savoury rice delicacies called Pongal. The four-day celebrations begin with Bhogi, a day where you get rid of the old things that we no longer have a use for in our lives. This festival starts in the evening, and people throw all their useless things into the bonfire, as a way of getting a fresh start. This is followed by Thai Pongal celebration on the next morning.
Thai Pongal is the most important part of these festivities where families come together, dressed in new and festive attire and offer their thanks to the gods for a bountiful harvest. Sugarcane, which is one of the main cash crops in winter farming is decorated and revered, and people prepare delicious rice treats that are simmered just enough to overflow the vessel, tying in the name of this festival Pongal (overflow). As we prepare to celebrate Pongal 2020 here are some Thai Pongal Nalvazhthukkal wishes, Happy Pongal messages, Pongal WhatsApp Stickers and Facebook status pictures to wish your friends and family with. Happy Pongal 2020 Greetings & Images: Mattu Pongal WhatsApp Stickers, Hike GIF Messages, SMS and Quotes to Celebrate Tamil Nadu Harvest Festival.
After the grand celebrations of Thai Pongal, the festivities in Tamil Nadu continue on the next two days. Mattu Pongal is the festival where we rever the cattle that play a significant role in every farmer's life. Mattu Pongal is dedicated to the cattle, especially cows that is seen as the holy mother in Hinduism. People worship cows, as they provide milk and ultimate nourishment to those consuming milk and other products. This day also marks the controversial Jallikattu competition.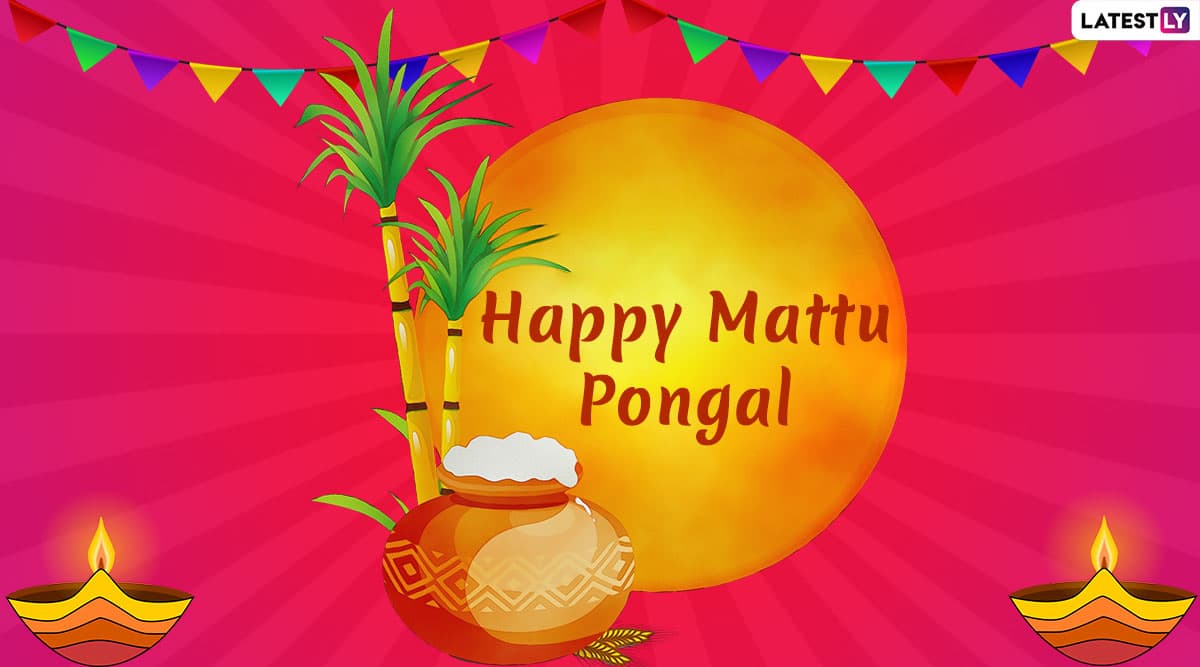 WhatsApp Message Reads: May Good Luck Enter Your Home and Success Touch Your Feet. May Happiness Overflow on the Auspicious Occasion of Pongal. Happy Mattu Pongal 2020.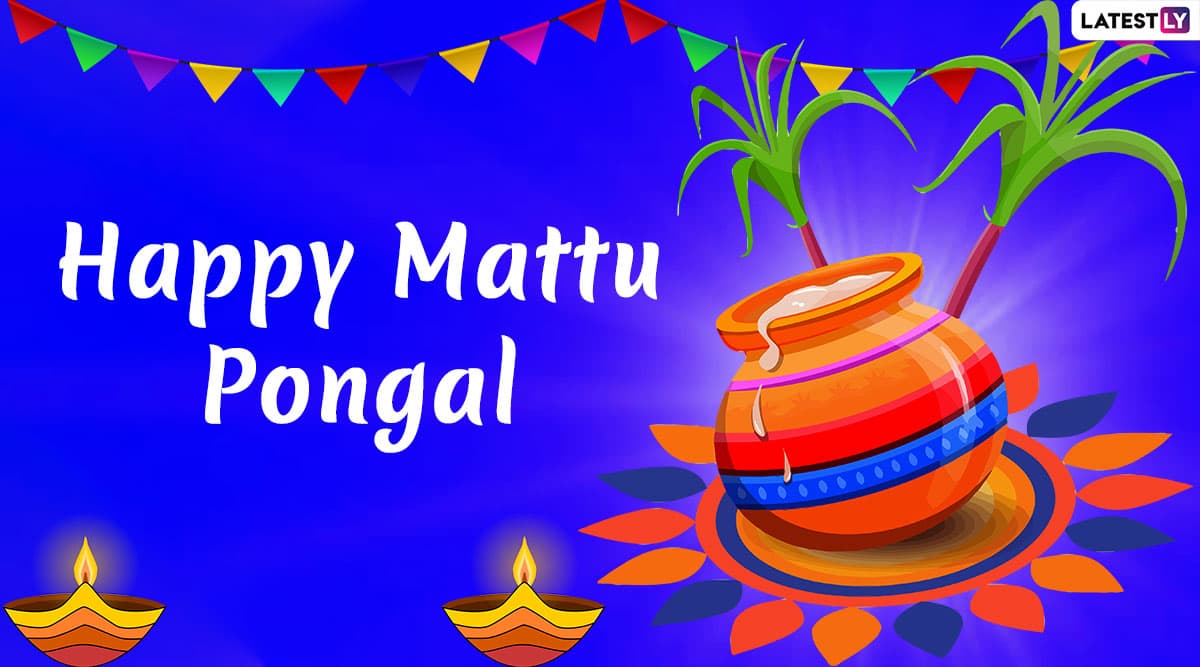 WhatsApp Message Reads: Rejoice in the Charm of Tradition and Celebrations. Have a Happy and Joyous Pongal!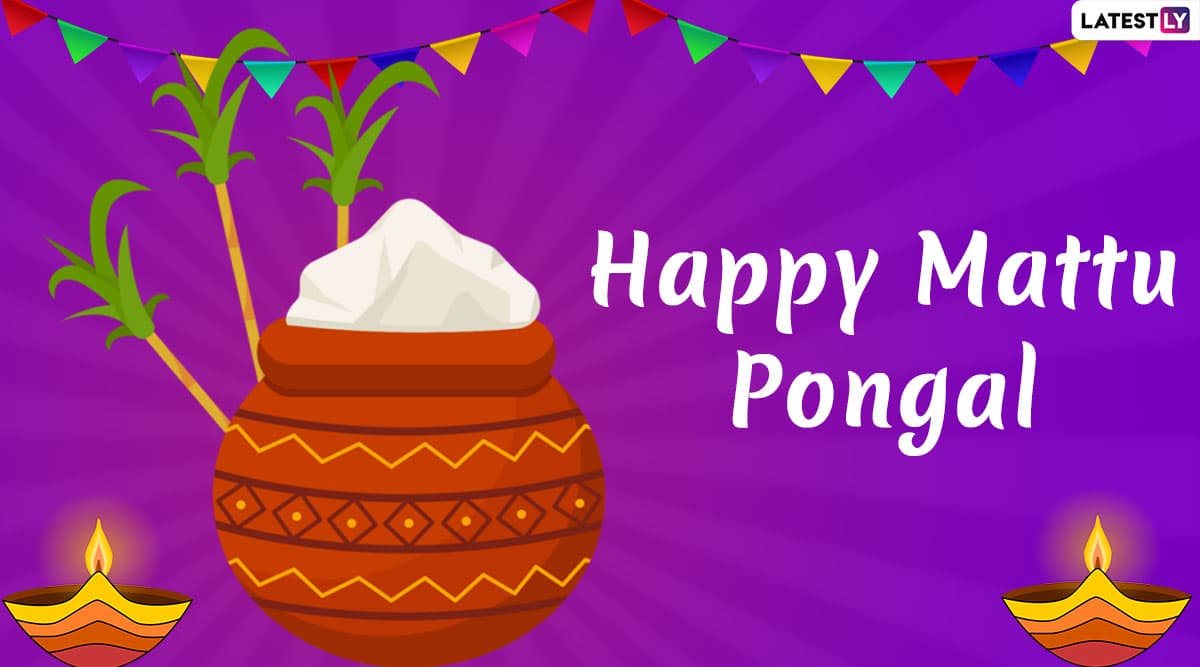 WhatsApp Message Reads: Let the Warmth of the Auspicious Festival of Pongal Fill Your Home With Joy. Have a Wonderful Pongal.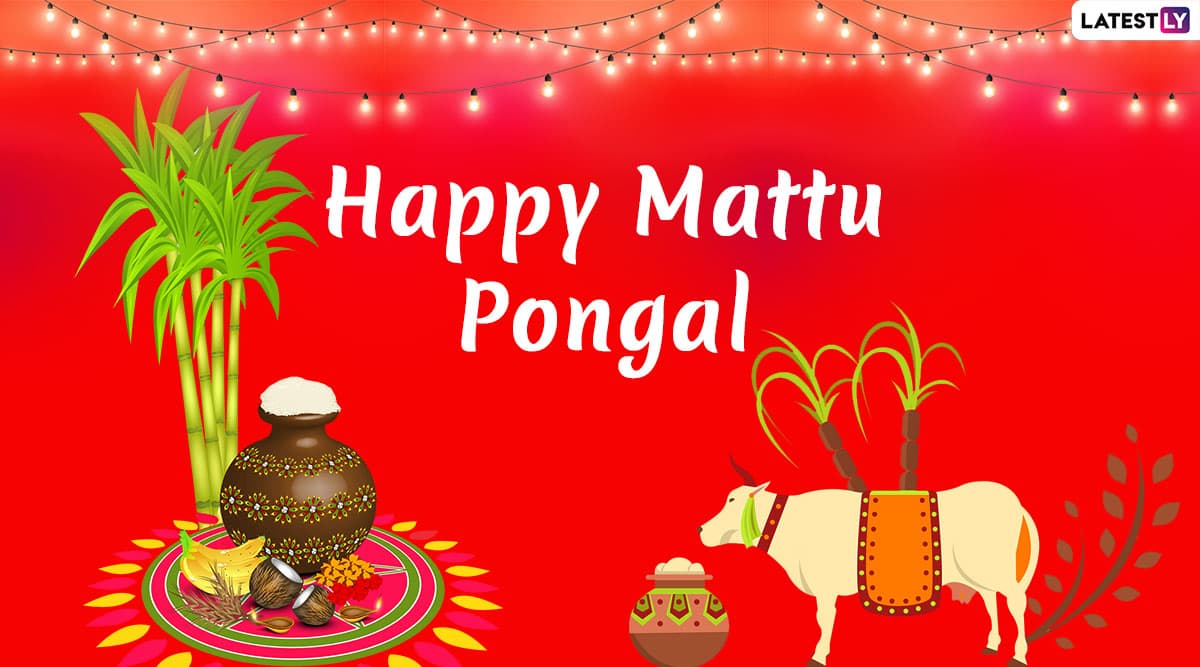 WhatsApp Message Reads: Happy Pongal. With Great Devotion, Fervour and Gaiety, My Warm Wishes to You and Your Family.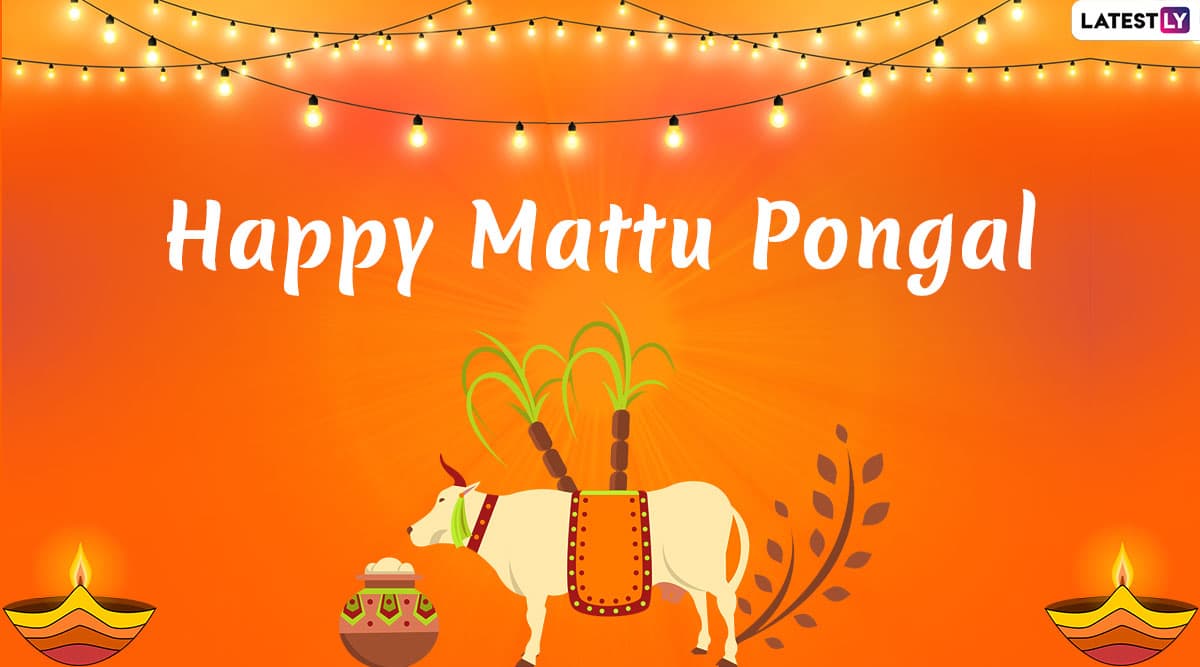 WhatsApp Message Reads: Happy Pongal to All! We Thank Sun for Burning Himself to Save Us. We Thank Plants Sacrificing Their Life for Us. And We Thank All the Creatures Helping Us to Live in This World for Some Time.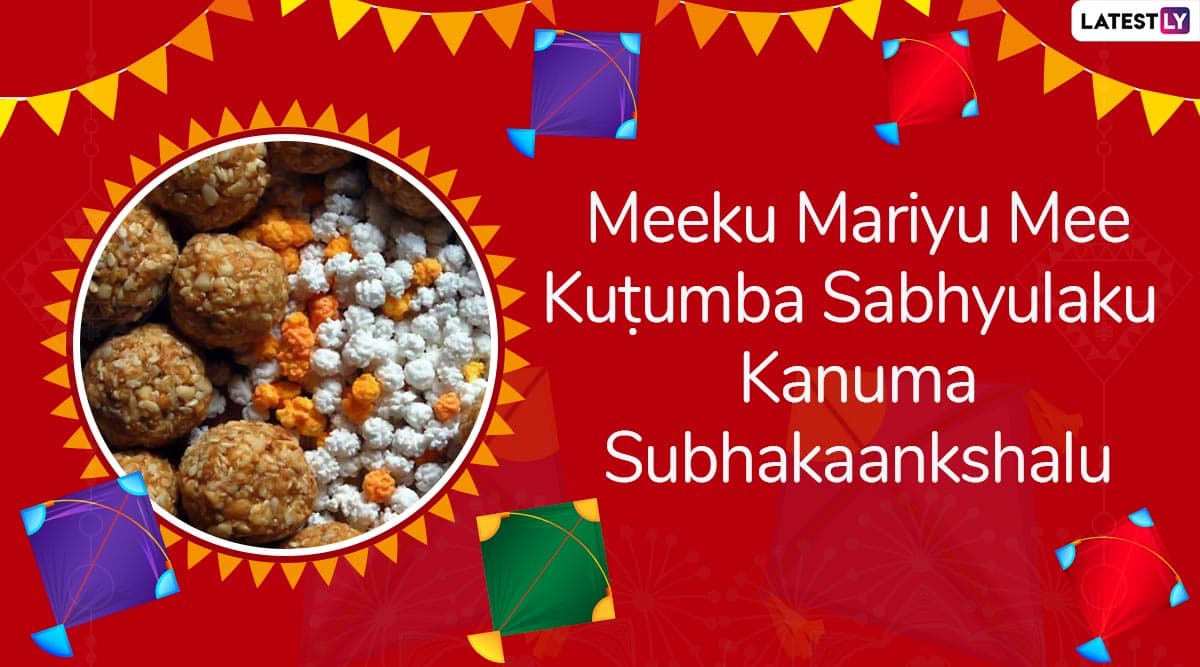 WhatsApp Message Reads: Meeku Mariyu Mee Kuṭumba Sabhyulaku, Kanuma Subhakaankshalu!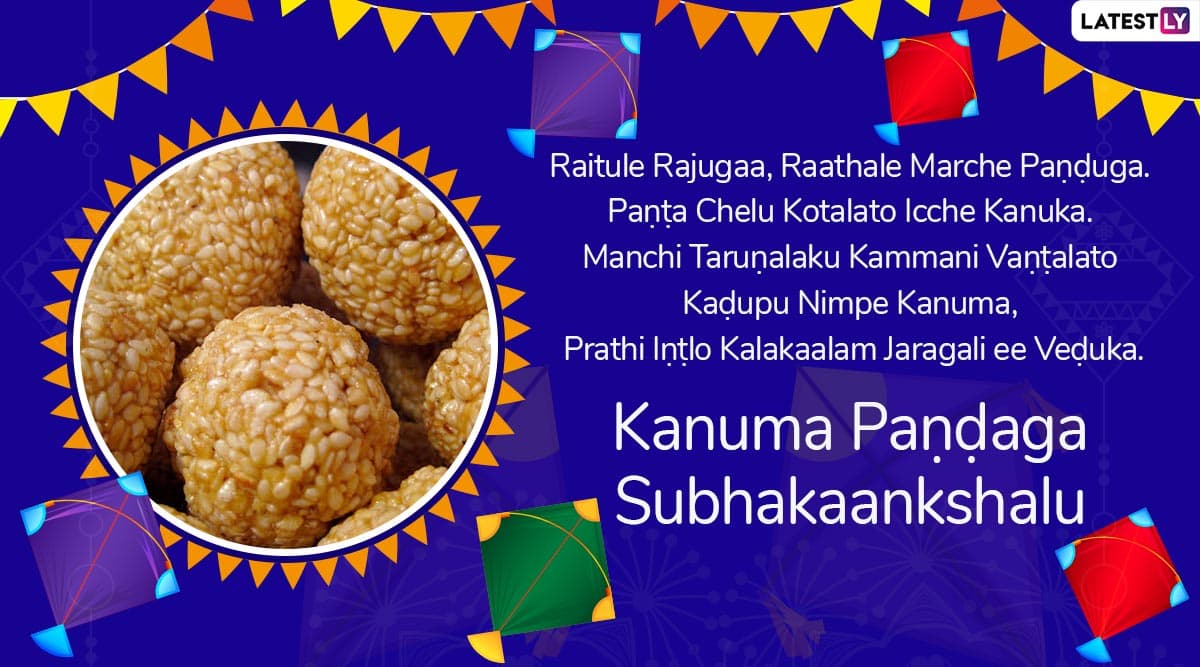 WhatsApp Message Reads: Raitule Rajugaa, Raathale Marche Paṇḍuga. Paṇṭa Chelu Kotalato Icche Kanuka. Manchi Taruṇalaku Kammani Vaṇṭalato Kaḍupu Nimpe Kanuma, Prathi Iṇṭlo Kalakaalam Jaragali ee Veḍuka. Kanuma Paṇḍaga Subhakaankshalu.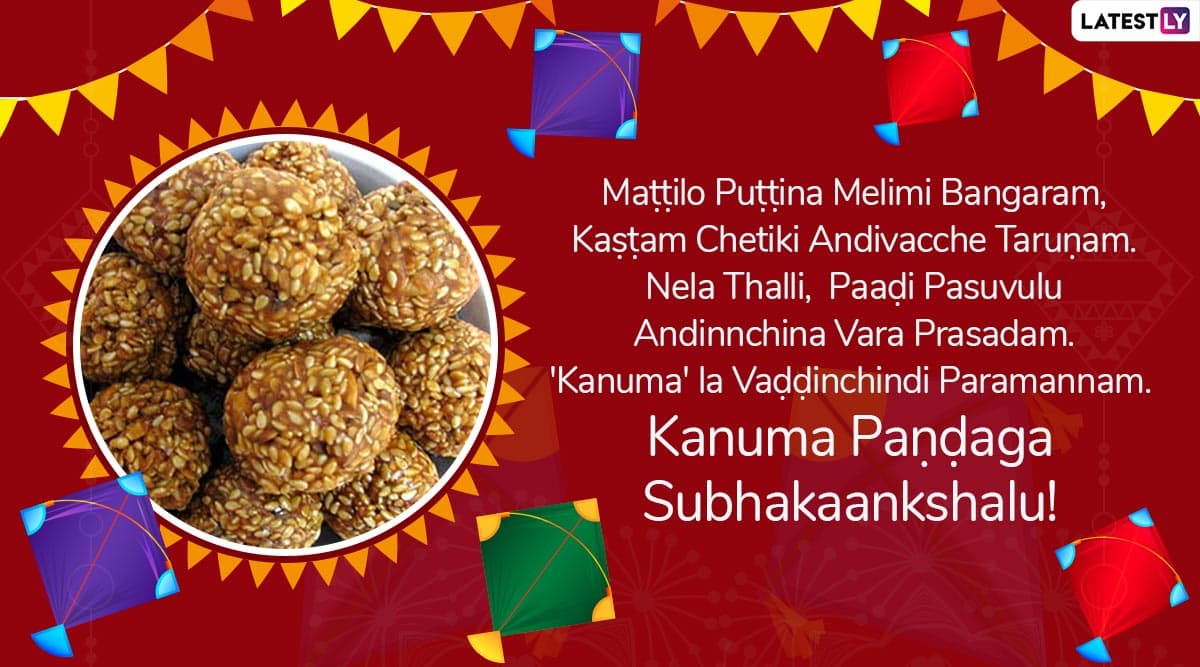 WhatsApp Message Reads: Maṭṭilo Puṭṭina Melimi Bangaram, Kaṣṭam Chetiki Andivacche Taruṇam. Nela Thalli, Paaḍi Pasuvulu Andinnchina Vara Prasadam. 'Kanuma' la Vaḍḍinchindi Paramannam. Kanuma Paṇḍaga Subhakaankshalu!
And the last day of Pongal is Kaanum Pongal where people pray for the well being of their family. We hope that your Pongal is filled with love and happiness and your year overflows with all the prosperity. Happy Pongal!