The day has finally arrived and how. Your and our mobile phones are buzzing with 'Shubh Dhanteras,' 'Happy Dhanteras 2018,' 'Happy and Safe Diwali 2018 in Advance' messages and SMSes. Along with lovely quotes, wishes and greetings, the new sparkling WhatsApp stickers for Diwali are making everyone smile. The first day of Diwali or Deepavali, Dhanteras is celebrated on November 5, Monday and people could not be more excited. We will be buying gold, silver or any other metal as it is a mark of good luck and prosperity. And, two days after Dhanteras, all of us will be welcoming Goddess Lakshmi and perform Lakshmi Puja on November 7, 2018. For today's celebrations, we bring to you Shubh Dhanteras image, Shubh Dhanteras photos, Shubh Dhanteras WhatsApp stickers, Shubh Dhanteras wishes, Shubh Dhanteras in Hindi, Shubh Dhanteras HD images. These are available online on LatestLY and can be downloaded for free. WhatsApp Stickers to Wish Happy Diwali 2018: Messaging App Should Introduce Festive Sticker Images Packs for Sending Funny Diwali Messages.
Lakshmi Mata, the Goddess of Wealth, Fortunes, Prosperity and Good Luck is venerated on Diwali. Goddess Lakshmi likes cleanliness and is believed to reside in places that are neat and tidy. Her presence ensures prosperity and everything in abundance. This is why on Dhanteras, which is celebrated on the thirteenth lunar day of Krishna Paksha (dark fortnight) in the Vikram Samvat Hindu calendar month of Karthik sees devotees buy gold coins, jewellery, silver coins, or utensils to please Maa Lakshmi. Whatever a person can afford, he or she can buy to celebrate Dhanteras. Having a pure heart is what eventually wins over Goddess Lakshmi and is showered with her divine blessings. Dhanteras Images & HD Wallpapers for Free Download Online: Wish Diwali 2018 With Beautiful GIF Greetings & Messages.
Dhanteras is also celebrated in honour of Dhanvantari, the Hindu god of medicine. He the god of Ayurveda who imparted the wisdom of Ayurveda for the welfare of humanity and to help rid it of diseases. This is why Dhanteras is also called Dhanatrayodashi. Dhanteras 2018 Wishes & Greetings: WhatsApp Messages, GIF Images, SMS, Facebook Status & Cover Photos To Wish Happy Dhantrayodashi.
If you're looking for Dhanteras images, Dhanteras SMS, Dhanteras message, Happy Dhanteras message for WhatsApp, Dhanteras photos download, Dhanteras pictures for WhatsApp, Dhanteras images in HD and Diwali images with Shubh Dhanteras quotes, you will get it all here. Diwali 2018 Wishes in Advance: Shubh Diwali Photos, Stickers, WhatsApp Messages, GIF Images, Facebook Status and SMS to Send Deepavali Greetings Online Free.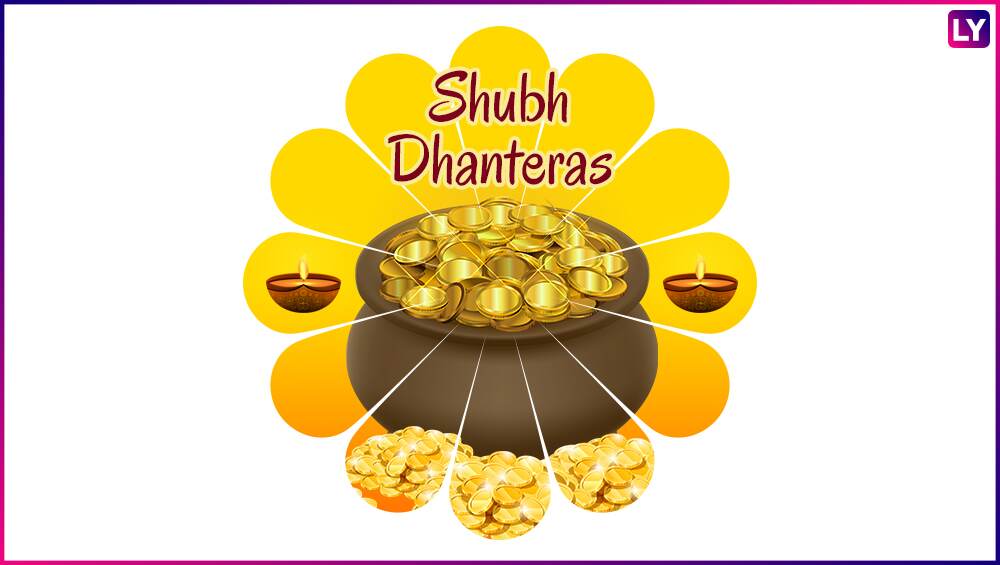 WhatsApp Message Reads: May This Dhanteras Celebrations Endow You With Opulence and Prosperity…Happiness Come at Your Steps. Wishing Many Bright Future in Your Life. Shubh Dhanteras 2018.
WhatsApp Message Reads: Dear Goddess Lakshmi, Bless the Recipient of This Message With Thirteen Times Dhan on This Dhanteras. Shubh Dhanteras 2018!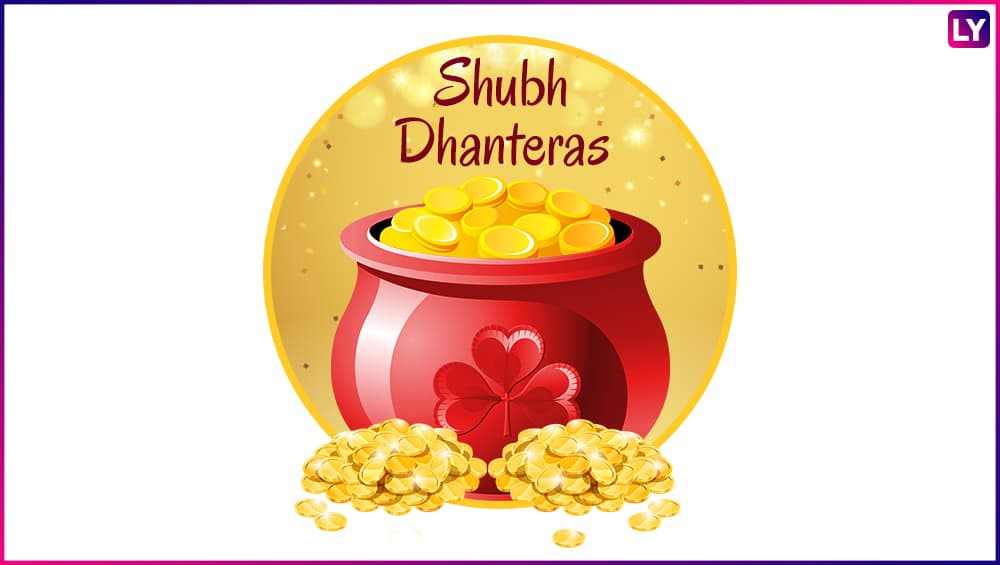 WhatsApp Message Reads: May This Dhanteras Light Up New Dreams, Fresh Hopes, Undiscovered Avenues, Different Perspectives, Everything Bright & Beautiful and Fill Your Days With Pleasant Surprises and Moments. Happy Dhanteras 2018 to You and Your Family.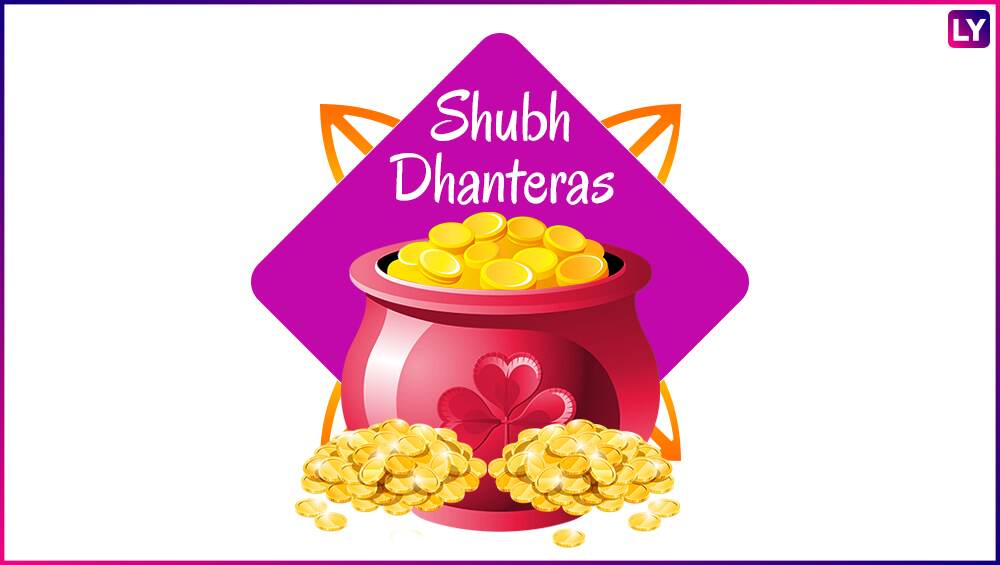 WhatsApp Message Reads: On This Auspicious Festival, May Your Life: Shimmer With Silver; Shine With Gold; and Dazzle Like Platinum! Happy Dhanteras 2018.
The word Dhanteras means wealth and prosperity and buying gold is a mark of auspiciousness, good luck and health. Let us wish each other a very Happy Dhanteras and Prosperous Diwali with these beautiful Dhanteras WhatsApp stickers, which can also be set as a display pic. Wish everyone Shubh Dhanteras and Deepavali 2018.