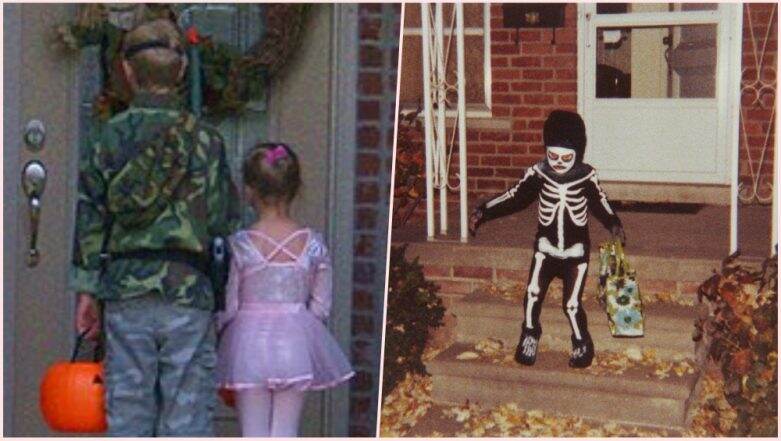 It's Halloween! Not just the spookiest time of the year, but the festival is more a potential pranking battleground. It is definitely not all candy corn and cookies! The fine art of 'trick or treat' is a serious business for people during Halloween 2018. Apart from the creepiest decorations, underaged kids will get into their costumes and are ready to slog around the neighbourhood ringing doorbells for treats. But from where did the trick or treating come from? The celebrations, which will be observed on October 31, is surrounded by various traditions and trick or treat is the major one. As it is marked in most of the countries now, there is a legitimate history behind this trend of Halloween. North Dakota Woman's Early 'Help Me' Halloween Decorations Are So Scary That Neighbours Called the Police. 
Going from house to house in search of candy and other goodies, has been a popular Halloween tradition. A treat is usually a form of candy, although in some cultures it is money. Again, trick refers to a threat typically idle, to perform mischief on the homeowners, if no treat is given. Some would signal that they are willing to hand out treats by putting Halloween decorations outside their doors, others leave treats on their porches for children to take it freely. However, the practice began with the Celtic tradition of celebrating the end of the year by dressing up as evil spirits. Halloween Costume Ideas 2018: Devil Costume Inspirations That Will Make Your Halloween Both Evil and Sexy. 
History of Halloween Trick or Treating
Experts suggest that Halloween has its roots in the ancient, pre-Christian Celtic festival of Samhain, which was celebrated on the night of October 31. The Celts, who lived thousands of years ago in the area, now known as Ireland, the United Kingdom and northern France, believed that the dead returned to earth on Samhain. Hence, dressing up in dreadful costumes was a defence mechanism. In the later centuries, when Christianity had spread into Celtic lands. Less privileged people would visit the houses of wealthier families and receive pastries called soul cakes in exchange for a promise to pray for the souls of the owner's dead relatives. Dog Halloween Costume Ideas 2018: Easy an Quick Costume Inspiration for Your Furry Good Boy!
The practice was later taken up by children, who would go door to door, ask for gifts like food and money. On the other hand, in Scotland and Ireland, young individuals would take part in a tradition called guising, dressing up in costume and accept an offering from households. Rather than praying for the dead, they would sing a song, recite a poem or perform another sort of 'trick' before collecting their treat, which consisted of fruit, nuts or coins. Halloween 2018 Recipes: Blood and Guts Soup and Edible Intestines! Terrifying Treats for a Spook-Tacular Feast. 
Well, there is no really enough explanation, as to how the phrase 'trick or treat' became a trend in the spooky festival of Halloween. But there are a very few days left, and individuals across are gearing up to make it a Happy Halloween with the eeriest possible creatives. The hilarious and classic tricks while on the hunt for your treats make it a whole spooky fun!