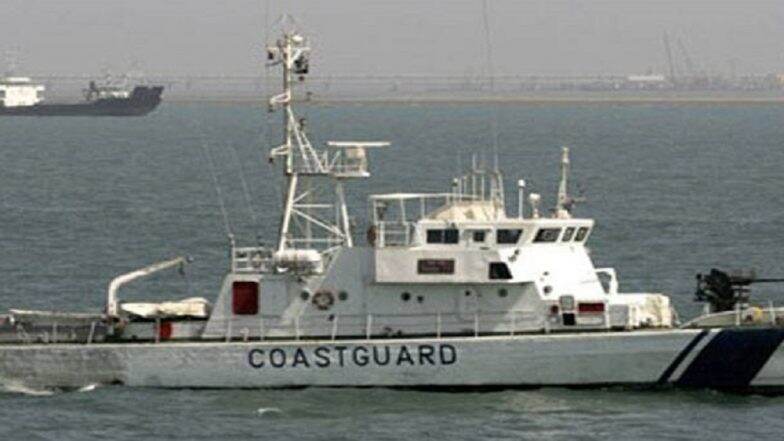 New Delhi, January 31: The Indian Coast Guard (ICG) will celebrate its foundation day on February 1. The ICG is an armed force of India which protects maritime interests and enforces maritime law, with jurisdiction over the territorial waters of India. The ICG works in close cooperation with the Indian Navy, the Department of Fisheries, the Department of Revenue (Customs) and the Central and State police forces. The interim Indian Coast Guard was established on 1 February 1977 to prevent sea-borne smuggling of goods which were hampering India's domestic economy. Offshore Patrol Vessel ICGS Vikram Made Under 'Make in India' Arrives at New Mangalore Port.
The Coast Guard Act was passed by Parliament on 18 August 1978 and came into immediate effect. It defined the duties and functions of the service. Vice Admiral V A Kamath of the Indian Navy was appointed the founding Director-General of the force. There are currently 42 Coast Guard stations along the coastal line of the country. Currently, officers of the ICG undergo Basic Military Training at the Indian Naval Academy, Ezhimala. DefExpo 2018 Highlights: 'Make in India' Resonates at 4-Day Mega Defence Exhibition.
The celebrations for the Indian Coast Guard have already begun. As part of the 43rd Coast Guard Day celebrations, a mega event, 'Storm Rider Fitness Challenge,' was conducted at the VIT Chennai campus on Sunday. The event was aimed at spreading awareness about sports and fitness among the public. More than 300 participants took part in the function. Navy Day 2018: Indian Navy Rehearses For 'Beating The Retreat' in Mumbai, Watch Video.
After the 2008 Mumbai Attacks, the Indian government took steps to modernise the force. Last year in May, Indian Coast Guard Ship (ICGS) Vikram, the first in the class of seven new generation offshore patrol vessels (OPVs) arrived at its base port, the New Mangalore Port. The ship was contracted by the Ministry of Defence (MoD) in March 2015 under the government's 'Make in India' campaign.