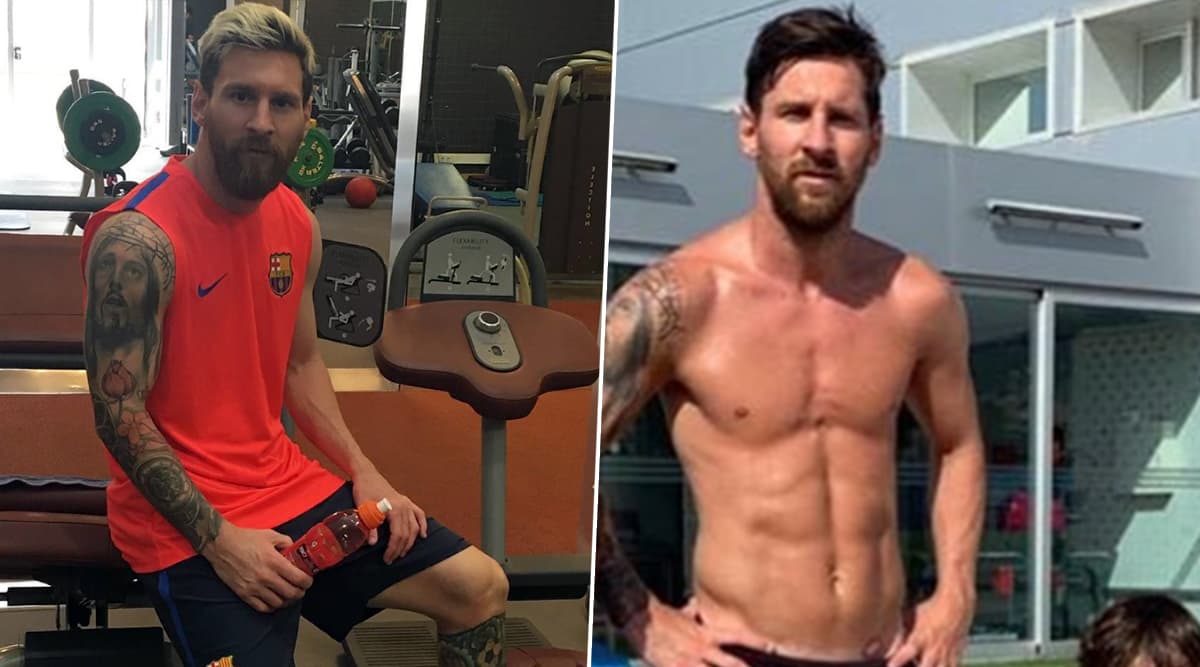 Lionel Messi is an Argentine professional footballer who is often regarded as one of the best soccer players of all time. The 32 years old play as a forward and captain of Spanish football club Barcelona and Argentina National Football team. We all know that Lionel Messi is a talented footballer and has won many matches for his club and his nation, however, most of us are unaware of the hard work he puts in his training. The Argentinian footballer has no less aesthetic physique when compared with Cristiano Ronaldo who is considered one of the fittest sportsman in the world. Messi fans would love to know about his exercise regime, having said that let us throw some light on Lionel Messi workout and diet which helps him to stay agile on the field. Lionel Messi Likely to Win Ballon d'Or 2019 As Per Spanish Newspaper.
The Barcelona star player was born on 24th June, 1987 in Rosario, Argentina. Messi was diagnosed with a growth hormone deficiency as a child. Lionel Messi has indeed put in a lot of hard work to become the best footballer in the world. He not only spends time on the field to prepare for his upcoming match but also does exercises which help him perform better. Being a footballer, Lionel Messi main aim is to develop excellent endurance level and improves his speed.
Workout of Lionel Messi
Lionel Messi's training doesn't include hardcore gym session like Cristiano Ronaldo, however, he makes his training intense by other means. Messi spends maximum time in stretching almost an hour every day during the playing season. The Barcelona forward regular exercise routine includes some weight training, plyometrics and endurance training. However, the major aspect of his exercise is acceleration drill to develop his speed. Messi also concentrates on strengthening his leg muscles which includes exercises like split jumps, squats, lunges, knee-hug lunge which not only develops his lower body muscles but also strengthen up the core. For plyometric, Messi does hurdle hop and lateral bound exercises. Just like any other athlete, Messi regularly does planks and end his session with cardio to cool down his body.
Lionel Messi Training Regime 
Diet of Lionel Messi
According to Italian nutritionist Giuliano Poser, who has been consulting Lionel Messi since 2014, the five key foods in Barcelona dietary regime are water, olive oil, whole grains, fresh fruit and vegetables. Messi is also advised by his nutritionist Poser to eat nuts at regular intervals. Poser has strictly warned his client Messi to stay away from sugary food items, as it is the worst thing for muscles. Messi is also not allowed to eat excessive meat as per his nutritionist, as it is difficult to digest. The Argentine footballer had to give up on pizza and Milanesa which is a thin fillet of beef shallow-fried in breadcrumbs.
Lionel Messi has moulded himself into the best FIFA player, the result of his good training can be seen during matches, where his speed and explosive strength is unmatched. Lionel Messi fitness regime should inspire youths to adopt a healthy and disciplined lifestyle.