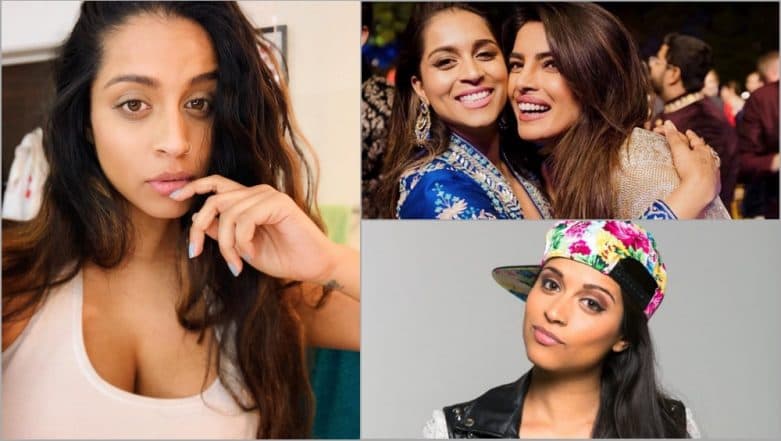 YouTuber Lilly Singh who is popularly known as IISuperwomanII declared herself bisexual on Monday morning of February 25. The 30-year-old came out publicly via Twitter and Instagram to leave her fandom shedding tears of joy. Calling herself "Female, Coloured and Bisexual," Lilly broke the internet. While many were left pleasantly surprised, there were so many who saw it coming. They were happy with Lilly Singh 'finally' admitting being one from the LGBTQIA+ community. At current times when we are still us vs them (straight vs LGBTQ), it is great to have someone of Lilly Singh's stature represent the growing section. Lilly not only earns respect but much love and support from her fans across the globe. And it's time we get to know a little bit more about this awesome personality who makes us believe in unicorn land in broad daylight. Priyanka Chopra's BFF Lilly Singh Aka IISuperwomanII Comes Out As Bisexual Publicly! Check YouTuber's Tweet.
Lilly Singh is Bisexual
Sharing a pic of hers, Lilly writes, "✅ Female ✅ Coloured ✅ Bisexual •••Throughout my life these have proven to be obstacles from time to time. But now I'm fully embracing them as my superpowers. No matter how many "boxes" you check, I encourage you to do the same x ❤️🧡💛💚💙." Do you see those colourful hearts? That much love she is receiving from her fans from all quarters.
Interestingly, Lilly who like any other public figure faces online trolling on a daily basis had once tweeted about 'hoping' to be 'bi' in response to trolls calling her gay. This tweet from September 2016 reads, "And then there's ppl that call me "gay" as if it's an insult. Like bro I hope I discover I'm bi one day so I can cop your brother & sister." Looks like she got her wish fulfilled.
Lilly Singh on Forbes List of Highest-Paid YouTube Stars
In October 2016, IISuperwomanII aka Lilly Singh ranked 8th on Forbes' list of World's Top-Earning YouTube Stars of 2015. Then again with $10.5 million, Lilly Singh found herself in the 'Top 10 Highest-paid YouTube Stars of 2017' list. She was also ranked number one on Forbes' 'Top Influencers' list in the entertainment category.
Lilly Singh Net Worth
The Indo-Canadian YouTube sensation is worth $16 million while her salary is $8 million. Her earnings include revenue from YouTube, which boasts of 14.5million subscribers. She has partnered with big brands such as Pantene, Olay and Calvin Klein. Lilly Singh has also authored a book titled How to Be a Bawse: A Guide to Conquering Life.
Lilly Singh Has Written a Book
The multi-faceted personality wrote her first book How to Be a Bawse: A Guide to Conquering Life, which released on March 28, 2017. The book is all about the lessons she learnt and how one can best apply that in life. It is one of those self-help or captivating memoirs that doesn't become tedious because of the comic sense of Lilly. Divided into four sections — "Master Your Mind", "Hustle Harder", "Make heads turn" and "Be a Unicorn" — each section is filled with chapters that illustrate a specific theme.
Suffered From Depression and Prioritises Mental Health
It is no secret that Lilly Singh ventured into video making at a point in her life when she was battling serious depression. In fact, YouTube helped dig herself out of the rut and become this insanely famous personality.
In an interview with People Magazine, Lilly Singh said there's nothing embarrassing about struggling with depression. She was quoted saying, "I don t get why because it's nothing to be embarrassed about. It's nothing to be ashamed about. It's a part of life – the ups-and-downs – and I really wanted people to start talking about it so I thought I'm going to lead by example. I'm going to openly talk about it." In fact, in November 2018, she announced taking a break from YouTube to take care of her mental health.
Lilly Singh is Best Friends with Priyanka Chopra
Global star Priyanka Chopra first appeared on Lilly Singh's YouTube channel for a video titled How to Be a Good Wing Woman. They later also shot for a Pantene advertisement.
The duo continued to be friends and Lilly was one of the high-profile guests at Priyanka Chopra's wedding in Jodhpur, India. Interestingly, Lilly has also collaborated with Priyanka's husband and popular singer-songwriter Nick Jonas. She had a blast at Priyanka and Nick's grand wedding ceremony. Lilly Singh Shares Unseen Pics From Priyanka Chopra and Nick Jonas' Haldi Ceremony And They Are a Perfect Weekend Treat to the Eyes.
Lilly Singh, a Believer of Girl Love
How often do we see girls pitted against each other? Catfights, bitching, hating is all passé. Lilly Singh started an online movement #GirlLove where she asked females to support each other, uplift and motivate them.
A complete believer in positivity and a proud feminist, Lilly asked ladies to show solidarity in their action for others. Here Are Some Videos of Lilly Singh Throwing Shade at Sexist, Homophobic and Racist!
A Therapy Session For Homophobic People
A Geography Class for Racist People
How To Make A Sandwich
Watch the video below:
One will fall short of words when you are talking about Lilly Singh. The one who believes in positivity, growth and progress, Lilly Singh is an incredible role model and someone you look up to. Keep making this world a better place to live in, IISuperwomanII.