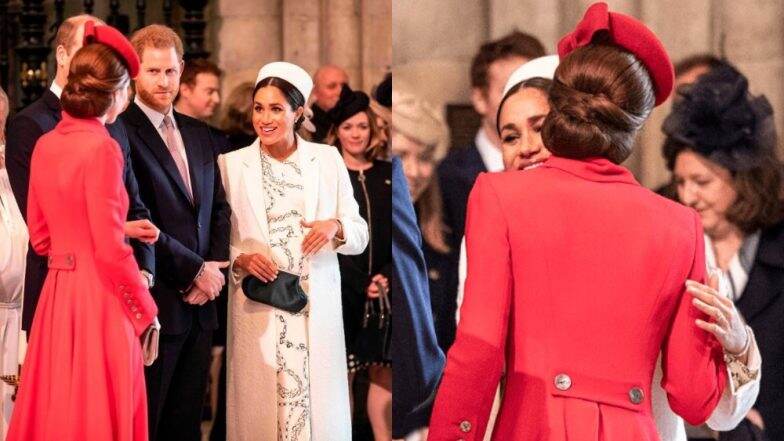 Kate Middleton and Meghan Markle have proven that reports of animosity between them are the work of rumour grapevines. All the members of the royal family attended the Commonwealth Day service but of course, Kate and Meghan were on the spotlight. Considering all the rumours regarding their relationship has been doing rounds for a few months now, it was quite obvious that all eyes would be on them.
Interestingly, as Kate and Meghan met at the service held inside Westminster Abbey, the ladies greeted each other with a double-cheek kiss. After arriving at the event, Kate Middleton and Prince William both greeted Prince Harry and Meghan Markle. In fact, the Duke of Cambridge also shared a double-cheek kiss with Meghan. For the Commonwealth Day service, Kate chose the red Catherine Walker coat which she previously wore back in 2014 during her arrival in New Zealand. Meghan opted for a white dress by Victoria Beckham.
Kate Middleton and Meghan Markle
The royal couple were joined by Queen Elizabeth II, Prince Charles and Camilla, Duchess of Cornwall. Rumours of a possible feud between Kate and Meghan started back in 2018 when it was reported that Markle and Prince Harry were moving out of the Kensington Palace. The couple plan to set up home at Frogmore Cottage on the Queen's Windsor Estate. While the palace did it's best to shut down the rumours, it continued to fly.
Speculations further escalated when Meghan and Harry failed to present themselves at Kate's birthday celebration in January. However, from the looks of how they have cordially greeted each other with big smiles, perhaps things are okay between them. Or so we hope. Meghan and Harry are expecting their first child in April.