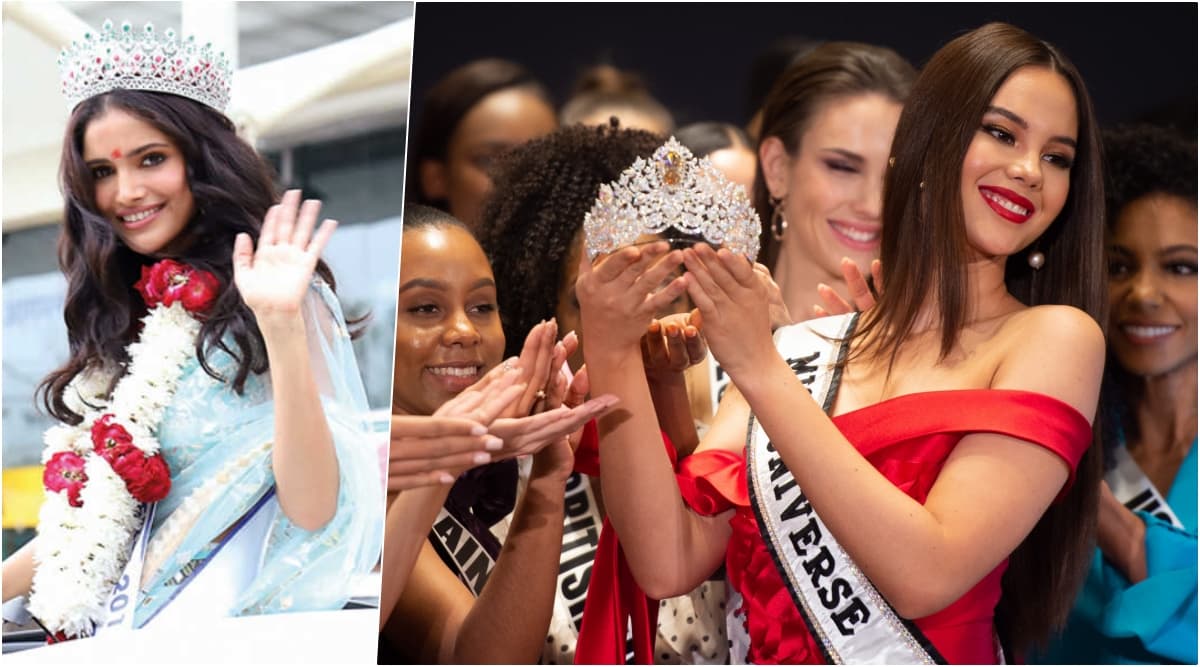 The stage is all set for the 68th annual Miss Universe competition. Miss Universe 2019 final is taking place on December 8 (Monday morning as per Indian time). In a matter of a few hours, the suspense over Miss Universe 2019 winner name will end. A total of 90 contestants including debuts from Bangladesh and Equatorial Guinea are vying for the coveted Miss Universe 2019 crown and title. A panel of seven judges will zero in on 20 semi-finalists who best represent the competition's 'Confidently Beautiful' motto. Fans and supporters of each beauty queen are making sure to catch on Miss Universe 2019 final live and exclusive. There is an extensive search for Miss Universe 2019 final live streaming, live telecast on TV channels, ceremony timings in Indian Standard Time or IST, Greenwich Mean Time or GMT and Eastern Standard Time or EST and more. We bring you all the relevant information ahead of the grand finale. Miss Universe 2019 Date, Live Streaming Online & Time in IST: Who Is Vartika Singh? How to Watch Live Telecast in India, Know Everything About Beauty Pageant Held in Atlanta, Georgia.
Miss Universe 2019 finale will not showcase all the 90 participants but just the 20 chosen semi-finalists. Preliminarily round of the 68th edition of the competition had taken place on December 6 at 8:00 pm Eastern Time, LIVE from Atlanta Marriott Marquis. Contestants from around the world competed in Swimsuit and Evening Gown in the Presentation show. It was followed by the National Costume Contest. Viewers in India cheered for their girl, Miss Diva Universe Vartika Singh who wowed the audiences with her stunning avatars in a hot floral bikini, and ethnic, bridal looks. On that note, let's quickly look at essential details like time, telecast, streaming, channel details and more.
Miss Universe 2019 Date, Time and Venue
Miss Universe 2019 will be the 68th edition of the Miss Universe competition. It will be held on December 8, 2019, at 7:00 pm Eastern Time (ET) 12:00 am Greenwich Mean Time (GMT). In India, you can watch the event live and exclusive from 5:30 am Indian Standard Time (IST) onwards. Miss Universe 2019 venue is Tyler Perry Studios in Atlanta, Georgia in the United States. So, be all set to catch the live action from the main event. Miss Universe 2019 Live Voting: How to Vote for Your Favourite Contestant? Steps and Direct Link to Support Your Beloved Beauty Queen to Win in 68th Edition Beauty Pageant.
Miss Universe 2019 Live Telecast and TV Channels in India and Rest of The World
Once again FOX Network will be bringing the live-action of Miss Universe 2019 to audiences watching the beauty pageant in the USA. The viewers can switch on their television set and tune into Fox TV and watch 68th edition of Miss Universe live and exclusive. Well, it is not as smooth for those planning to watch in India. There is no official confirmation on the network broadcasting Miss Universe 2019. Previously, the live broadcast was done by on Zee TV network, Zee Café channel.
Miss Universe 2019 Live Streaming Online Details in India
Yes, there is no substantial information on whether television channels will be doing a live telecast of Miss Universe 2019, but do not worry as there are several other options to cheer for Miss India Universe, Vartika Singh. Please visit www.missuniverse.com and its respective social media handles, as mentioned above, to catch the live-action. You can also follow the official pages of Miss Universe 2018 online on Facebook (MissUniverse), Twitter (@MissUniverse), Instagram (Miss Universe) and YouTube to catch the latest live updates from the event. The official YouTube channel of Miss Universe, that's also covering the event live and exclusive. Miss Universe 2019: India's Vartika Singh Set to Grace the Finale, Know 7 Lesser-Known Facts About the Beauty Queen!
Steve Harvey will once again be behind the mic and resume his services as the show host. He will be joined by American-Filipino television personality, Vanessa Minnillo and former Miss Universe, Olivia Culpo. Singer Ally Brooke will be performing for the contestants and audience. But the moment everyone will be waiting with bated breath has to be when Miss Universe 2018, the very beautiful Catriona Gray will crown her successor.