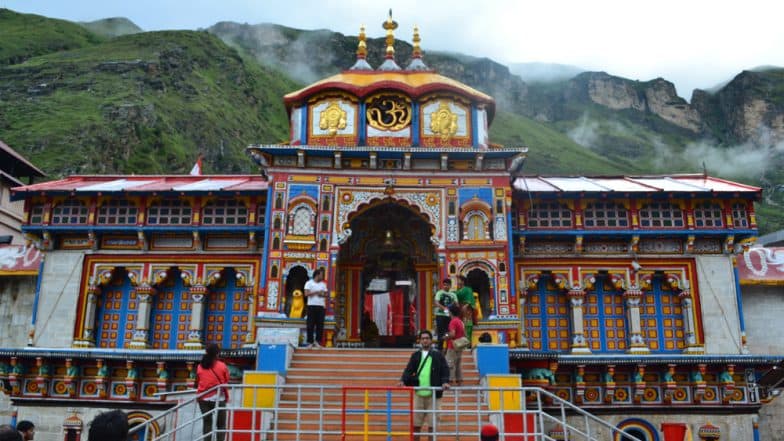 Dehradun, February 10: Doors of Badrinath, the much-revered shrine, will be thrown open to pilgrims on 10th May 2019 after the winter break. The shrine will be opened amidst mighty Vedic chants and mantras by the Badrinath Shrine Chief Priest. The gates of the Char Dham which comprise of four Himalayan shrines, including Badrinath, are closed during October-November every year during winters as the region is enveloped in snow. The temple is reopened every year in April-May. During the time when it is closed for 6 months every year, the prayers offered to Badri Vishal continue at the Narasimha temple in Joshimath. Kedarnath Temple Opens For Devotees! High-Tech Lord Shiva Laser Show to Greet Pilgrims.
Lakhs of devotees from across the country and abroad visit the temples during the annual yatra season.  Elaborate rituals will precede the formal opening of the Himalayan shrine on May 10. The Badrinath temple is set at a height of 10,279 ft above sea level. It is considered as one of the prime parts of the Char Dham pilgrimage. 'Char Dham' Project to Connect Kedarnath, Badrinath, Yamunotri And Gangotri.
In 2018, the temple doors were opened for devotees on 30 April, 2018 at 04:30 am. The Badrinath Temple was closed on 20 November, 2018. The dates of opening of kapats of Badrinath Temple are usually announced on the occasion of Basant Panchmi.