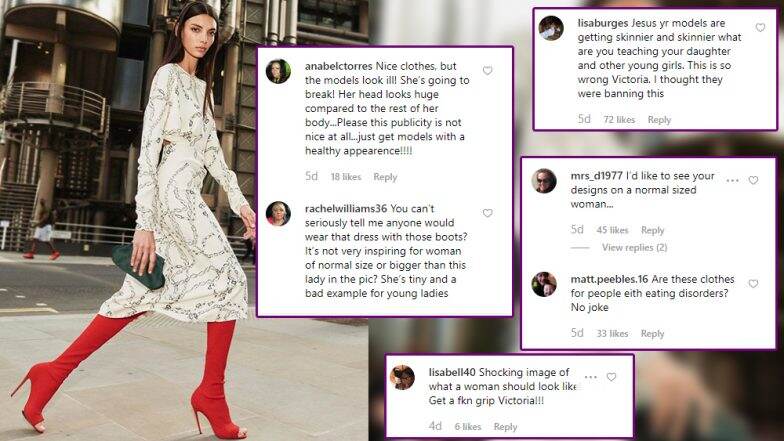 Diversity in the industry is the need of the hour, and every brand is trying to be as inclusive as they can. Whether it's race, ethnicity, body type or gender, we see a diverse range in almost every brand. Rihanna's Savage X Fenty is renowned and loved for having models from the most petite to the curviest models. However, not everyone has this. Victoria Beckham's newest collection photos sparked some rage in people after the model looked like it didn't have a "real" woman's body. People have been spamming her Instagram post with hateful comments for hiring a model that looks anorexic and sick. Some are advising the model to eat a Big Mac. Here are my thoughts on the issue. Girl Gets Body Shamed by Boyfriend, Twitterati Helps Her to Dump Him.
Body positivity and skinny shaming have a very, minute, fine line differentiating them. And unfortunately, the line is diminishing to nothing. While the model does look thin, is it anything we've never seen before? Criticising the designer and creator for making clothes only for a particular body type makes sense, but why are people upset about the model looking a certain way? Sure, the argument about creating a body standard in the viewers is right, but how is it right to criticise the model for having the body she does? People have gone as far as to comment things like "#feedthemodel". Tanerélle Addresses Her 'Saggy Boob' Controversy at BET Awards 2019: 'Don't Need to Lift My Breast to Wear a F****ing Dress!
#fEeDThEm0dEl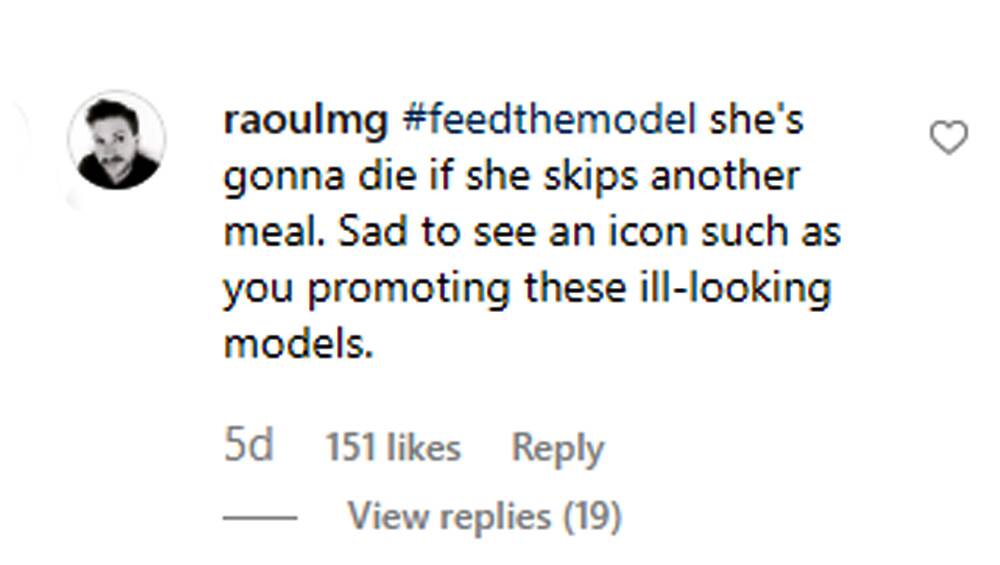 Feed the model? Really? Telling a skinny person to eat is the same as telling a fat person to stop eating. It's the exact same thing; the only difference is, skinny-shaming is widely accepted! Hold the creator accountable, not the model just doing her job. Let her have the body she wants. Telling a skinny person to eat does not make you look more accepting of different body types, it makes you look insecure and jealous. And that's the tea!
People are professional health experts when it comes to calling a skinny person 'anorexic'. But before this, educate yourself and see what anorexia looks like. Natalia Taylor, model and Youtuber touched on this topic; and unlike most of the people behind a computer screen, she actually knows what she's talking about. She overcame anorexia, and the video will teach you all a little more about what an eating disorder looks like.
Natalia Taylor Talking About Her Battle with Eating Disorders
Eating disorders are severe, and people have got to understand that. It's high time we stop throwing those terms around for any thin person we see. You don't know the person, and you don't know the journey. If you like the design, call out the designer for only catering to a specific body type. Demand more sizes, don't shoot the messenger. We have no right to comment on anybody's body. If you think you're helping the model by commenting #feedthemodel and "eat a cheeseburger", you're not helping. You, my friend, are skinny-shaming. Believe it or not, that is also body-shaming. Thanks for coming to my ted talk!
(Disclaimer: The views expressed here are those of the author and do not necessarily represent or reflect the views of LatestLY.) .