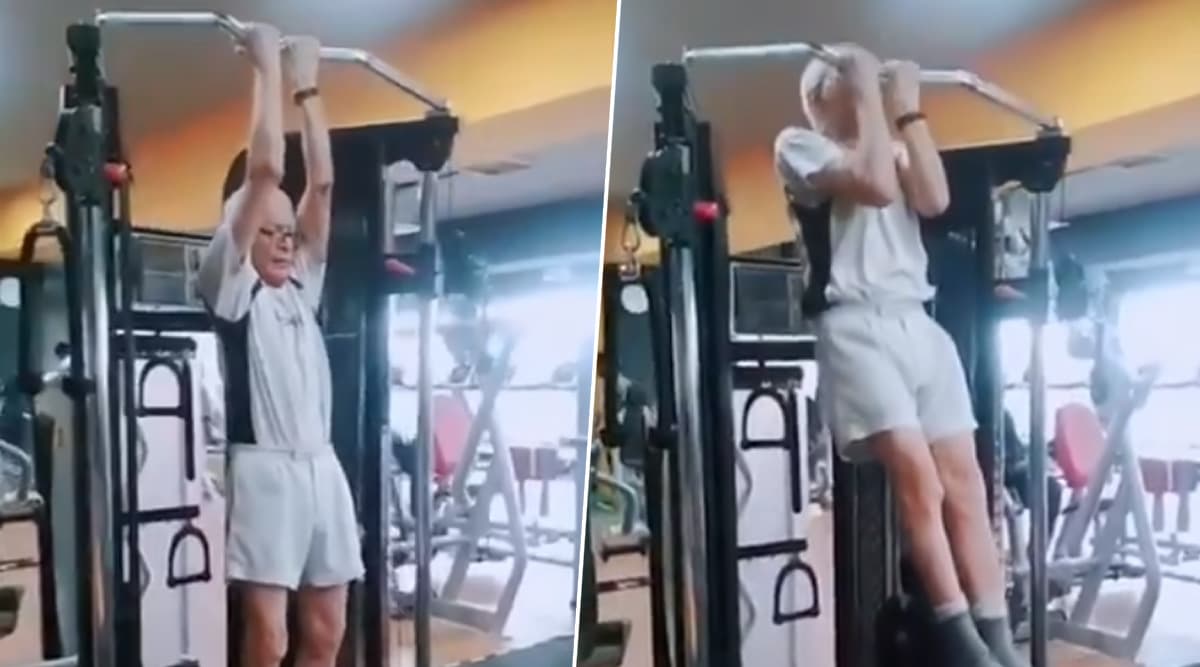 PV Iyer, who is retired air-marshall can be seen doing pull-ups in the recent workout video shared by Indian Air Force. PV Iyer does close-grip pull-up which is much better than many youngsters who perform this exercise these days. The nonagenarian has proved that 'age is just a number' when it comes to staying fit and active. Twitter appreciates the workout video of 90 years old PV Iyer and takes inspiration to stay fit. Let us see the video of PV Iyer below which is worth watching. Air Force Day 2019: Facts to Know About the IAF on Its 87th Founding Day.
PV Iyer who turned 90 on October 30, is an active sportsperson and also does lots of running. Pull-ups is by far one of the best callisthenics exercises and works effectively on back and bicep muscles primarily on latissimus dorsi commonly known as lats. Pull-ups also develop upper body strength and no matter how much weight you lift it will not be worth if you are not able to perform pull-ups properly.
Indian Air Force Shares Workout of PV Iyer 
It's heartening to see the enthusiasm of Air Mshl PV Iyer (Retd), a nonagenarian. Air Mshl has been a source of inspiration to many, he is an active sportsperson & has proven that 'Age is indeed just a number', we wish you a very happy 90th birthday & many more joyous occasions. pic.twitter.com/fFng0kgUDV

— Indian Air Force (@IAF_MCC) October 30, 2019
PV Iyer Still Looks Like He is Under 60 
90th birthday?? 😱😱 He looks no more than in his sixties!

A very Happy Birthday to Air Mshl PV Iyer. May God shower his choicest blessings on him for many more years. 💐💐

— Roshani 🇮🇳 (@RoshaniH81) October 30, 2019
Air Warriors Never Stop 
Because real Air Warriors never stop, especially if he/ she is from the Great Indian Air Force.

Love you @IAF_MCC

💓💓💓💗💗💗#JaiHindKiSena #JaiHind#VandeMatram#BharatMataKiJai

🇮🇳Touch the sky with glory🇮🇳

— Piyush Kumar🇮🇳 (@Piyush_Thinks) October 30, 2019
Motivation To Workout Again 
Wow!! That's some motivation to start working out again. ❤️💪🏻

— Aditi Patwardhan 🇮🇳 (@AditiIndiaFirst) October 30, 2019
Exercise Regime is Indeed Beneficial 
Absolutely. Medical research shows exercize regimen can be started or continued at any age and is positively beneficial

— WhoIsRight (@batuleybaban) October 30, 2019
Hats Off!!
— Isha Mishra (@IshaMis89973149) October 30, 2019
PV Iyer has also had motivated many people when his video of running was shared by his son Param Iyer. PV Iyer has indeed proved that fitness can be maintained if one has the will power and determination to do so. This video of PV Iyer should motivate you to lead a healthy lifestyle and include exercise in your daily routine.