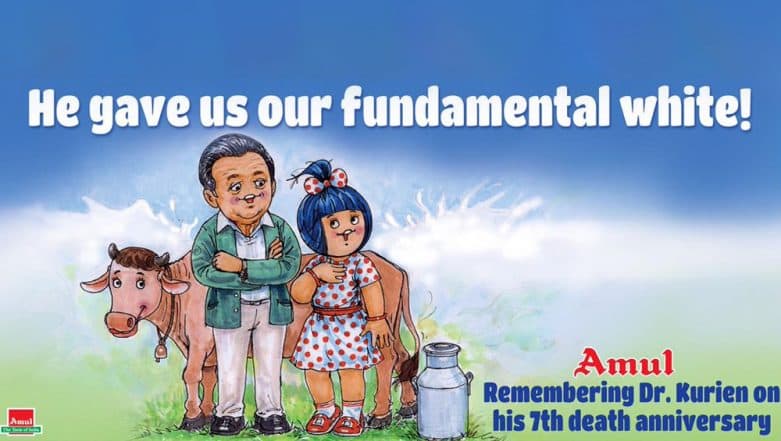 Dr Verghese Kurien is known as the "Father of the White Revolution" in India. He was instrumental in developing the world's largest agricultural dairy development programme with Operation Flood. His contribution was instrumental in developing Amul, India's prime dairy company. September 9 marks the seventh death anniversary of Dr Verghese Kurien and Amul has made a lovely topical honouring him. Amul rightly refers to him as "He gave us our fundamental white." Amul Celebrates Chandrayaan 2 Launch With a Lovely Topical Ad, View Pic.
Verghese Kurien's Operation Flood was a project by the National Dairy Development Board (NDDB) in 1970. This project literally transformed the nation into the world's largest producer of milk putting behind the USA in the year 1998. Kurien spearheaded as the chairman and founder of Amul and becoming the chairman of NDDB. So Kurien has been credited with the success of Amul's marketing which has ventured overseas in the years. And Amul over the years is marketing their product well with the Amul Topical comic. So it would be amiss if they did not honour Dr Kurien on his death anniversary. Punning on the word fundamental right, they call it "fundamental white." World Milk Day 2019: Amul Celebrates the Day With All Their Fascinating Topicals Since 1976.
Check Amul Topical on Verghese Kurien's Death Anniversary:
Remembering Dr Verghese Kurien for his stellar contribution in making India the largest producer of milk in the world and creating our most loved brand #Amul pic.twitter.com/HN2NE8tCRm

— Amul.coop (@Amul_Coop) September 9, 2019
Amul has found a beautiful way to honour the Milkman of India, as Verghese Kurien was also called. The Operation Flood made dairy farming in India a self-sustaining industry. Amul formed in the year 1956 but over the years, it has become a brand jointly owned by 3.6 million milk producers in Gujarat. This company further spurred India's White Revolution.