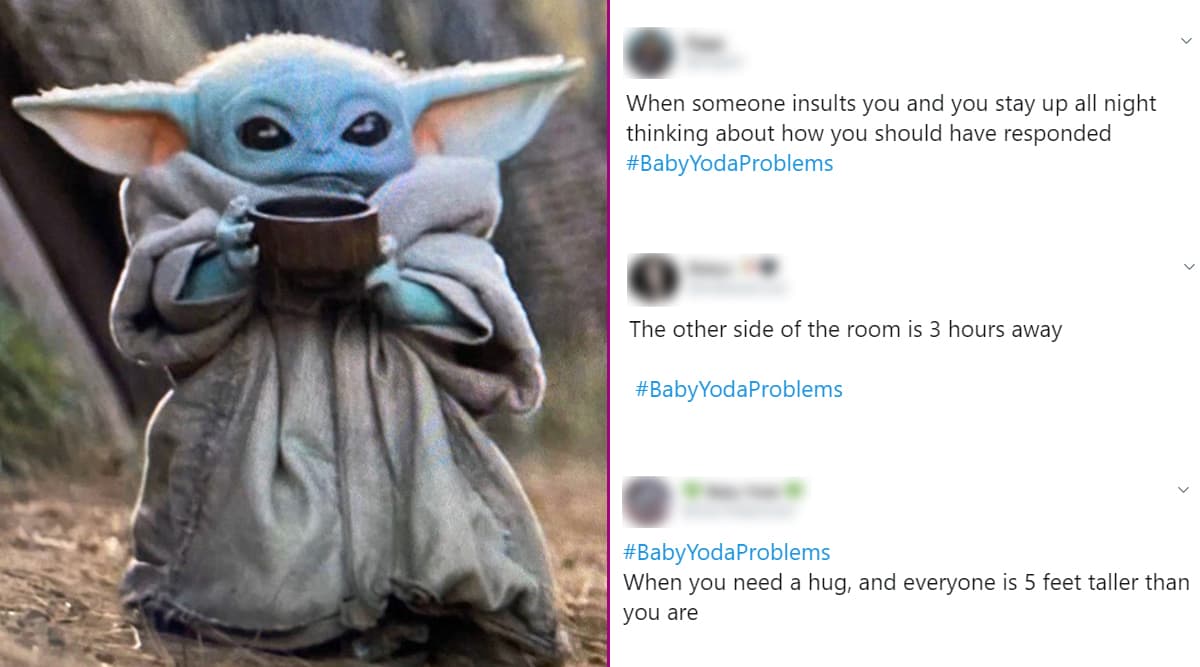 Even the internet's favourite character has problems! We were all blessed, when in 2019 Baby Yoda appeared in Disney's The Mandalorian. With just his first appearance, the tiny and green little character managed to steal the viewers' hearts. For once, the whole world agreed that this guy is absolutely adorable. Internet became a better place, thanks to so many Baby Yoda memes that surfaced with time. However, it is not easy being green, as the saying goes! It rightly matches with Baby Yoda. The tiny alien baby, according to a new Twitter trend, has got problems too. And not one, but many. #BabyYodaProblems are trending on the social media platform, because hey, it is not easy being the internet's favourite. What the Frik! The Rise of Skywalker's Adorable Babu Frik Gives Competition to Baby Yoda. 
Now, why is 'Baby Yoda Problems' trending? The latest online conversation spurred calling fans to empathise with Baby Yoda over the trials and tribulations he experiences on a daily basis. The troubles can range from physical, like he is 'small' as the internet calls it and also his short stride to make it to the other side of the room. Of course, being short has its own set of complications, and most of us with similar trait would agree. This is a part of why #BabyYodaProblems began to trend, as everything is more difficult when you are just too tiny and adorable to take seriously! We Need Baby Yoda Emoji! Fans Start Petition to Make Emoticon of Their Favourite Star Wars Character. 
Again, we had a few more reactions that are not exclusive to height. There are the woman and the cat meme, only now instead of the feline, it's Baby Yoda, who is the internet's latest addition to memes. With so many reasons, #BabyYodaProblems are real, and so are the memes! Baby Yoda is Now a Eye Makeup Trend! Check Pics of Girls Flaunting The Cute Star Wars' Character on Their Brows. 
Here Comes #BabyYodaProblems!
When the bartender keeps ignoring you #BabyYodaProblems pic.twitter.com/Xv8nkZuCM8

— 🇮🇹Christian🇵🇷 (@SpideyCMC) January 14, 2020
Problems of Being Short!
When you need a hug, and everyone is 5 feet taller than you are pic.twitter.com/ii4ZXtI18S

— 💚 Baby Yoda 💚 (@StarTrekkinJedi) January 14, 2020
Urghh! When Will it End?
The other side of the room is 3 hours away

#BabyYodaProblems pic.twitter.com/NLd8PaJZ7Y

— Robyn 🥀🖤 (@rawbeancoal) January 14, 2020
Teary-Eyed!
When someone insults you and you stay up all night thinking about how you should have responded #BabyYodaProblems pic.twitter.com/k7yfbaPTuZ

— Ziggy (@mrjafri) January 14, 2020
You Haven't Heard?
#BabyYodaProblems. Dat bitch...👇 pic.twitter.com/hUWIXcRgRN

— Larissa Drenner (@SaucyWalker63) January 14, 2020
Phew!
When you work out too much on the first day at the GYM... #BabyYodaProblems pic.twitter.com/gdQb1GmQj4

— Chris (@cityghost_pov) January 16, 2020
It's Not Easy Being Green!
When you're in the grocery store and the one thing you need is on too high a shelf. #BabyYodaProblems pic.twitter.com/vnH4wwS7Hn

— Raleigh! (@RaleighOnTheAir) January 16, 2020
Isn't it amazing? It is always fun to come across memes and jokes related to Baby Yoda. Have you ever thought of these many problems that tiny character might be facing, every day? #BabyYodaProblems surely is one best trending hashtag that is currently going viral on social media, and we are so happy about it.