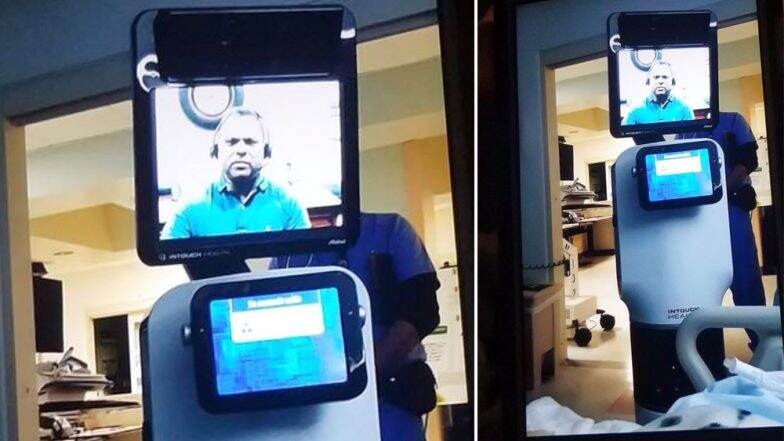 A hospital in California informed one of their patients that he was going to die, through a robot. 78-year-old Ernest Quintana was told that he had only a few days to live by a doctor via a video screen attached to a machine. Ernest was admitted to Kaiser Permanente Medical Center emergency department in Fremont, California, on March 3. Following the incident, the family was frustrated and devastated as Ernest's health began to deteriorate. He was suffering from chronic lung disease and died the next day.
As the news went viral, social media users express disappointment over how the doctor decided to deliver the news to the man. A family friend wrote on social media that it was "not the way to show value and compassion to a patient". Michelle Gaskill-Hames, senior vice-president of Kaiser Permanente Greater Southern Alameda County, called the situation highly unusual and said that it "regrets falling short" of the family's expectations. Gujarat Doctor Performs Telestenting Heart Surgery Through a Robot Sitting 30 Kms Away.
Julianne Spangler, a friend of Quintana's daughter took to Facebook saying that doctor on the screen told Ernest that "he has no lungs left, the only option is comfort care, remove the mask helping him breathe and put him on a Moraphine drip til he dies". She told BBC, "I think the technological advances in medicine have been wonderful, but the line of 'where' and 'when' need to be black and white." How Artificial Intelligence Can Help Doctors in Complex Surgeries.
Here is the Facebook post:
Ernest's granddaughter, Annalisia Wilharm, who was with him at the hospital while the doctor was talking to her grandfather said that she was "trying not to cry". She said, "I look up and there's this robot at the door. " She said that doctor on the screen "looked like he was in a chair in a room somewhere". "The next thing I know he's telling him, 'I got these MRI results back and there are no lungs left, there's nothing to work with'." She said, "I'm freaking out inside, I'm trying not to cry - I'm trying not to scream because it's just me and him. He just got the worst news of his life without his wife of 58 years."Annalisia added that the family knew that he could die, but was angered by the family the news was delivered to him. Bengaluru Doctor Offers Free Angioplasty to Poor Patients.
Watch the video below:
Quintana's wife who arrived later at the hospital complained about how the hospital told him about his death. A nurse told her that "this is our policy, this is how we do things". Hames in a statement that according to their policy, a nurse or doctor should be in the room when remote consultations took place. She added, "The evening video tele-visit was a follow-up to earlier physician visits. It did not replace previous conversations with patient and family members and was not used in the delivery of the initial diagnosis." Chinese Girl Buys a Robot to Do Her Homework and She Can Enjoy Holidays; Mother Destroys It!
She added further said, "That said, we don't support or encourage the use of technology to replace the personal interactions between our patients and their care teams - we understand how important this is for all concerned, and regret that we fell short of the family's expectations. We will use this as an opportunity to review how to improve patient experience with tele-video capabilities."