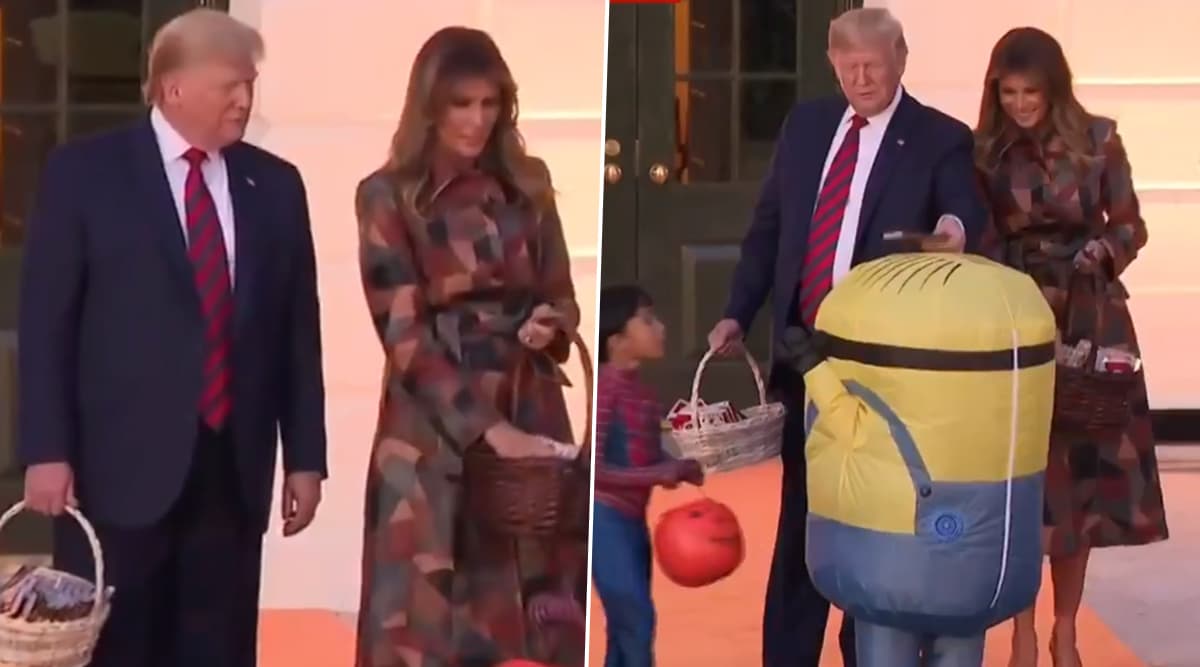 Halloween 2019 is around the corner, and social media is only filled with so many viral moments surrounding the spooky festival. And now, Donald Trump has caused another one thanks to a Halloween faux pas! Twitter was in shock when they saw the President and first lady Melania Trump handing out candies to one of the kids in a minion costume. What so big a deal about that? Instead of his trick or treat bag, Trump placed the sweet on the head of the child who was dressed as a minion from the Despicable Me series. He also playfully hit him on the head with a bar of candy. Although the President looked to be in high spirits, his awkwardness was visible enough throughout the moment. Netizens, once again, was not impressed by his insensitivity and trolled the couple as they 'jokingly' hit the child on his head. Donald Trump Uses Nickelback 'Photograph' Meme to Expose Joe Biden, Gets Brutally Roasted by Twitterati. 
The President and First Lady Melania, hosted the children of military families as well as Washington D.C. area elementary school students for trick or treating on October 28, 2019, as noted by CNN. Both Melania and Trump can be seen in full Halloween spirits, while handing out candies to the kids one by one. But when a child dressed in a minion costume appeared, Trump decided to place the sweet on the top of his costume, with Melania following suit. Both the candies quickly slid off as the child walked away. Despite carrying the bag, the President and First Lady decided to place the candies on his head for no apparent reason. Twitter users cannot help but comment on a slightly awkward encounter. Donald Trump Shares Video of Out-of-Control Beverage Cart at Chicago's O'Hare Airport, Twitter Compares it With US President's Tenure. 
Watch the Viral Video:
Trump doesn't even know how a Halloween bag works. https://t.co/c4whWVbwzf

— NoTrumps-or-FordsClub (@NoFordsClub) October 29, 2019
Netizens Were Not Impressed!
Who puts the candy on top of the kids head like that. WTF...

— Square Circle (@ragtop25) October 30, 2019
LOL:
Trump gives full size candy bars. Run, don't walk, kids.

— Jennie Taer 🇺🇸🇮🇱 (@JennieSTaer) October 29, 2019
Sure, She Did:
#trump looks bored. Melania at least looks like she is trying.

— Now What Happened (@joemilymc) October 29, 2019
The White House can be seen lit up behind them in orange light, with spindly, spooky trees as the couple was handing out the candies to the kids. The video from the event shows the two of them looking stiff and uncomfortable as while greeting the trick-or-treaters. At the end of the video, you can see Melania trying to give out another candy bar, but the Minion child walked away, confused by how weird the entire moment was.