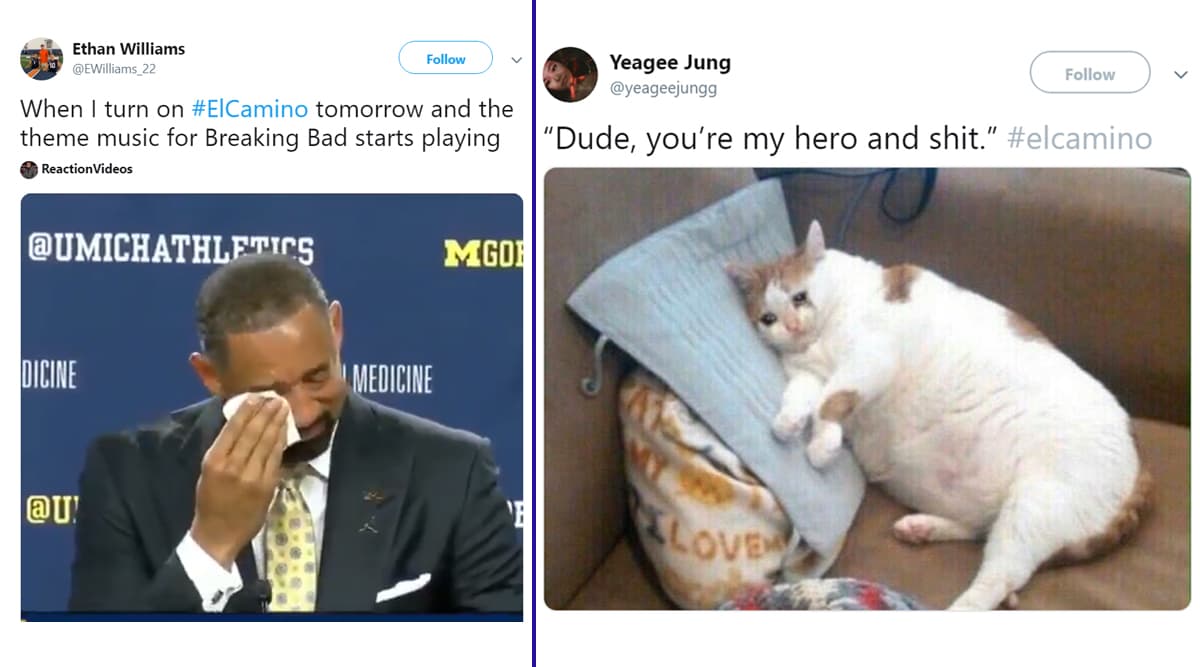 Breaking Bad fans, brace yourself! In just a few hours El Camino hits Netflix today. A Breaking Bad movie, El Camino will follow the journey of Jesse Pinkman after he escaped the compound in the final episode of the last season. The character's return after so many years is driving the internet crazy! Fans cannot keep calm before the movie releases on Netflix today. In the wake of Jesse Pinkman dramatic escape from captivity, Jesse must come to terms with his past. Bryan Cranston's Walter White is said to make an appearance in this movie.
You cannot deny that Breaking Bad has its own set of fanbase, and a big one at that. The much-awaited Breaking Bad feature film was something fans have been waiting since forever. The film was rumoured ever since the series' finale in 2013. However, reports have it that Gilligan approached Paul with the idea in 2017, near the tenth anniversary of Breaking Bad, and filming began in secret in New Mexico on November 2018, lasting nearly 60 days. And bam! Netflix released a mind-blowing trailer of El Camino. But you have to check out the El Camino memes whether or not are you a fan:
OMG Feels
"Dude, you're my hero and shit." #elcamino pic.twitter.com/6XcW3rDBu2

— Yeagee Jung (@yeageejungg) October 11, 2019
Right?
Epic moment. #ElCamino pic.twitter.com/aaCc7pU54Y

— Justin (@asocialboy_) October 11, 2019
Same
I'm hanging this photo on my wall #ElCamino pic.twitter.com/cPyKeS2zbq

— mark (@marksiembida) October 11, 2019
*Sobs Unconsolably*
That final scene with Walter and Jesse in the diner #ElCamino pic.twitter.com/lE05r4HtPd

— Jungle Kyona Stan 🇵🇷 (@MJFtheGOAT) October 11, 2019
Thoughts
keep ur friends who as loyal as skinny pete..#ElCamino pic.twitter.com/Q2EKdGF6Jb

— Abdelellah (@D_AGH50) October 11, 2019
Yasss
Can't wait to watch #ElCamino around 3am knowing well that I have to get to work at 6:00 am ...... fuck it pic.twitter.com/Jf27NcNZfF

— EL HUSKY (@Evil_vince) October 11, 2019
Totally!
Was it worth not sleeping? #ElCamino pic.twitter.com/bQzwTyym9D

— 𝕽𝖔𝖒𝖊𝖔 (@RomeoHdez10) October 11, 2019
After releasing a short teaser of this upcoming movie, makers had released a new video that's essentially a recap of all the previous seasons. It's narrated from Jesse's point of view and it's a good way to refresh your memory by going back in time. Before the release dates were announced, Actor Aaron Paul was quoted saying by NYT, "It's a chapter of 'Breaking Bad' that I didn't realize that I wanted. And now that I have it, I'm so happy that it's there."