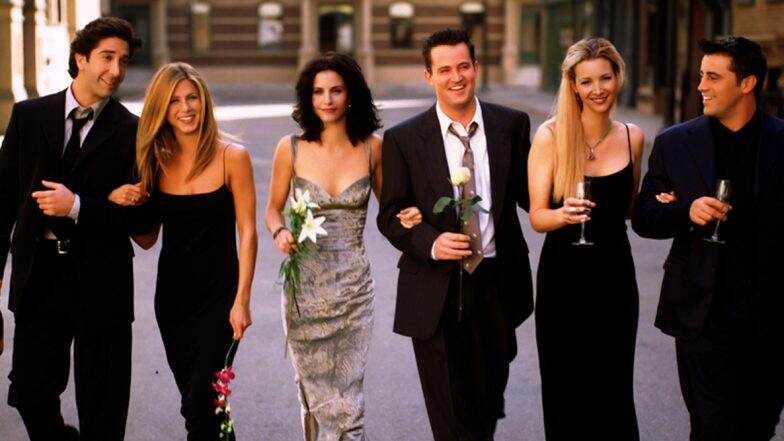 On September 22, 1994, six characters were introduced through NBC as Friends. Although the show's creators David Crane and Marta Kauffman believed that it is going to redefine friendship but they surely never expected such massive outpouring of love. Phoebe Buffay (Lisa Kudrow), Rachel Green (Jennifer Aniston), Chandler Bing (Matthew Perry), Joey Tribbiani (Matt Le Blanc), Monica (Courteney Cox) and Ross Geller (David Schwimmer) became a significant part in the viewers' life. This generation still enjoys the show as it was by the adults in 90s. Fans can never be bored with the American sitcom. Today, we are celebrating the 25th anniversary of Friends, and on the special occasion, followers of the show are thanking the characters on Twitter. From sharing their all-time favourite moments to heartfelt messages, fans are so grateful to the 90s sitcom for always being there. Friends 25th Anniversary Special: Why Rachel, Monica & Phoebe's Lessons in Motherhood Were Ahead of Their Time. 
There is hardly anyone left who are not celebrating the 25 years of Friends. Those are the ones who have not seen the show. Google's special Easter eggs to Ralph Lauren's Rachel Green's outfit collection to Friends legos, the celebrations are taking a crazy ride down the memory lane. And so is Twitter! Ever since morning, they are trending 'Friends 25th Anniversary' on the social media platform sharing favourite scenes, pics and messages.
Happy Friends-Anniversary!
"Friends was - fantastic. It was - I bet I'll be able to say it was the time of my life." -Jennifer Aniston #FRIENDS25 pic.twitter.com/7SqJZGn0j5

— Suus (@Suus1102) September 21, 2019
Welcome to the Real World:
The first episode of F.R.I.E.N.D.S premiered 25 years ago today ♥️ #FRIENDS25 pic.twitter.com/ErYIKNlqWG

— Maika Tiu (@MaikaTiu) September 21, 2019
WAIT!
The One With The Apothecary Table #Friends25 pic.twitter.com/gHbhHUjq6q

— Films to Films (@FilmstoFilms_) September 21, 2019
Best Moves:
The One Where The Stripper Cries #Friends25 pic.twitter.com/Kr4DB85jQx

— Films to Films (@FilmstoFilms_) September 21, 2019
Men Are Here:
Glee!? 😂 Naaah, Friends ☕ #FRIENDS25 pic.twitter.com/nvSSOX9P3S

— Arlettee 💚 (@Anhelada77) September 21, 2019
Friends redefined the true meaning of friendship, family, love, daily struggles and obviously satire. Showcasing important social issues, challenging the stereotypes, communicating emotions and still making everyone laugh, could there BE any better show! We bet not. Share your favourite moments too, if you haven't already and binge-watch the iconic show on Netflix. That is how the 25th anniversary of Friends should be celebrated. Right?