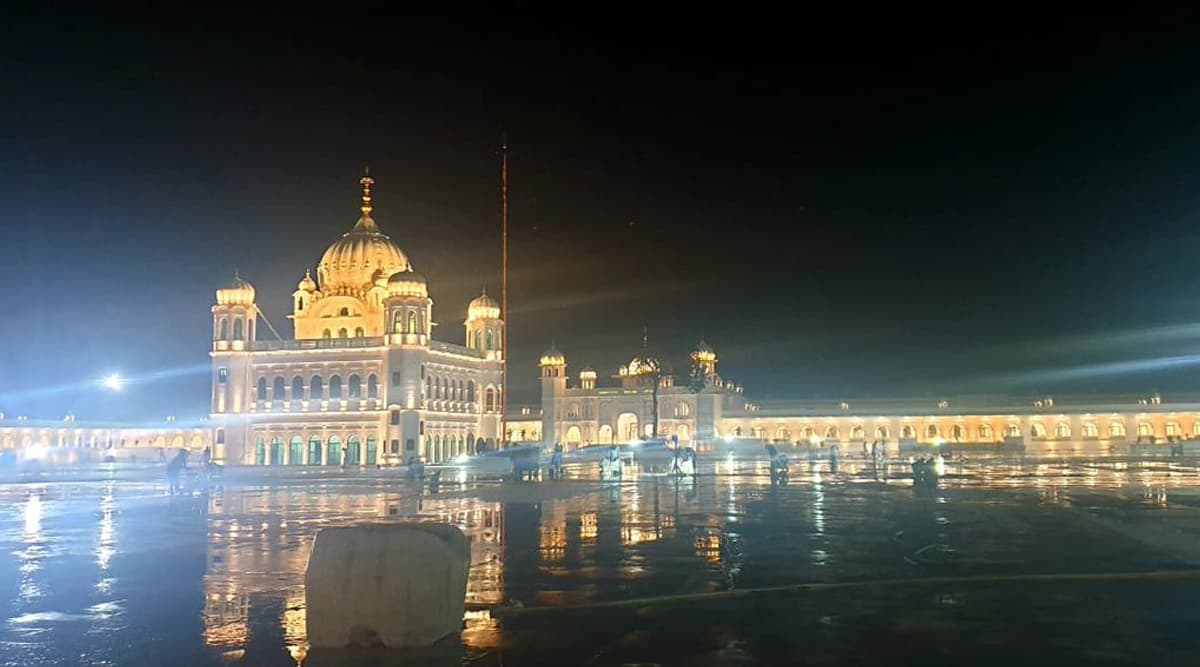 Lahore, November 5: Ahmed Ali Sadiq, a famous steel nail artist of Lahore paid respect to the first Guru of Sikhs Guru Nanak Dev on his 550th birth anniversary through his unique art. Sadiq used steel nails to create a 3D art piece of Gurudwara Darbar Sahib in Pakistan's Kartarpur. The artwork was created by Sadiq by hammering steel cut nails to make a portrait of the holy shrine. Kartarpur Corridor Online Registration to Begin From October 20: How to Apply? Documents Required, Pilgrimage Fee & Other Details.
In an exclusive interview to Indian journalist Ravinder Singh Robin, the Lahore-based artist said that every year Sikhs from all over the world visit Pakistan on the birth anniversary of the first Sikh guru. Sadiq further added that Pakistan government has given a gift to Sikhs by opening the Kartarpur border on the occasion of the 550th birth anniversary of the Guru Nanak Dev. Imran Khan Shares Pictures of the Grand Kartarpur Corridor, Lauds Completion in Record Time; See Pics.
Video of Sadiq Creating the 3D Image of Darbar Sahib Gurudwara:
#Exclusive : Ahmed Ali Sadiq , a famous Steel nail artist of #lahore pays his respect to Baba #GuruNanank through his unique art on the 550th Birth anniversary of #BabaGuruNanak.#KartarpurCorridor pic.twitter.com/FW00EJZMji

— Ravinder Singh Robin ਰਵਿੰਦਰ ਸਿੰਘ راویندرسنگھ روبن (@rsrobin1) November 5, 2019
In 2018, India and Pakistan had agreed to open the corridor on the occasion of the 550th birth anniversary of the first guru of Sikhs. The Kartarpur Corridor will be inaugurated on November 9. Last week, India and Pakistan had signed the agreement allowing Indian pilgrims to undertake a visa-free visit to Gurudwara Darbar Sahib through Kartarpur Corridor. 'Navjot Singh Sidhu and Imran Khan Are Real Heroes': Posters Emerge in Punjab Ahead of Kartarpur Corridor Inauguration.
According to the agreement, Pakistan will allow 5,000 Indian pilgrims to visit the holy shrine every day. The corridor will connect the Indian town of Dera Baba Nanak India's Punjab to Darbar Sahib at Kartarpur where Guru Nanak spent last few years of his life. It is just four kilometres from the International Border. It is located at Narowal district of Pakistan's Punjab province. The total length of the corridor will be six kilometres.