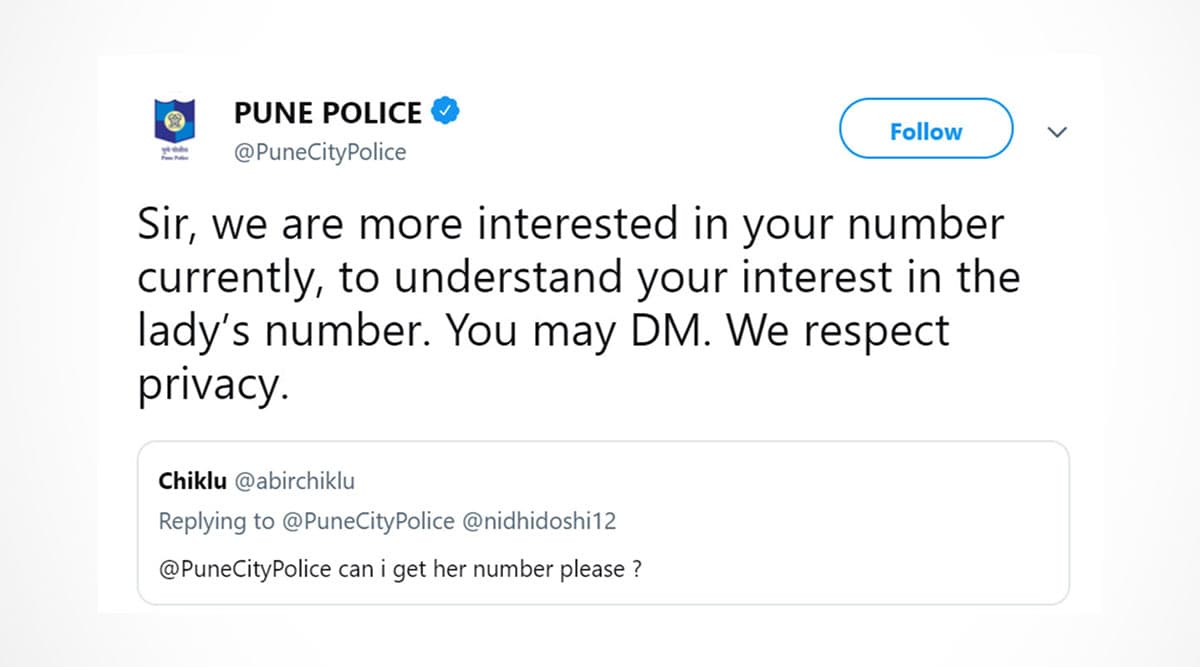 It would not be wrong to state, that the Twitter handles of police departments in the country are becoming interesting off late. Other than giving out crucial information and addressing grievances, these social media handles also effectively deliver a message using a bit of humour. The Pune City Police is the latest one to win hearts with their befitting reply to a person who asked them for a woman's phone number. They asked him to share his own number for his interest in getting the woman's phone number. Nagpur Police Finds a Way to Cash-in on Ranveer Singh's Vogue India Photoshoot and it's Perfect.
It started when a Twitter user named Nidhi Doshi tweeted to the Pune City Police asking the number of Dhanori police station. While they were quick to give it to her, another user by the handle @abirchiklu, asked the Pune Police to help him with the woman's number! The police did not take it lightly and gave him a reply that he'd remember. Meghalaya Police's Witty Tweet on 'Rasna' as Drugs Impresses Netizens, Other Times Police Departments Creatively Trolled Drug Peddlers.
Check The First Tweet Wherein The Girl Asked for Help:
@PuneCityPolice Can I get the number of Dhanori police station please. Need urgently!

— Nidhi Doshi (@nidhidoshi12) January 12, 2020
Here's The Tweet By Guy Asking The Girl's Number:
@PuneCityPolice can i get her number please ?

— Chiklu (@abirchiklu) January 12, 2020
While he probably thought it as a chance to have some banter with the police, the cops showed him, it is not. They responded asking his number instead, to know why would he be interested in her number. Their response to the tweet is being loved by everyone.
Check Pune City Police's Response:
Sir, we are more interested in your number currently, to understand your interest in the lady's number. You may DM. We respect privacy. https://t.co/LgaD1ZI2IT

— PUNE POLICE (@PuneCityPolice) January 12, 2020
Perfect, right? Their response is being appreciated by everyone and has got almost 8,000 likes.
Swag hai Bhai
Pune police ka bhi alag he swag hai 😂😂

— हरिओम (@Im_Hariom_) January 12, 2020
What a Response!
Epic response!!!

Appreciated!!!

— 🇮🇳𝓐𝓼𝓱𝔀𝓲𝓷𝓲 𝓡𝓪𝓳𝓮💕 (@Ashwini_Raje) January 12, 2020
Loving the Humour
Love your sense of humour!! You understood his humour and your response is epic.

— Ravi Thatté (@tonginchic) January 12, 2020
He Needed It
Thank you!! This was savage reply to that pervert .

— Rajnish Pandey (@JustRajnish) January 12, 2020
In times where internet stalking has become so easy and a big problem especially for women, such responses from the police keeping a watch are important. This is not the first time Pune Police have won hearts with such tweets. Last year, when a person asked them about a place where LSD is available, they gave a sarcastic reply that won the internet. Their response to the guy in the same vein even tagged them as the "coolest" ones on the internet.