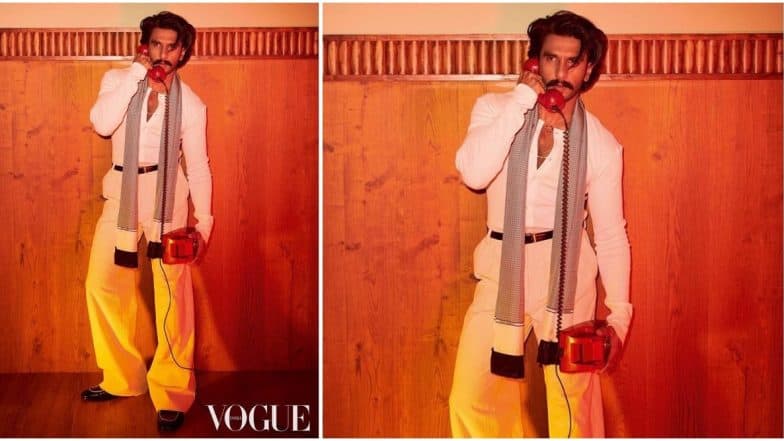 While their job is pretty serious, it doesn't mean police officers can't have fun or be funny in their own way, right? Well, at least their social media team is doing a brilliant job in staying ahead of times while the officers struggle and work really hard to guard our country. If Mumbai Police has upped their Twitter game many notches higher in the past few months, Nagpur police is not far behind and knows how to cash-in on new trends or make memes out of nothing. Gully Boy Meme Inspires Mumbai Police, Tells 'Mar Jayega Tu' to Those Driving Without Helmet.
While Ranveer Singh had a witty caption to share with his new picture from Vogue India photoshoot, Nagpur Police Twitter handle found a new way to utilise it to their own benefit. The picture sees the Padmaavat actor holding a telephone in his hand while posing for a new click. And the social media handle retweeted it with a telephone smile and 100 comment. Meaning? Well, they are simply advising you to dial 100 (telephone) when in trouble. Brilliant, isn't it? Well, that's the beauty of social media these days. You simply can't have enough of it.
Check Out Nagpur Police Tweet
100 ☎ https://t.co/CENlaH0F6n

— Nagpur City Police (@NagpurPolice) November 6, 2019
Earlier, the Nagpur Police had utilised the viral JCB Ki Khudayi funny memes to give a very unique message and later had tweeted to Chandrayaan for making a landing by tweeting 'No Challan' for 'Breaking Signal'. The genius behind this handle should be rewarded or at least give us his/her name and we'd be happy in sharing our gratitude.