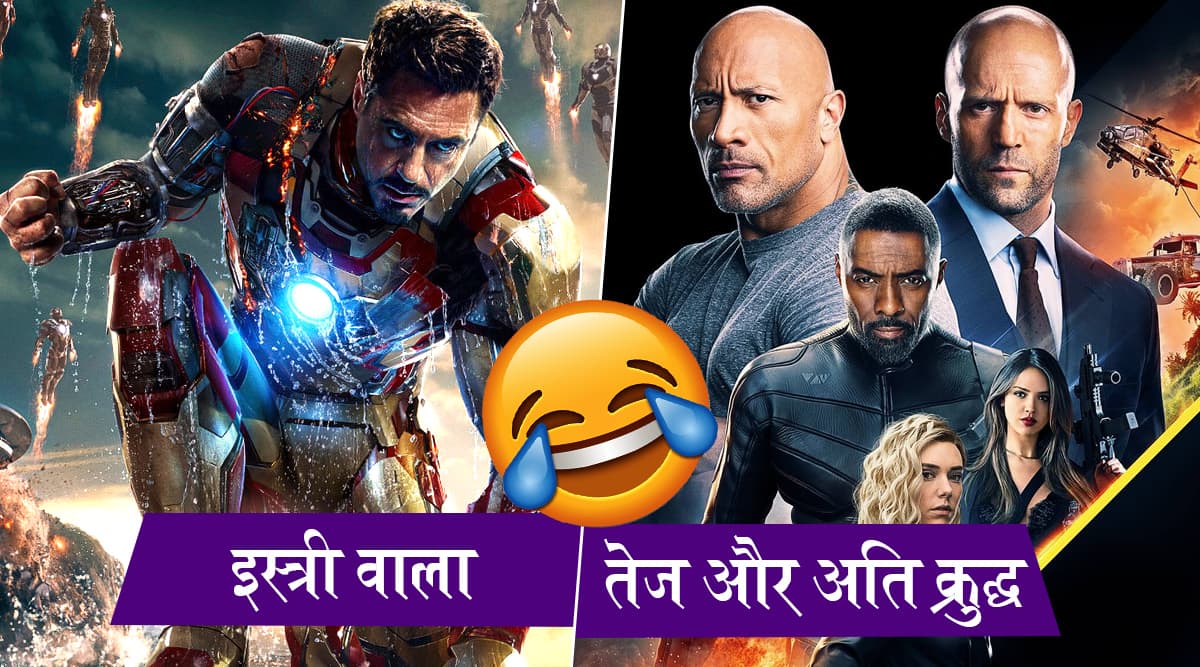 India is celebrating Hindi Diwas 2019 today, September 14. So, it should not be any surprise to see our very own netizens being engaged upon creating some great moments to honour the language. Right? This time, people online are sharing the Hindi translations of Hollywood films. We all have heard the literal Hindi translation of Spider-Man, but what about Fast & Furious? Have you ever thought of Get Out? Hold your breath and check out the funny tweets accompanying #HollywoodMoviesHindiName hashtag. It is currently the top trending hashtag on Twitter as netizens share the Hindi translations of English movies. They are real and when translated in the most commonly spoken language, sound hilarious. Some Words in Hindi Language Which Get Lost in Translation. 
Every year, on September 14, people in India honours one of its two official languages, Hindi, while English being the other one. In the past too, we have spent moments in making Hollywood films sound funny, after translated into Hindi. And on this occasion, almost all the English movies have got their Hindi translations. Some of them you have heard earlier, while with many, you cannot even imagine the outcome. Let us check out what Twitter has to offer with the amusing translations. Common English Words Translated into Hindi We Bet You Haven't Heard Before.
Fast & Furious, Spider-Man:
Fast & Furious - तेज और अति क्रुद्ध

Spiderman - मकड़ी आदमी#HollywoodMoviesHindiName

— Krishna (@Atheist_Krishna) September 14, 2019
Anaconda, Mission Impossible & Avengers Endgame:
Anaconda- बड़का नाग

Mission Impossible- पाकिस्तान और काश्मीर🤪

Avengers endgame: अमित शाह 😂#HollywoodMoviesHindiName

— Ayush Singh🚩💯% F🔙 (@AyushSi00388382) September 14, 2019
Godfather:
Feroze Khan ki sabse badhiya film.

Godfather धर्मात्मा #HollywoodMoviesHindiName

— Pradeep Hardikar (@PradeepHardikar) September 14, 2019
We Knew This Was Coming! Get Out:
Get Out -#HollywoodMoviesHindiName pic.twitter.com/Unrx2fgcSm

— Nikhil D Mehta (@nicksdmehta) September 14, 2019
Iron Man:
Iron man : इस्त्री वाला#HollywoodMoviesHindiName

— Chinmay (@Sherlock1650) September 14, 2019
And Some More:
श्रीमान जम्स बोंड

No Time To Die - मरने का समय नहीं

Live and Let Die - जिओ और मारने दो

For your eyes only - बस तुम्हारी आंखों के लिए

Skyfall - आसमान गिरा

Die another Day -दूसरे दिन मारेंगे

— Rakesh Jadav (@RakeshJadavIn) September 14, 2019
We must say, it is a fun way to celebrate Hindi Diwas. They say, English is a funny language. But when translated into Hindi, they are funnier. And we can never get bored of it. Translating common English words into Hindi is enjoyable and must be shared online, just like creative Tweeple.