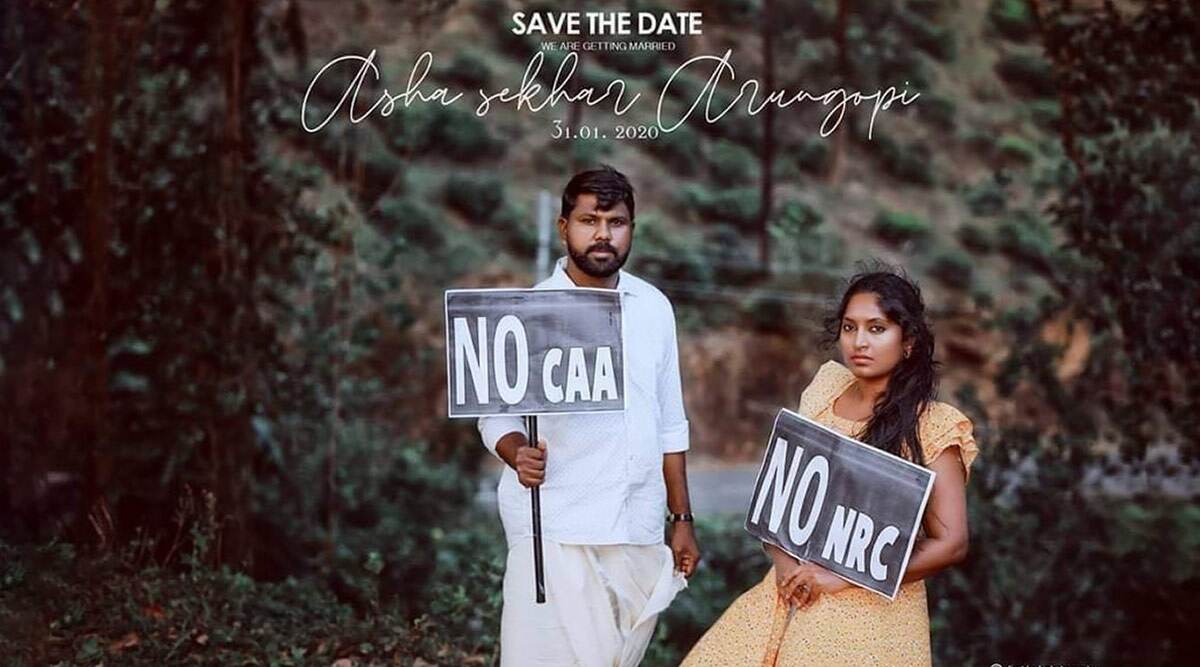 It's wedding season in India and so are the anti- Citizen Amendment Act (CAA) and anti-National Register of Citizens (NRC) protests. Taking a stand in the ongoing protests, a Kerala couple had a political-themed pre-wedding shoot. Putting forward their opinion, the couple from Kerala held placards expressing their political views. In the picture from their pre-wedding shoot that is going viral, the to-be- groom can be seen holding 'No CAA' board while the to-be-bride a 'No NRC' one. The picture was shared on Twitter with the caption, "A pre wedding shoot Pic from Kerala. Via : First Look photography #CAA_NRC_Protests." Amid Anti-CAA Protests, BJP Deletes its Tweet on NRC.
The ongoing wedding season has been seeing uniquely themed wedding photography, but this has been the first of its kind. As the picture went viral, it received varying opinions from social media users. While some praised their courage to tweak their pre-wedding photography, others differed. People said that they need not turn their special moments into a political stand. However, people countered saying that it was one of the ways to showcase their protest and by doing so they reached the masses well. CAA Protest: RSS to Start Door-to-Door Campaign to Explain Citizenship Amendment Act.
Kerala Pre-Wedding Shoot Says 'Anti-CAA', 'Anti-NRC':
A pre wedding shoot Pic from Kerala.

Via : First Look photography#CAA_NRC_Protests pic.twitter.com/DxUwL2kX8b

— Advaid (@Advaidism) December 21, 2019
Check Out The Pre-Wedding Shoot Pictures Here:
After CAA was passed in the Parliament, states across the country witnessed protests. The CAA provides Indian nationality to Hindus, Christians, Sikhs, Parsis, Jains and Buddhists fleeing persecution in Pakistan, Afghanistan and Bangladesh leaving behind Muslims sects such as Shia, Ahmadi and Balochs, Tamilian from Sri Lanka and other religious minorities facing persecution in neighbouring countries. Meanwhile, NRC, as ordered by the Supreme Court, was implemented in Assam to identify and eliminate illegal immigrants from the state. There has been a growing demand for its nationwide implementation.