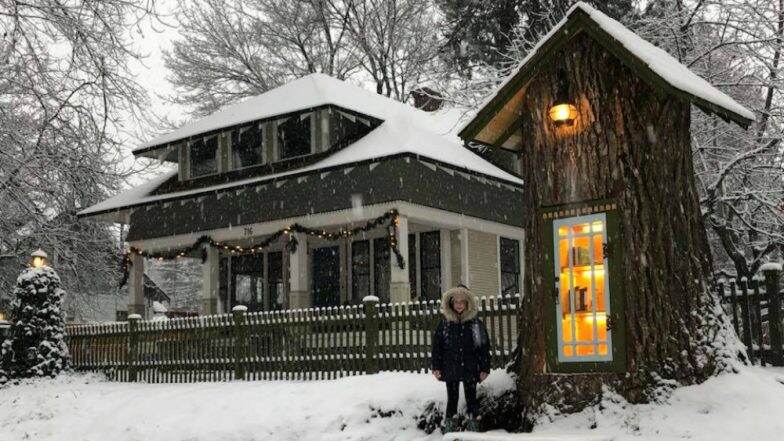 This is how, we all should probably make the best out of nature! A United States librarian had a 110-year-old tree stump in front of her house. When an ageing cottonwood tree began to rot and had to be cut down for safety reasons, Idaho resident Sharalee Armitage Howard knew just how to transform it into something special. Well, she has her very own little library where people can take a book and give it back at their leisure. Isn't it cool? The book-borrowing haven got enough appreciation, and the pictures of the beautiful creation are going viral on the internet. UK's First Upside-Down House in Bournemouth Has Opened Its Doors to Public, See Pics. 
The idea has been supported by Little Free Library, a non-profit organisation that fosters neighbourhood book exchange around the world. This particular library looks like something out of a magical fairy-tale land. It is so dreamy, that book lovers would want to go there immediately with a thermos full of hot cocoa and plenty of free hours. Howard told Bored Panda, "It was dropping HUGE branches for years onto the sidewalk and street (even without windy weather). We were really worried about someone getting hurt. One finally hit our son's car." Hence her Free Little Library was born! Couple Tired of Answering 'When Will You Have Kids' Start Posing With Dolls as Children. 
Can We Get These In Every Street Corners Please?
Little Free Library has inspired people from all over the world to keep their love of books alive and encourage more such creativities by fostering neighbourhood book exchanges. There are above 75,000 registered Little Free Libraries in about 88 countries around the world, each with their unique character, but this one has to be the best. Don't you think so?