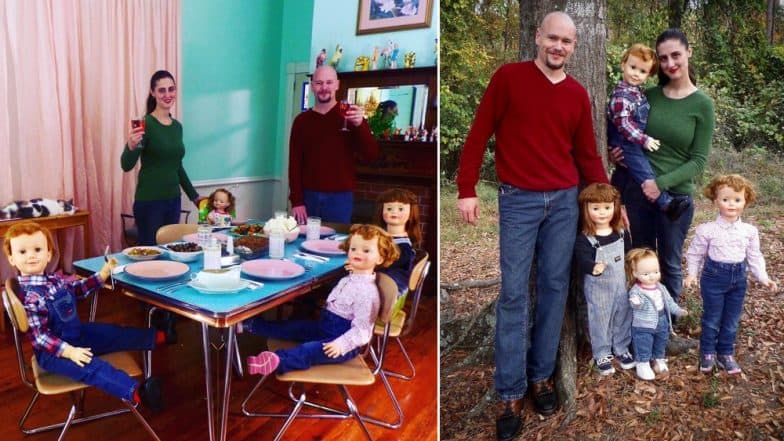 Society can get really daunting with some of its questions about other people's way of living or choices. Questions relating to marriage and kids are the ones that see no end. A couple from South Carolina found a rather innovative alternative to serving an answer to the questions about their kids. Madeline Dressel and her husband Malachi, both in their early thirties were constantly asked by their relatives and friends about their 'family.' The couple who had a unique collection of plastic dolls, decided to pose them as their 'family.' In the age of social media, where every life update is important, the couple created an Instagram account to post family pictures with their life-sized dolls. Japanese Man Marries Virtual Star Hatsune Miku Hologram Doll! View Pics of Bizarre Wedding.
The couple has over 75 dolls and they work best as a part of their family pictures, posing as children. Madeline had been collecting dolls ever since she was a child, of different types and sizes. The couple decided to start their own account after they saw their Facebook feeds being filled with their friends posing with their children. The couple has also been questioned about when they would start a family, and well, they virtually did.
Not just normal daily routine pictures or family portraits, but they have also celebrated Christmas and birthdays with a twist. Now their friends have found this hobby very interesting while there are some who have found them creepy too! When Are You Getting Married? A Question That Can Drive People From Photo Shooting Self to Shooting Others.
Check Pictures of Couple Posing With Dolls For Family Pictures 
View this post on Instagram
Birthday Parties
View this post on Instagram
Christmas Family Portrait
View this post on Instagram
The collection is indeed varied and in some pictures, they all look so realistic. "We both thought that it would be cool to pose them in real-life settings as if they were kids as a bit of a joke to start, but it grew from there. We enjoy collecting dolls together and the big ones are our favourites," Madeline was quoted to Mail Online. The couple started a year ago and have become popular in their friends' circle for this. Meanwhile, the questions about real children still continue, but they are not really looking forward to family planning as of now.