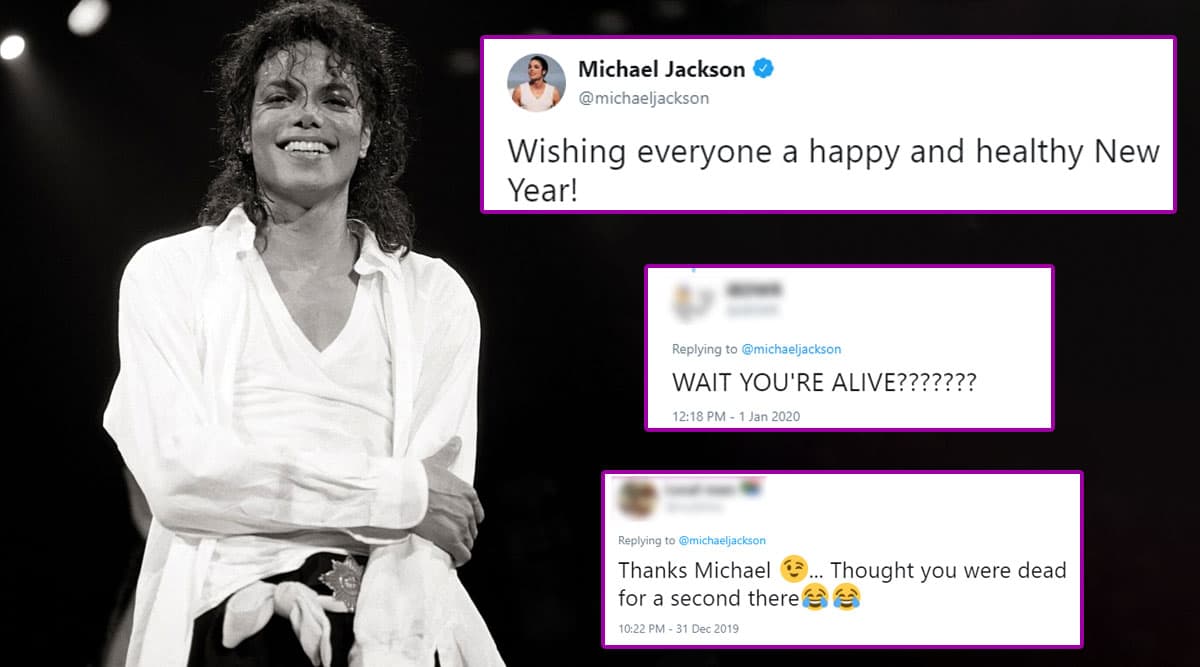 It's been three days since the New Year 2020 and everyone exchanged wishes and messages of Happy New Year. Politicians, celebrities, sportsperson, singers everyone shared the wishes of the New year on their social media accounts. Among them, the official Twitter handle of late pop singer Michael Jackson also tweeted a New Year's wish. The tweet read, "Wishing everyone a happy and healthy New Year!" with a picture of the late singer. The "King of Pop" as he was commonly referred passed away on 25 June 2009. But a tweet from his account left several netizens cracking jokes and funny memes. People made jokes on him tweeting from his grave. Man Tweets About Meeting a Hot 'Jalepeno' Girl, Come Backs to Twitter After 10 Years to Update They Are Married!
The official page of the late singer keeps updating the account with quotes and pictures of the pop singer. It has over 2.2 million followers on Twitter and it is a way to interact with the fans of the late singer. But when there was a tweet wishing for the New Year, Twitterati made a little fun out of it. Some asked if he's still alive, while others wanted to know what connection was he using to tweet from his grave. The tweet has received some funniest responses. Autistic Boy Who Asked if Someone Will Like Him Gets a Big Reason to Smile! Twitter Honours by Featuring Him in Top 19 Tweets of 2019.
Check Michael Jackson's Tweet on Wishing Happy New Year:
Wishing everyone a happy and healthy New Year! pic.twitter.com/CBwnadGQm2

— Michael Jackson (@michaeljackson) December 31, 2019
The tweet has got over a lakh likes and about 19,000 retweets. But the best are the reactions to it. Check some of the funny responses.
Y U Tweeting Bro?
Rest in peace means no tweeting bro https://t.co/yPSMG5HQyS

— 5 i v e™ (@5ive_zw) January 1, 2020
You Alive?
WAIT YOU'RE ALIVE???????

— iBDWR (@iBDWR) January 1, 2020
Twitter For The Grave Yard
Twitter for grave yard.

— Beardless Smallie😎🌐 (@SMiTHiE___) January 1, 2020
Thanks Though
Thanks Michael 😉... Thought you were dead for a second there😂😂

— Local man 🇿🇦 (@muk0vhe) January 1, 2020
How Many of You Can Relate?
michael tweeting from the grave and my friends can't even text me back https://t.co/Cx4IddiuQb

— Shafeeq (@Y2SHAF) January 1, 2020
Quiet a Grave Situation
He has internet in his grave and yet Kashmir is without internet. #India https://t.co/QiuALczulm

— zahid (@zaahidf) January 1, 2020
Hahaha
— Azy (@AzyConTroll) January 2, 2020
There's WiFi There?
You still get wifi down there? https://t.co/ppLuhS7vQ4

— Alejandra (@Alejandrathfc) January 1, 2020
The tweet has got several funny responses. Some of them found it creepy that the account was still accessed like normal. But most of them found the humour in the situation and gave funny replies.