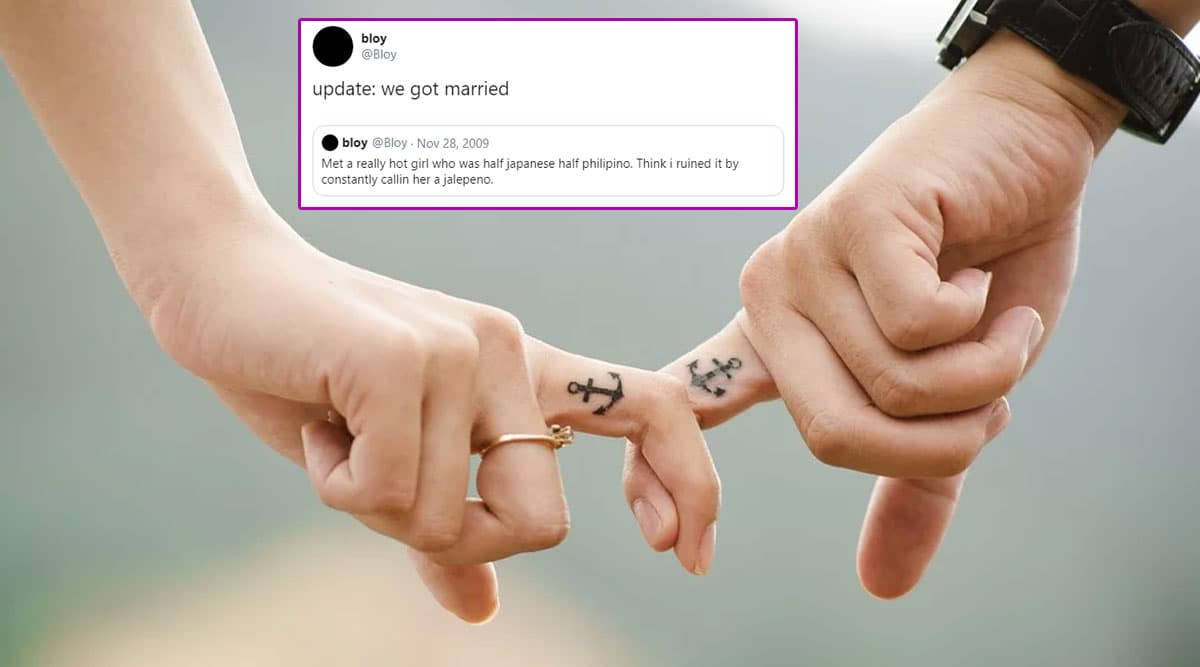 We are the social media generation where most of us put updates on our daily lives. And the mediums have proved useful in reuniting or finding certain people thanks to the wide reach and audience. Twitter especially has been quite an interesting place which has reunited lovers or people who have met just once. A Twitter user has made a tweet after almost a decade replying to his own tweet from 10 years ago and it is going viral. Well, the man has given an update on marrying the hot girl he met 10 years ago, about whom he had tweeted back in 2009. His relationship update is going viral! Would You Kiss a Stranger For Picture? Woman Reveals She's Done it at Eiffel Tower, Many Others Join In (Check Viral Twitter Thread).
A Twitter user with a handle @bloy, tweeted in 2009 about him meeting a really hot girl, who was a half Japanese and a half Philipino. He mentioned how he teased her 'jalepeno.' He tweeted this on November 28, 2009, and was inactive on the platform until he decided to let the world know that he is now married to the same girl. A decade later he tweeted today that they are married. And the tweet is really blowing up with over 20,000 retweets and more than 70,000 lakh likes. Well, you really cannot predict what goes viral when and now even his decade-old tweet is going viral. People are rooting for the love of the couple and how they have made their happy ending. New York Police Find Lost Engagement Ring, Twitter Helps Officers Track Down the Couple.
Check The Old Tweet Here:
Met a really hot girl who was half japanese half philipino. Think i ruined it by constantly callin her a jalepeno.

— bloy (@Bloy) November 28, 2009
Here's The Update Which is Going Viral:
update: we got married https://t.co/Skkuj8V8i5

— bloy (@Bloy) December 18, 2019
Now both these tweets are going viral and he mentioned that "its truly about the personality and the way they make you feel." Check how some of the people are reacting on these tweets.
Wholesome Outcome Here!
That's a very wholesome outcome, congratulations! pic.twitter.com/8fZUYx9hTE

— NotALoli🗿 (@owouwuhowdoudo) December 18, 2019
Hoping For This Ending
I need this ending

— Ghast (@GhastNekoMancer) December 18, 2019
What a King!
king pic.twitter.com/TYvKPUOSMQ

— Alex (@aliu764) December 18, 2019
Happy Tears!
— satchlink (@satchlink) December 18, 2019
Happy For You
That's amazing, happy for you

— Chris the Ramen Man (@RamenOfCulture) December 18, 2019
Congratulations in Order
TEN YEARS MAN!!! Thats awesome! Congratulations

— yeeunism🎄 (@bestboyhoshi) December 18, 2019
Congratulations and best wishes! May you have a long and happy life together! ♥️

— cindyg aka Starshadow Rivaulx (@Starshadow) December 18, 2019
Iconic Tweet
Iconic decade tweet

— hanz (@haniff_hardy) December 18, 2019
Well, it is amazing and the internet is loving their story, although it's described in just two tweets. It has left a lot of people wanting to have such a wholesome and happy ending.