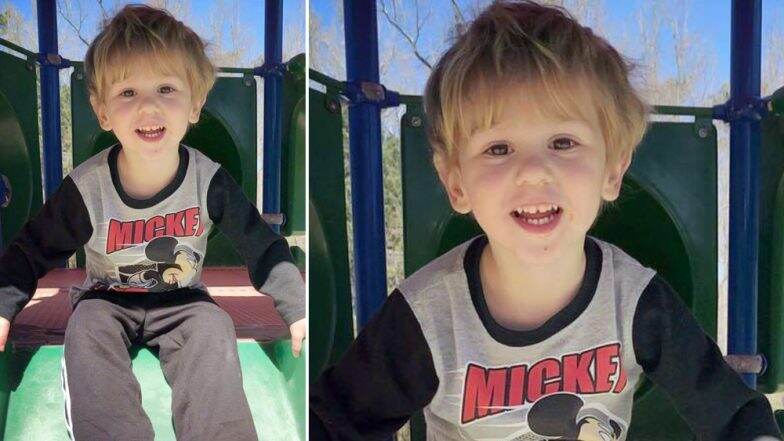 Mowgli in real-life? Well, believe it or not, but the recent instance in the United States triggers a similar debates. It is no less than a miracle for this North Carolina family who could only hope and pray for the safety of the 3-year-old boy who finally returned after he went missing in the woods for two days. According to media reports, the toddler was apparently hanging out with a bear in those days for companionship while hundreds of people searched in cold and rainy weather. His aunt identified as Breanna Hathaway shared the revelation on a Facebook post, which has now been deleted. Bear Jumping with 5-year-old Boy at Nashville Zoo Reminds us of Mowgli & Baloo the Bear. 
The 3-year-old Casey Hathaway was playing outside his great-grandmother's house with two other children last Tuesday, January 22. According to a local news channel WITN report, the child suddenly wandered off into the woods. Immediately officials were informed. Hundreds of people, helicopters and search dogs looked more than 1,000 acres for the tod but could not find him. The next few days experienced freezing temperatures and heavy rain. After the unsuccessful attempt, Lisa Fraker, who joined the search party came back home on January 24. Instagram Bear Stepan Poses With Beautiful Women!
She decided to take her dogs out for a walk. The moment, Lisa stepped outside, she heard what she thought that someone was crying. She put her dogs back in her house and ran to asking an emergency responder to come along with her and listen to the sound. "Next thing I know, [the emergency responder] was coming back and telling me that yes, he heard something too. And the next thing I know, everybody was running up there and I heard he was found," Lisa told WITN.
Emergency Medical Services (EMS) Captain Shane Grier found the 3-year-old in a thorn bush. The tod seemed to be alright, but he was freezing. The officers immediately started warming him up. "The more we warmed him up, it seemed the better he got," Grier further said. Hathaway's aunt Breanna on a Facebook post wrote that her nephew seems to be fine and that a bear took care of him in the woods. The now-deleted Facebook post read, "Casey is healthy, smiling and talking. He said he hung out with a bear for two days. God sent him a friend to keep him safe." She even mentioned that the toddler's favourite cartoon is Masha and the Bear.