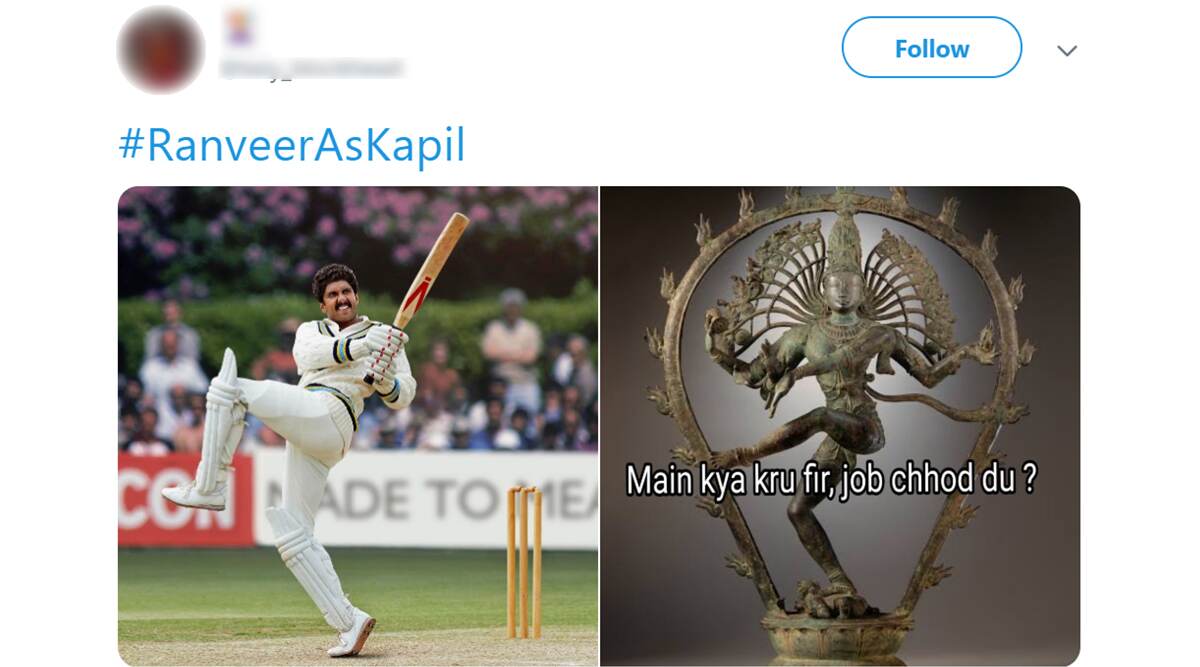 Is there anything that actor Ranveer Singh cannot pull off well? Be it his fashion outings or film roles, he gives it his 100 per cent. The actor gets into the skin of each of his characters so well! Currently, it is his look as Kapil Dev for the film '83 that has floored everyone. Just yesterday, the actor posted a picture of himself doing the famous Natraj Shot by the ace cricketer and people cannot stop appreciating the similarity he exhibits. But anything and everything that trends on the internet does get funny meme reactions too. So as #RanveerAsKapil started trending on Twitter, some users were quick to make funny memes and jokes on the Natraj Shot pose too. 83 the Film: Ranveer Singh Aces Kapil Dev's Famed 'Natraj' Shot in a New Still (See Picture).
Ranveer Singh's replicating the famous pose won appreciations from Kapil Dev himself. He gave a "Hats Off!" to the actor. Everyone was praising the actor commenting how similar he looks to the cricketer. There are no doubts about his talent and ability to perform. He has made changes to his diet, sported a iconic moustache to look like Kapil Dev. But there are always going to be some fun tweets and memes that will trend online. Ranveer Singh as Kapil have also inspired some funny reactions.
Check Funny Memes on Ranveer Singh's Natraj Shot Pose:
Mumbaikars Assemble!
*Everyday struggle of a Mumbaikar travelling in a local train.* #RanveerAsKapil pic.twitter.com/ti0D7OKfBY

— Tweetera🐦 (@DoctorrSays) November 11, 2019
Natraj Be Like...
After watching ranveer's

NATRAJ SHOT Natraj be like #RanveerAsKapil pic.twitter.com/P5HXkbaH5v

— RAHUL (@rahul_9505) November 11, 2019
#RanveerAsKapil pic.twitter.com/8b7EYJZMW0

— 🃏 (@lazy_blockhead) November 11, 2019
From Field to a Club
Now who did this 😂😂#RanveerAsKapil pic.twitter.com/Ty9xeAWhvu

— Biswajit (@meme_lord_biswa) November 11, 2019
Most netizens were simply floored by the uncanny resemblance the actor has drawn in this iconic pose. The film already has a lot of anticipation from all the fans and the new stills and pictures are only making it difficult for them to wait until the release. The film is directed by Kabir Khan and will also feature Deepika Padukone. '83 is all set to hit the silver screens in April 2020.