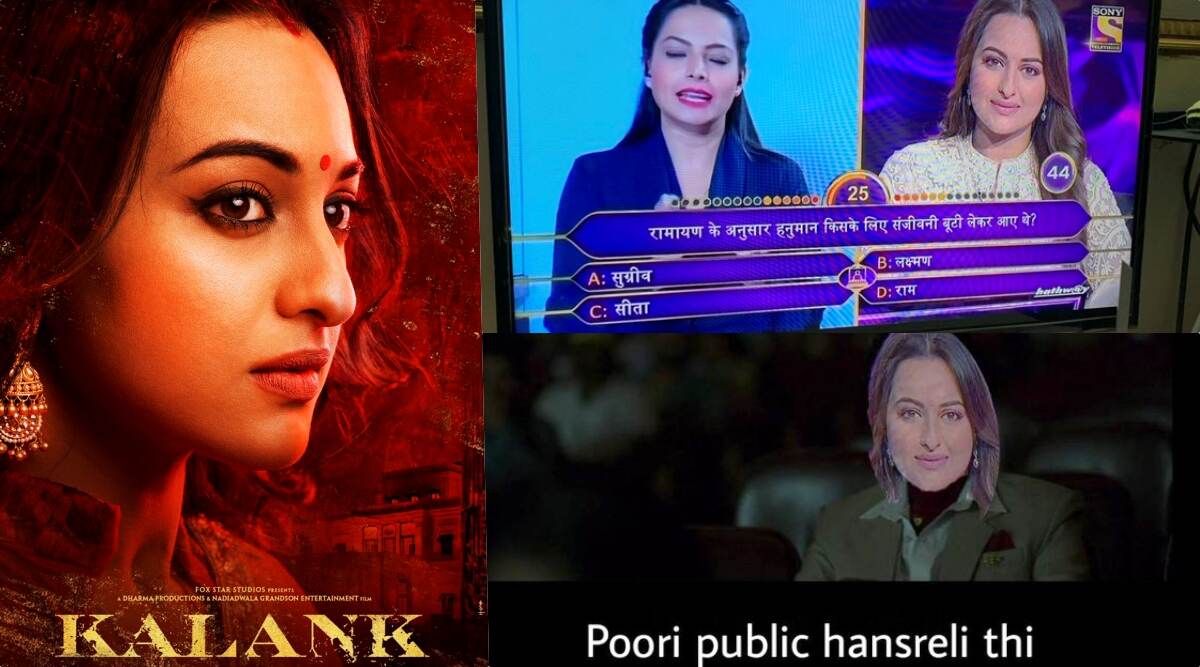 What is with Bollywood celebs and quizzes. They keep making a boo-boo or two on the national television. We had seen Alia Bhatt go super wrong on her mentor Karan Johar's chat show, Koffee With Karan. The 26-year-old had confidently claimed Prithviraj Chauhan (12th-century king) to be the President of India back in the year 2014. Alia was mercilessly trolled. And five years down the line, it looks like netizens have found a new target. It is none other than Sonakshi Sinha. The 32-year-old has become the butt of all jokes after failing to answer an easy Ramayana question on Amitabh Bachchan-hosted Kaun Banega Crorepati (KBC) season 11. This has sparked a meme-fest online and trust us, these funny memes are 'asli sona'. Several hashtags such as #YoSonakshiSoDumb, #sonakshisinha and #Ramayana are trending online.
Sonakshi is making headlines, but not for the right reasons. The Kalank actress appeared on megastar Amitabh Bachchan's iconic Kaun Banega Crorepati show. She was accompanying an entrepreneur Ruma Devi from Rajasthan who was invited as a Karamaveer contestant on the show. Sonakshi was present to support Ruma in her quest to become successful on KBC. Sadly, Sonakshi ended up become a target of online trolls and meme-generators.
The Dabangg girl was asked, "According to Ramayana, Hanuman fetched the Sanjeevani Buti (herb) for whom?" Well, this question got Sona confused between four options given to her in the game - Sugriva, Lakshmana, Sita and Rama. She had to use a lifeline to get this answer right. However, the damage was already done.
Ironically, Sonakshi's family members are all named after characters from Ramayana. Her father, actor-turned-politician, Shatrughan Sinha is the youngest of four brothers – Ram, Bharat and Lakshman. Sonakshi's twin brothers are named Luv and Kush, again named after Lord Rama's sons from the great Indian epic. The family's bungalow is named Ramayana. With so much connection going on, KBC viewers and fans were really surprised over Sonakshi's poor show on this particular question. Nevertheless, it did lead to hilarious memes and jokes online.
1. OUCH
She did the justice with her movie title " कलंक " pic.twitter.com/L1W3tPcNMf

— Memeकाpattaकड़वाhai (@Swap_nil_09) September 21, 2019
2. Amitabh Bachchan Be Like
Bachchan sahab after watching sonakshi dumbness:👇 pic.twitter.com/C3VW8pwLYY

— Shashwat Bhardwaj (@ShashwatBharad1) September 21, 2019
3. Am I Joke To You?
Everyone : #YoSonakshiSoDumb

Alia Bhatt : pic.twitter.com/4lQ2q8b167

— Niriksh (@nirikshhhh) September 21, 2019
4. Alia Bhatt to Sonakshi Sinha
#YoSonakshiSoDumb No doubt !!

But Alia is still the Queen Bee 😜 pic.twitter.com/n5qnTkTQHh

— चौकीदार केसरिया भारतीय (@shobhitbansal1) September 21, 2019
5. Yeh Kya Mazak Chal Raha Hai
Amitabh Bachchan after hearing the answer from #Sonakshi#YoSonakshiSoDumb pic.twitter.com/PgDtAwgmni

— Abhimanyu Thakur 🇮🇳 (@iamabhimanyut) September 21, 2019
6. Sonakshi Sinha Be Like
Sonakshi before After that

that question. question. pic.twitter.com/awRZXOs6Fx

— Grumpy (@roooossshhiiiii) September 21, 2019
7. Viewers Be Like
Just look at this #sonakshisinha said in the first place its sita and then she said Ram. And Lakshmann ji be like

#YoSonakshiSoDumb pic.twitter.com/auqahkAVYC

— Hemant (@ImGaurHemant) September 21, 2019
8. Shatrughan Sinha Be Like
Meanwhile Shatrughan whose Residence's name is Ramayana...!! @ShatruganSinha @sonakshisinha DumbAss pic.twitter.com/UpKbFSxQJp

— Mohit (@JIILCK85) September 21, 2019
9. Hahahahhaha
Amitabh Bachchan's reaction after Sonakshi Sinha's answer about Ramayana on KBC last night.

😕😕😕#YoSonakshiSoDumb pic.twitter.com/GfYc8Y94FL

— Amrude (@poonameh) September 21, 2019
10. ROFLing
Pic 1) Question Asked

Pic 2) Amitabh Ji reaction#Sonakshi took helpline for the question but the Most funny Part is her Father name is Shatrughan Sinha

Her Brother names is Luv & Kush

& she lives in Bungalow called Ramayana

See Her Dumb face🤢🤢😹😹#YoSonakshiSoDumb #KBC2019 pic.twitter.com/e5sZcGSYmm

— ṘḀJ ⚡⏳ (@StarShadow_Raj) September 21, 2019
11. We Clearly Have Messed Up
When teachers and family members were teaching Ramayana......

Sonakshi : pic.twitter.com/dALq02ngpV

— NATIONALISM (@RPJaiswal8) September 21, 2019
As for Sonakshi, she appears to be unaffected by all this hue and cry. The actress shared a lovely picture from her Maldives vacay on Instagram. On the work front, Sonakshi will be next seen in Dabangg 3 and Bhuj: The Pride of India. She had received much appreciation for her portrayal of Eka Gandhi in multi-starrer Mission Mangal.