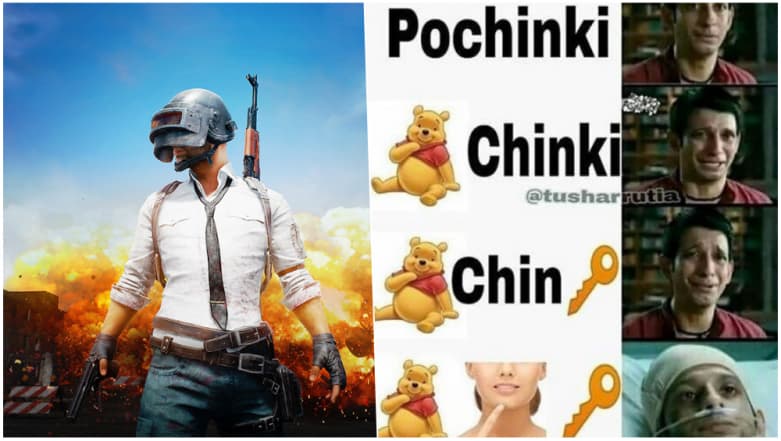 PlayerUnknown's Battleground, popularly known as PUBG is a mobile game that has left everyone addicted. Those who love to play games on their smartphones would be aware of this battlefield game which involves many players at one time. Friends gather teams and play or rather fight it out with the contenders. The main aim of this game is to survive against the other gamer participants. PlayerUnknown's Battleground: Know Everything About the Most Played Online Multiplayer Game PUBG.
The game became so popular that it crossed over 100 million downloads on iOS and Android platforms. The game has seen 14 million daily active users in just a few months time. So one can really guess the intensity of its popularity. And anything that's massively popular has memes to it. So PUBG too has seen its share of jokes and memes being made on it.
Check some of the PUBG Memes and Games trending on Social Media
PUBG is Priority
When its your wedding night but suddenly you see your husband is playing #pubg with his pubg squad pic.twitter.com/hMOxgoTQMu

— Tina Khan🇮🇳 (@tinakhan24) July 30, 2018
Not leaving the rickshaw guy
PUBG effect in India#PUBG_MOBILE #PUBG #PUBGMEMES

Be like pic.twitter.com/6Fzr1vsayC

— fais_6_66 (@Fais19965200) October 22, 2018
Blessing for Singles!
Girlfriend is temporary..

PUBG is permanent..

Memes are life...

— Praful Choudhary (@only_for_memes) October 26, 2018
View this post on Instagram
And then there are gamer girls 
When a lady pubg player kills you but you are a romantic guy🤷🏻‍♂️...

You: pic.twitter.com/SFfphMxIA4

— Apratim (@ThisIsApratim) October 18, 2018
nowdays boys requirement for a prefect gf..

😂😂😂😂😂#PUBGMOBILE #PUBG#Memes pic.twitter.com/xZY3OZNQMV

— のロロℜ -[D̲̲̅̅a̲̲̅̅r̲̲̅̅s̲̲̅̅h̲̲̅̅a̲̲̅̅n̲̅] (@Saif01490) October 27, 2018
Character memes
It all makes sense now. 🐴@PUBGMOBILE #PUBGMOBILE #PUBGHalloween pic.twitter.com/yvXuxOvVNZ

— Riや×RestInPieces (@_RestInPieces) October 27, 2018
Pochinki is real
View this post on Instagram
When you drive across pochinki#PUBGMOBILE pic.twitter.com/6kCT6Ck3SJ

— afaque rehan (@RehanAfaque) October 24, 2018
Aftereffects of playing PUBG
PUBG Goes Desi
View this post on Instagram
If you are a PUBG player or know someone who loves the game, you'd relate to these jokes well. The game recently also introduced a Halloween-themed update for the users. The game continues to be enjoyed by several users and we are sure so will the memes continue. Do you enjoy playing this game?