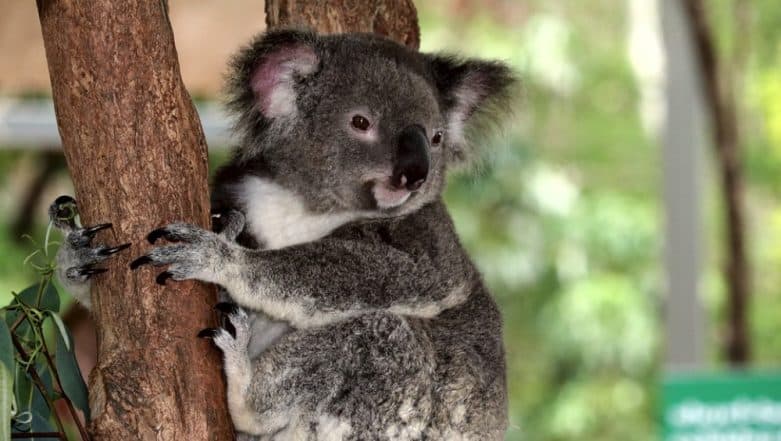 A koala is grabbing eyeballs on social media for striking a sexy pose. The animal which was clicked at Currumbin Wildlife Sanctuary in the Gold Coast can be seen sitting balancing itself on twin think branches of a tree.  And now pictures of the animal from Queensland in Australia is going viral with social media users commenting that the animal is in look for love.
Viral pictures of the koala were clicked by part-time photographer and risk analyst Ross Long. The 27-year-old said that he clicked the picture on seeing the koala "positioned in a seductive manner as if to say, 'I'm ready for action'" He said the marsupial was the easiest model he worked him as it maintained the same pose throughout the encounter giving him plenty of time to click. Pictures of Pigeons Sitting As Humans Go Viral on Twitter; the Reason Might Break Your Heart! (View Pics)
Daily Mail quoted Ross as saying, "He's certainly positioned in a seductive manner as if to say: "I'm ready for action". There were other female koalas nearby, so I guess this is his way of letting them know that he was indeed ready. He looked more chilled than a Friday night of Netflix and chill. Perhaps this explains why chlamydia is such an issue in the koala world?"Ross posted the photo on Instagram with the caption, "Draw me like one of your French girls, Jack." Well, it seems this time somebody posed for Ross! Rare White Reindeer Captured in Norway Ahead of Christmas 2018! View Cute Pics of The Snow Animal Goes Viral.
Check out the sexy koala that is going viral below:
View this post on Instagram
Ross further said, "I've never worked with such an easy-going model like this one before, it's a welcome change from the stuff I usually capture. I'm lucky enough to travel around Australia and New Zealand most of the year which gives me plenty of photography opportunities. There is just so much variety in Australia, depending on where you go, the animals adapt to the landscape. It keeps everything fresh and exciting."