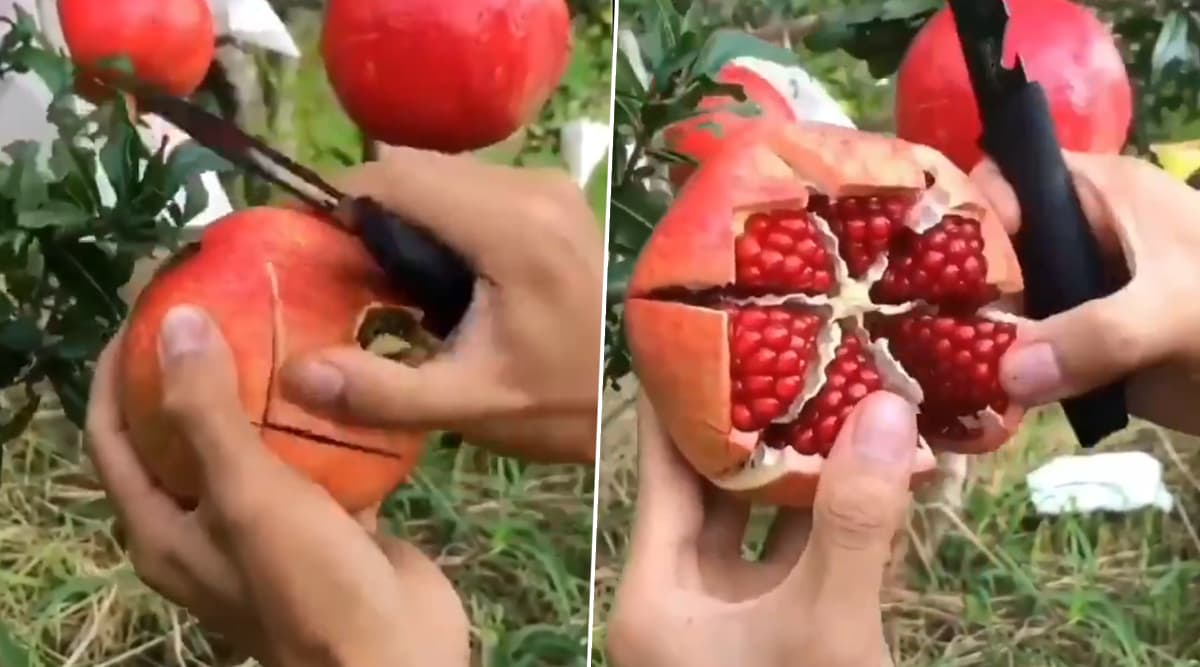 The love for pomegranate is exceeded only by the hatred of actually sitting down to peel it. And all the desis will agree here when I say that we only eat pomegranate also known as anar when someone peels it for us. But what if we told you that the hack of peeling pomegranate under two mins is way simpler than you think? Yes! We were living in the 1920s until we came across this epic hack for removing pomegranate arils from the shell in a jiffy.
This hack doesn't only make it super easy to remove pomegranate seed from the peel but also helps you serve it beautifully, in a hassle-free manner. The pomegranate peeling hack video was posted on Twitter has gone viral ever since. Or in other words, let's just declare it the easiest way to peel a pomegranate in the world, already! So without further ado, here are the instructions. All you have to do is carefully cut out the upper portion horizontally and then cut the fruit anti-clockwise vertically in portions. The fruit will open up in jiffy like a blooming flower. Guess, we should be really thankful to the person who invented the hack.
That being said, the video has set the meme factory in motion. You won't even believe the kind of reactions the viral video has been receiving. First of all, let's check out the mind-blowing hack:
How to Slice a Pomegranante
How to effectively slice a pomegranate pic.twitter.com/WdeQwvqeMF

— Engineering (@engineeringvids) October 19, 2019
Are you shook or what? This is seriously one of the best things we have seen on the internet today, but here comes the funny memes and jokes to top that. Check them out!
— Sandy (@curiousjames) October 21, 2019
LOL
How to effectively slice a pomegranate:

Rule 1: Don't pluck it first.

— Harish Govindarajan (@harish3092) October 20, 2019
Ah-mazing
— Herman Melville (@HermanM56386895) October 19, 2019
Lovin It
— Kara C (@_kara_c_) October 20, 2019
#TeamMessy
I'd probably slice my palm-egranate.

— mike. (@_mikeasaurus_) October 21, 2019
Wasted Life Effectively!
Lol all my life I struggled with cutting those open pic.twitter.com/vmTAchU0oJ

— Bella_p (@Bellap11470611) October 20, 2019
Just earlier this year, we were introduced to the "correct" way to eat pineapples that make the process less messy. It did make us realise that we have been eating pineapple the wrong way the whole time. Do you remember the "they did surgery on a grape" video that went viral? We even learned the easy way to peel garlic. We've all known the pain of peeling the tiny cloves of garlic that test our patience. Somehow, these hacks always garner funny reactions, memes and jokes.