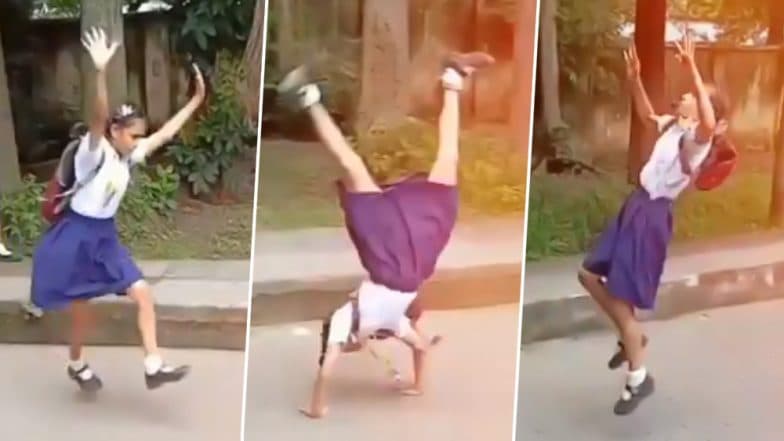 Tik Tok videos can get as cringey as you want but we cannot deny that some of them are just pure GOLD. Right from the "Peeche-dekho" kid to singer Ranu Maria Mondal, who went viral on the internet for her rendition of a Lata Mangeshkar song, we have really seen some amazing stuff. Like this recent Tik Tok video of a schoolgirl doing somersaults in her uniform is everything you want to see this weekend. The viral video starts with two school kids seen walking in their uniforms and later it quickly escalates to them performing somersaults like real athletes. The video has made us wonder what are such talented kids doing at school when they should totally be noticed by National Sports Organisation, India. Haryana School Girl 'Reporting' on Floods and Water Logging Is Winning Hearts on Twitter, Watch Viral Video. 
In the video, you can see the girl giving the boy a push that ends in the boy doing a single summersault where he lands on his feet perfectly. However, next, the girl is seen doing a double summersault and landing on her feet like a goddamn boss! It is a video that will make you say, that these are kids should be representing India at the Olympics.
Take a look at the video:
Good morning pic.twitter.com/ZgycJSP0yM

— Tik Tok Tik Tok (@0__1) August 25, 2019
Here Are Some of The Reactions the Video Received:
Wow A future Gymnast

— яuɞєєňÁ_محر (@rubeena_uns) August 25, 2019
Like, RN
Koi in bacho ko Olympics me bhejo 🥺🥺

— Fais Un Sourire (@Muskurahateinn) August 25, 2019
Indeed
Wow

— Abhi (@leoabhilash123) August 25, 2019
Absolutely
Challenge for tiger Shroff 😊

— Awkwardly silent (@AwkwierdMe) August 25, 2019
Talent!
@KirenRijiju New India 🇮🇳 https://t.co/wBCDxPQzHF

— Mehul Patel (@mpatel81) August 25, 2019
Right
Olympics talent guru idu.. 👏🏼👏🏼recognise madi gymnastics kalsbahudu ..!

— Ram Charan Tej (@Tinku_bunny) August 25, 2019
Someone Tagged Kiren Raju And India Sports
— Amit Panchal (@AmitHPanchal) August 25, 2019