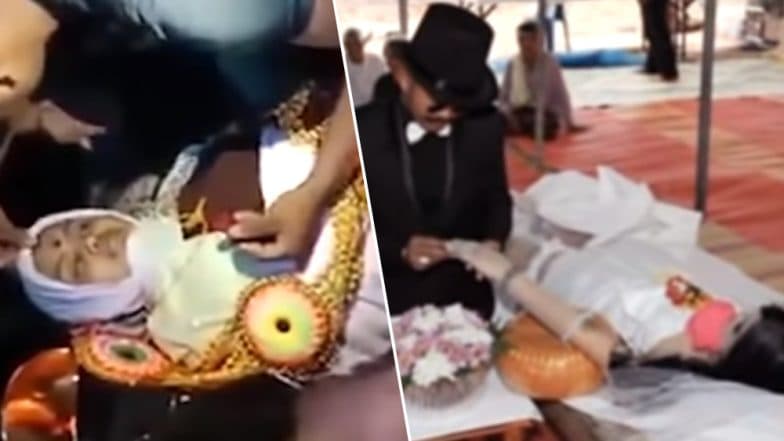 The loss of a loved one is an extremely disheartening situation one has to face. To cope up with the situation takes a lot of courage, especially when a bigger and happier occasion of marriage is around the corner. There are cases when partners have gone ahead marrying the dead corpses in order to honour their love. A man from Tamil Nadu had to face the unfortunate incident when his fiance and lover from many years lost her life in a bus accident. The man grieving decided to marry his lover and remain single for the rest of his life. The heartbreaking moment has been captured on video, which shows the inconsolable guy marrying his dead fiancé in presence of some other mourners. But this is not the only incident of funeral turning into a wedding. The rarest of such events has been seen a couple of times even before. Gun Firing For 'Fun' Leaves Groom Shot Dead, Watch Horrific Video
The woman was killed in an unfortunate bus accident in Tamil Nadu. The couple was together for several years and were planning their wedding soon when the grief struck. In order to honour their love, the 24-year-old man decided to marry her irrespective of her death and vowed that he would always stay single. The video of the incident from the funeral has been shared on social media widely. 5-Year-Old Thai Twins Marry Each Other in Traditional Ceremony! Watch Video of Bizarre Wedding.
Watch Video of Man Marrying His Dead Fiance at Her Funeral in Tamil Nadu
The funeral-cum-wedding ceremony was performed according to traditional Indian rituals. He is seen applying the sindoor on her corpse, a symbol of being married in India. The couple had been dating for two years and the guy wanted to make it eternal. Although his love has unfortunately left him, he ensured that he will always stay committed to her. People online have appreciated his gesture calling it true love.
Recently, an Indonesian woman lost her fiancé in the Lion Air Flight crash. She carried out his last wish by having a wedding ceremony alone. Photos of Ms Intan Syari's wedding went viral on social media. The couple was supposed to get married in November but the tragedy struck on October 29. She went ahead and carried on with the ceremony as he would have wanted.
Although this incident is reported from South India, there have been similar incidences before. A Taiwanese man had married his dead girlfriend's ashes in a bridal urn. The urn holding the ashes was dressed in a white wedding dress and after the ceremony, he roamed around the streets with the urn in his hand and the incense stick burning. Another man called Chadil Deffy from Thailand also married his girlfriend who died in a car crash. He put a ring on her finger during her funeral ceremony.
Watch Video of Man Marrying His Dead Girlfriend in Thailand
It is not an easy task to have that courage and get married to a dead person. The loss and grief caused are unthinkable and definitely takes time to get over. But symbolising that moment into a forever isn't easy. These are indeed some examples of people staying true to the phrase, "Till death do us apart."