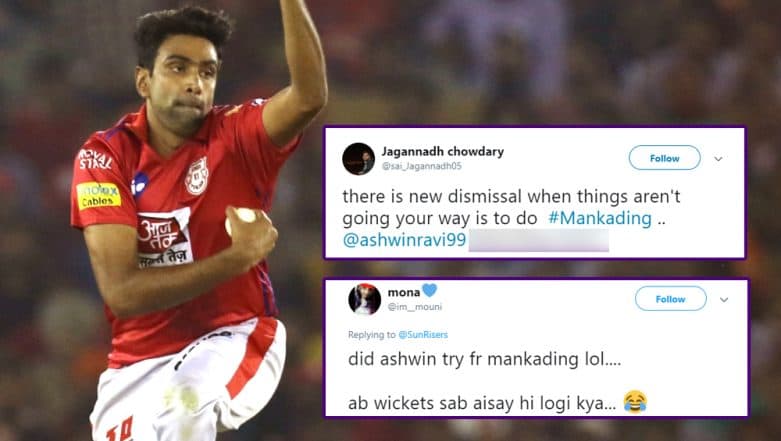 Kings XI Punjab (KXIP) skipper Ravichandran Ashwin seems to be frustrated as his team is on the verge of another exit from Indian Premier League (IPL) 2019 tournament. KXIP played their last match against Sunrisers Hyderabad (SRH) which they lost by 45 runs. R Ashwin stops at run up during SRH vs KXIP match, which made Twitterati feels that he was attempting a Mankad. What Is Mankading? All About The Mankad Way Of Dismissal That Was Used By R Ashwin to Run Out Jos Buttler In IPL 2019.
Sunrisers Hyderabad batted first to put up a massive total of 212/6. SRH batsman David Warner played a fine knock of 81 from 56 balls to help his side post a huge target for KXIP. In reply, Punjab managed to score only 167/8 in 20 overs thereby facing a defeat by 45 runs. IPL 2019: Virat Kohli Brings Back 'Mankad' Memories for R Ashwin in RCB vs KXIP High-Voltage Encounter.
R Ashwin stopped twice in his run-up when Wriddhiman Saha was at the non-striker's end. This happened after Warner and Saha gave SRH a flying start. The right arm off break spinner came in controversy after he dismissed Rajasthan Royals batsman Jos Butler by mankading in IPL 2019. After this act of Ashwin, batsmen at non-striker have started to stay inside the popping crease when the bowler makes his run up. However, Ashwin again got trolled for his pause during bowling against KXIP.
Ashwin's get questioned for his ethics in cricket!!!
Is ashwin has forgotten everything... What he thinks himself?

I still can't believe he played with Dhoni Once... Such poor Tricks ..

Shame on You #IPLT20 #IPL2019 #SRHvKXIP #mankading #crickets

— yuhan Zama (@yuhan_zama) April 29, 2019
Mankading is the only thing in R Ashwin mind these days!!!
Come on, Ashwin! Mankad is totally fine but unnecessary pauses and that too twice???

Like it is the only thing in his mind these days!#SRHvKXIP #IPL2019

— Aditya Sahay (@adisahay7) April 29, 2019
@ashwinravi99 can't play with the Spirit he Cowardly attempts Mankad #SRHvKXIP

— Mayur Gaurani (@MayurGaurani) April 29, 2019
Ashwin tries to Mankad SRH batsman Wriddhiman Saha?
R ashwin mankading again ! #SRHvsKXIP pic.twitter.com/twz4xri7HP

— FLAME MEDIA (@flamemediaindia) April 30, 2019
R Ashwin wants to do Mankading on every delivery!!
R ashwin mankading again ! #SRHvsKXIP pic.twitter.com/twz4xri7HP

— FLAME MEDIA (@flamemediaindia) April 30, 2019
SRH batsman David Warner extra cautious at non-striker end when Ashwin comes out to bowl!!!
David Warner was extra cautious while Ashwin bowled and dragged his bat inside the crease #Mankading #SRHvsKXIP #TheWeekhttps://t.co/KQuSpyja3R

— THE WEEK (@TheWeekLive) April 9, 2019
Meanwhile, KXIP has to win their remaining two matches with a huge margin to have some chances for making it to the playoff. Punjab will play their next match against Kolkata Knight Riders on May 3, 2019.