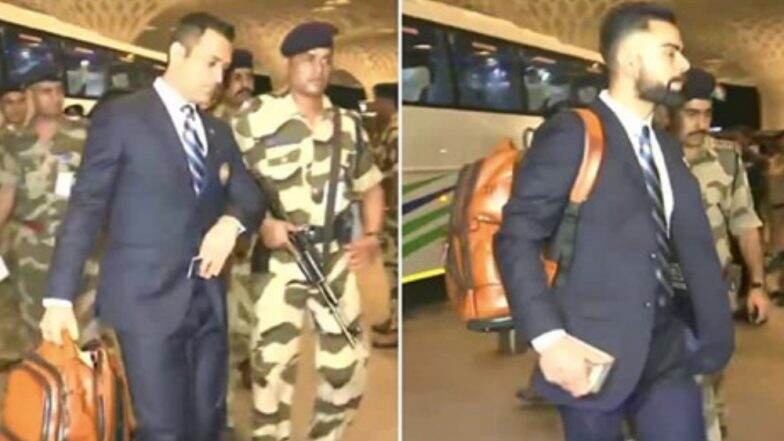 'Mature Bag' has taken over the internet and the memes are all over the social media sites. After JCB ki Khudai, it is now turn of Mature Bag memes and videos to take the Indian internet by storm. It all started with a young boy giving away tips on how to look attractive in collage. And during his video, which went viral, the boy mentions that bag plays an important part to look attractive. Mature Bag Memes Take Over The Internet After Funny Video of 'How to Look Attractive' Goes Viral, Check Jokes and Tweets.
In the video, the boy says that one shouldn't carry his school bag to college and should go for a "mature bag" and it was enough to start the meme fest. The bag has become so popular now that users are digging out photos from past.
Meanwhile, Virat Kohli and other team India members carry the leather bag, which resembles to the 'mature bag' and it was all for internet users to draw the relevance. There are numerous pictures and videos available which show, that the mature bag is favourite among team India members. Mature Bag Memes Are Going Viral But Mumbai Police Has This To Say!.
Kohli and Dhoni with their mature bag
Virat Kohli and MS Dhoni with their mature bag#maturebag pic.twitter.com/O9shFOxxhS

— Sarcastic.bunny🇮🇳 (@im_bunny04) July 13, 2019
Secret leaked
Damn!That's the secret of kohli this is why girls are way more attracted to him! pic.twitter.com/C6wPYbPq4V

— ChuChu_O.O (@TassadakHussain) July 13, 2019
Team India and mature bag
And here's the video proof
What Is A Mature Bag? Funny Memes On The Latest Sensation Ruling India's Social Media Scene
Indian team suffered an exit in the ICC Cricket World Cup 2019 after losing to New Zealand in the first semi-final. The Virat Kohli-led Indian team topped the CWC19 points table after the round-robin stage with 15 points from nine matches. However, in the semis were outplayed by the Kiwis.