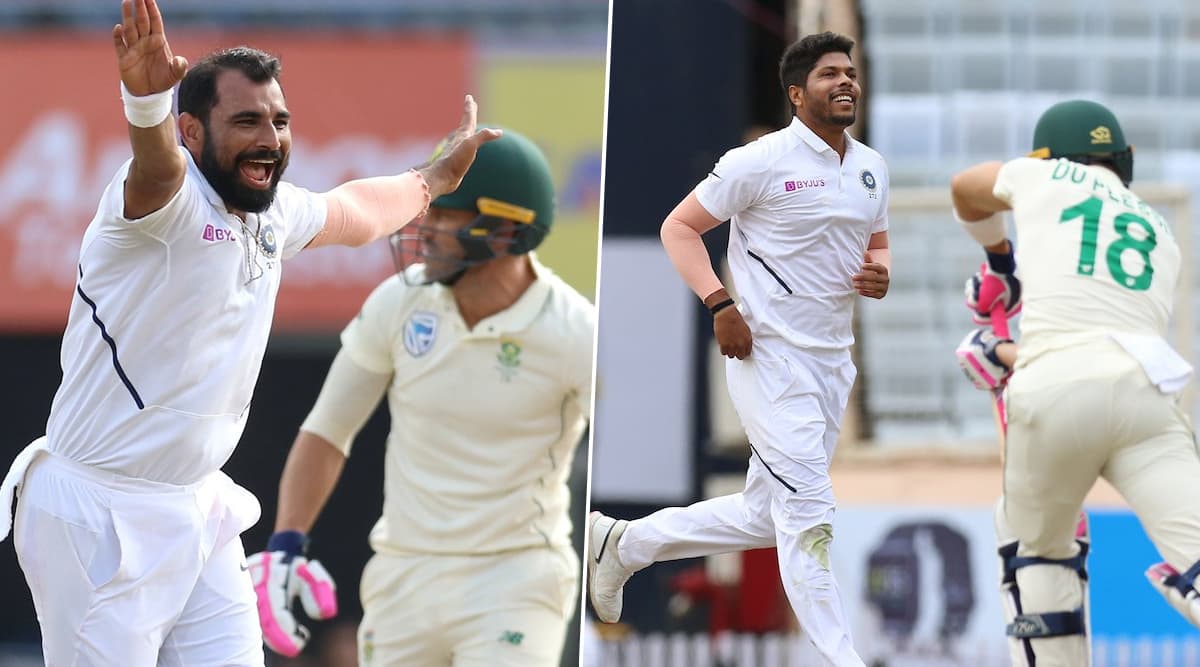 It is often said that good fast bowlers are generally the difference between two sides in Test matches. While this was an accepted notion, this wasn't normally the case in India where the spinners have done the bulk of the work. However, the current Indian crop has shown a rare dominance over a side that is traditionally known to play pace very well. Mohammed Shami and Umesh Yadav breathed fire and made things extremely uncomfortable for the visiting South Africans, and in the process have shown the true quality of the Indian attack. To Hell With Pitch, Bag 20 Wickets! Ravi Shastri Reveals Team India's Philosophy After Virat Kohli and Boys Whitewash South Africa 3-0 in Test Series 2019.
South Africa may not have had the best batting line-up going around, but that should take nothing away from the quality of India's bowlers' performances. This young side has been born and bred on pitches that aid pace and bounce. The tracks during the Test series weren't specifically conducive for the pace bowlers and it was only the Indians who could exploit it. Consider this: South Africa's fast bowlers managed only 10 wickets between them during this series. India's pacemen accounted for a total of 26. Most Wickets in India vs South Africa Test Series 2019: R Ashwin Tops, But Umesh, Shami Shows There's More to Pace.
During South Africa's previous visits to India, it's normally been spin that has done the trick for the hosts. In 2015, South Africa had quite a nightmare on dustbowls despite having some luminaries in their side. The memories of this visit may cast a bigger shadow as India executed their plans well in dominating themselves. In the past, Dale Steyn managed to sneak in a spell or two to trouble the Indians. This time, although they had Kagiso Rabada in their side, India gave South Africa no chance of getting into the game.
What makes this performance by the Indians more significant is the absence of Jasprit Bumrah. Laid low by a stress fracture in his back, Bumrah has shouldered the burden of India's pace hopes since he made his Test debut in January 2018 – getting those crucial breakthroughs and picking wickets in a bagful. His mere presence added the extra teeth to the bowling line-up, which looked extremely potent and threatening. In his absence,  Shami and Umesh made a similar impact, especially with the new ball.
The highest South African opening stand of the series was 14 – which truly tells you the kind of inroads the Indian fast bowlers made upfront. Umesh returned to the side during the second Test and instantly showed his value with a pacy spell. Shami was particularly good during the second innings and set the platform for the spinners.
Never has an Indian pace attack, in tandem, looked so threatening and dominant. In the past, Indian fast bowlers have generally been lone warriors with support staff. The likes of Kapil Dev, Javagal Srinath and Zaheer Khan stood out with others helping out. Over the last two years, that has changed with this attack coming together as a pack and delivering the goods for Virat Kohli.
Kohli summed it up perfectly after the third Test when he said, "The focus was on spin, but the pacers have done the damage. We've become a multi-dimensional team now, and it's not one thing that you need to counter when you're playing against us."
Speaking about Umesh and Shami in particular, he said, "If you look at these two guys, their strike rate is probably the best in Indian conditions in history, which tells you that these guys hit the stumps and the pads more than anyone else before them."
Kohli isn't wrong. In history, only eight pace bowlers have taken over 50 Test wickets in India. Shami has the best strike-rate of the lot with 44.2 and Umesh stands second at 48.7. Not only that, but their averages also lead the pack. Shami tops again at 22.09 and Umesh is second at 25.90.
Indian Fast Bowlers to Complete 50 Test Wickets in India
| | | | | |
| --- | --- | --- | --- | --- |
| Name | Matches | Wickets | Average | Strike-Rate |
| Mohammed Shami | 14 | 53 | 22.09 | 44.2 |
| Umesh Yadav | 26 | 84 | 25.90 | 48.7 |
| Kapil Dev | 65 | 219 | 26.49 | 55.7 |
| Javagal Srinath | 32 | 108 | 26.61 | 55.8 |
| Karsan Ghavri | 27 | 77 | 31.58 | 61.0 |
| Ramakant Desai | 18 | 57 | 32.63 | 68.0 |
| Ishant Sharma | 35 | 86 | 34.26 | 70.3 |
| Zaheer Khan | 38 | 104 | 35.87 | 70.2 |
The Indian batsmen generally hog the limelight. Rohit Sharma walked away with the Man of the Series with his three centuries as an opener – earning well-deserved plaudits. However, the performances of the fast bowlers have, on this occasion, truly mesmerized the Indian fans and have symbolised this dominance.