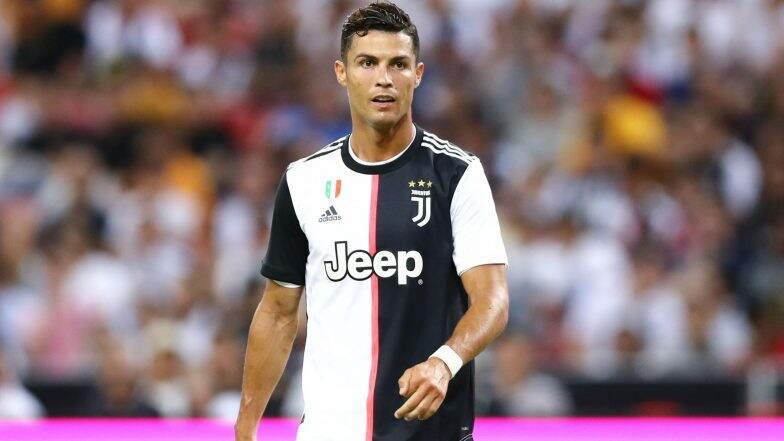 Cristiano Ronaldo was jeered and mocked by fans after he missed a goal during Atletico Madrid vs Juventus in the UEFA Champions League 2019-20 tie. The match might have ended with 2-2 draw at the Wanda Metropolitano Stadium, but CR7 was jeered by the fans of the home team. Just a few minutes before Hector Herrera produced an equaliser at the 90th minute CR7 had almost produced a stunner but sadly missed the goal post. Post this, the fans started hooting at the football star and the Juventus forward made a gesture in their direction. Cristiano Ronaldo Shares a Warm Moment with Joao Felix Ahead of Atletico Madrid vs Juventus, UCL 2019 Will Melt Your Heart (Watch Video).
The Juventus forward did all the hard work and ran past an opponent but the goal ended hitting the wrong side of the goal post. The former Real Marid player then turned towards the crowd and made a gesture with his hands. The video of the gesture was viral on social media. Check out the video of the act.
El gesto de Cristiano Ronaldo a la afición del Atlético tras casi marcarles en el último minuto pic.twitter.com/3wStpj0YqT

— Amantes Del Fut (@Amantesdelfut_) September 18, 2019
Here's what Ronaldo said after the match when asked about the gesture.
Cristiano on his gesture to the Atletico fans which in Italian means 'you shat yourself' was reminding them of the past: "Learn, you have to learn."pic.twitter.com/y8zQXotDFP

— Cristiano Ronaldo (@TheRonaldoTeam) September 18, 2019
It was Juan Cuadrado who scored the first goal of the match at the 48th minute and Blaise Matuidi netted another one at the 65th minute. Stefan Savic from the home team produced one goal at the 70th minute whereas, Hector Herrera netted an equaliser at the 90th minute. Juventus will now meet Bayer Leverkusen whereas, Atletico Madrid visit Lokomotiv Moscow.