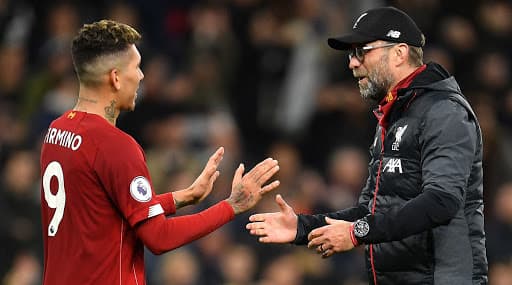 Liverpool defeated Tottenham Hotspur 1-0 in their recent Premier League match on Saturday with Roberto Firmino scoring the game's only goal. But after the match Reds boss Jurgen Klopp revealed that the Brazilian was frustrated for not adding to his goal tally and apologized to him. The striker had seen one shot saved off the line earlier in the game and came close with another effort in the second half before the Reds withstood a strong Spurs pressure to emerge with the win and move 16 points clear at the top of the Premier League Table. Tottenham Hotspur 0-1 Liverpool, Premier League 2019-20 Result: Roberto Firmino Goal Sinks Spurs, Hand Jurgen Klopp's Men Record Win.
Firmino scored the only goal in the game against Spurs but the Brazilian international was in a dejected mood after the final whistle, according to Jurgen Klopp. 'When I went to him to give him a hug after the game, he said to me I know I should have scored more goals' the German said. 'That's absolutely not what I wanted to say! But he should have. The first chance was brilliant play but he somehow hits the player. A super player, not the first time I've said that and hopefully not the last. Pretty impressive.' Jurgen Klopp added while praising his number 9. Firmino has not been at his usual best this season but still has 11 goal contributions in 21 Premier League games.
Heung-min Son and Giovani Lo Celso had late opportunities to get the home team back on level terms but the Spurs duo could not take their chances. Liverpool are running away in the Premier League this season and will meet arch-rivals Manchester United on January 19, 2020 (Sunday). The Merseyside's club 38-game unbeaten run will be on the line next weekend.