US Women's National Football Team captain, Megan Rapinoe has been topping headlines since the 2019 FIFA Women's World Cup began on June 7. While talking about homosexuality continues to be a taboo in most parts of the world, Megan is openly lesbian and does not shy away from opening up about her sexuality. The USA striker is also a well-renowned LGBTQ activist and is quite vocal about issues such as gay rights, gender equality, wage gap among many. However, Megan's frankness has landed her in controversies, especially after US President Donald Trump in a series of tweets asked her to be not "disrespectful" towards the country. Megan had said that she would not go to the White House even if her team wins as the Trump government does not stand for her fight.
Megan gained more popularity on social media after a photo of her standing with open arms post scoring a goal during the USA vs France match went viral. She not only ousted hosts from FIFA Women's World Cup 2019 and take the USA through to semis but also shut down haters who trolled her for comments on White House visit. The photo was hailed across social media platforms as one of the most iconic photographs in the world of sports. As Megan Rapinoe continues to be the strong voice for homosexual athletes and marginalised people, we take a look at five things that are keeping her in news these days.
Here's How Megan Rapinoe Created a Buzz With Her Fiesty Dialogues
1. 'Extremely American' Identity
In her ongoing feud with the United States President Donald Trump, Rapinoe emphasised how proud she was about representing the US at the Women's World Cup in France. During a media availability session for the US women's national team, Rapinoe gave a strong reply on being asked about how she feels to be an American.
Here is what she said:
Megan Rapinoe just had one hell of an answer about how she feels to be an American and on the #USA during a #USWNT media availability.#FIFAWWC pic.twitter.com/nL3MEC8ufb

— Meg Linehan (@itsmeglinehan) July 3, 2019
2. Refuses To Go to White House
President Donald Trump accused US women's World Cup soccer star Megan Rapinoe of "disrespect" after she swore not to visit White House. Trump in a series of tweets complained about Rapinoe saying, "Megan should never disrespect our Country, the White House, or our Flag, especially since so much has been done for her & the team. Be proud of the Flag that you wear." He also invited the Women's Football Team to the White House however also said that Rapinoe "should WIN first before she TALKS! Finish the job!" Donald Trump Rows With US Women's Soccer Stars Over White House Visit.
3. Furious Over Men's Finals Scheduled After Women's World Cup Final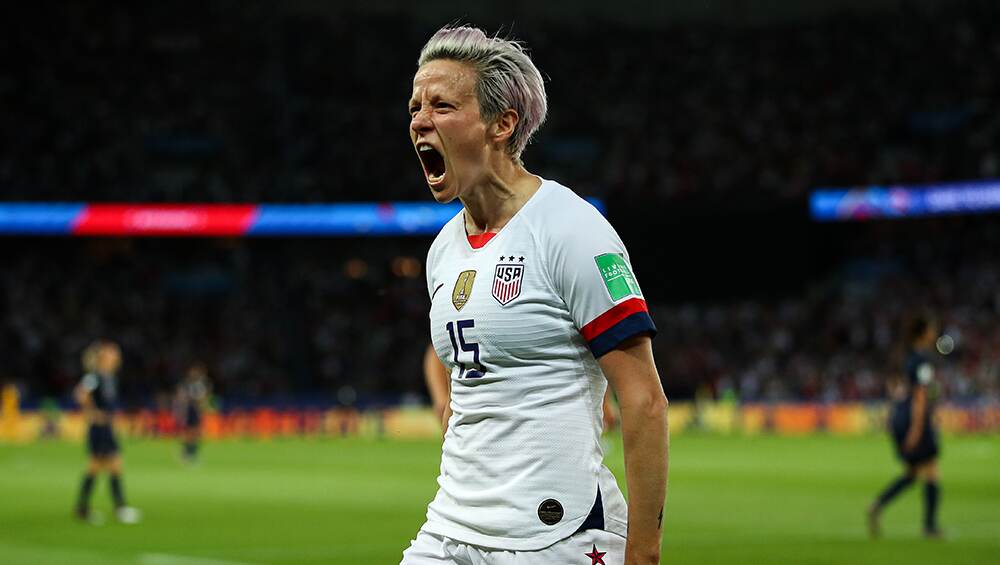 Megan believes that scheduling the Woman's Finals for Saturday and Men's Finals for Sunday is an insult. The midfielder said, "It's ridiculous, and disappointing, to be honest." She believes the scheduling shows how little attention is given to women's sports.
4. LGBTQ Activist
As a strong LGBTQ activist, Megan made headlines when she said, "Go, gays! You can't win a championship without gays on your team, it's pretty much never been done before ever. Science, right there," Goal.com quoted Rapinoe as saying."I'm motivated by people like me and people who are fighting for the same things. I take more energy from that than trying to prove everyone wrong all the time. That's sort of draining to me. So yeah, to be gay and fabulous during pride month at the World Cup is nice."
5. Megan Rapinoe Defends Alex Morgan's Tea Sip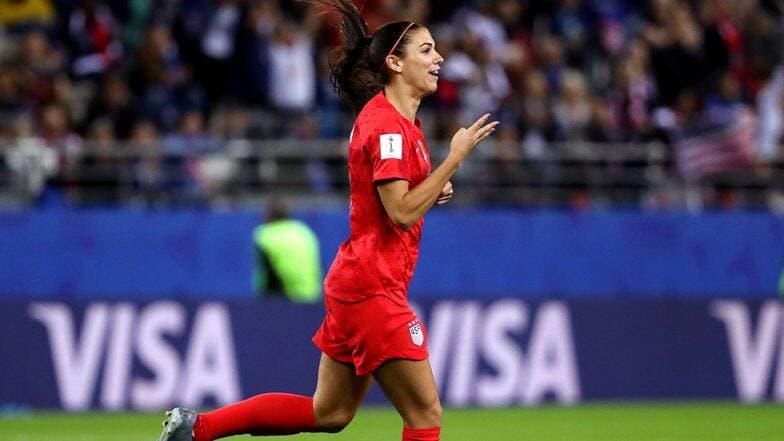 USA Women's Football Team stand-in-captain Alex Morgan's did tea-sipping gesture during the USA vs ENG semi-final match in FIFA Women's World Cup 2019. After it sparked outrage, Megan stepped in to support her teammate. She said, "Wah-wah-wah. I mean, it's like, we're at the World Cup – what do you want us to do? This is the biggest stage, the biggest moment. I don't think anyone truly believes that we disrespect the game or disrespect our opponents. We have the utmost respect for England and every team that we've faced and every team that we will face forever and ever, that's just part of the DNA of this squad. With that said, we work hard, we like to play hard and we like to have fun and enjoy ourselves, and these are the absolute biggest moments to do that."
Megan stole the limelight with her after guiding the United States to its eighth consecutive World Cup semifinal on Saturday. The USA defeated France 2-1 in the quarter-finals and Megan registered goals in the 5th and 65th minutes of the match. She missed out on playing in USA's semis clash against England, however, the side sailed past their opponents with a 2-1 victory. USA will play the Netherlands on July 7 in the final of FIFA Women's World Cup 2019 at Parc Olympique Lyonnais, Stadium in Décines-Charpieu, France.