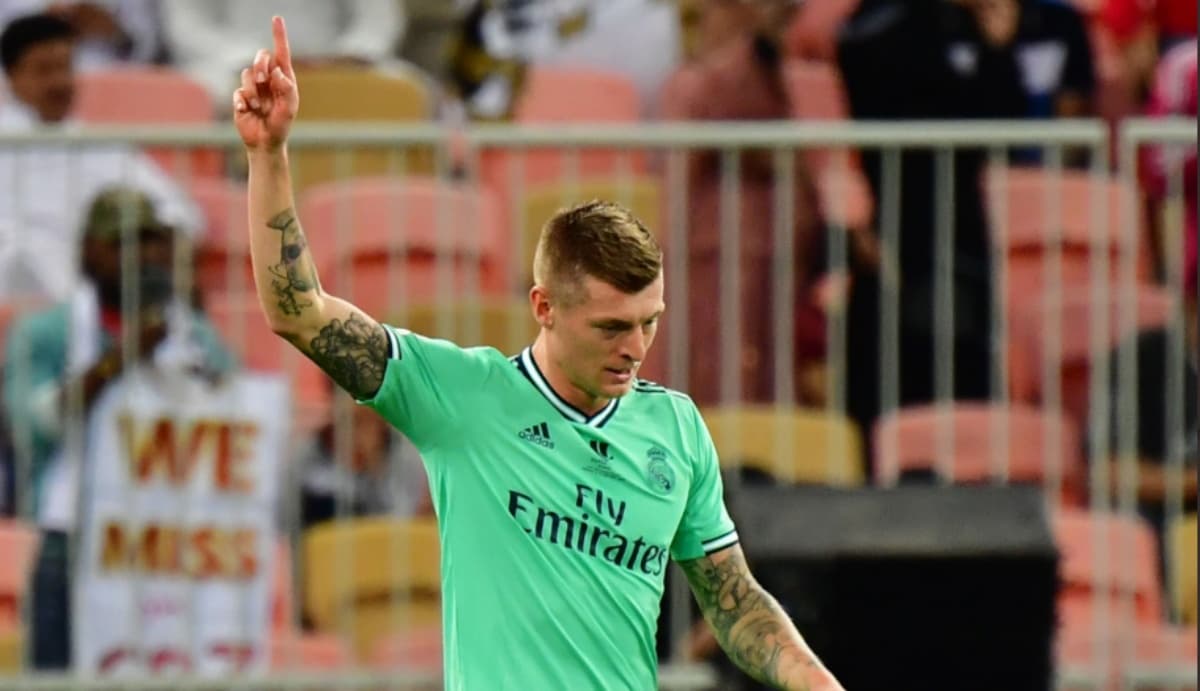 Real Madrid won the match against Valencia 3-1 during the Supercopa De Espana 2019-20 semi-final tie. But the man of the moment was Toni Kross he netted an unbelievable goal from the corner in the first 15 minutes of the game. The Real Madrid midfielder played the banana swing that landed straight into the goal post. Needless to say that the Valencia goalkeeper Jaume Domenech was caught napping the Real Madrid mid-fielder pulled off a stunner. This goal awed the netizens and Kroos soon became one of the top trends on social media. Valencia vs Real Madrid Goal Video Highlights: Toni Kroos, Isco & Luka Modric Power Los Blancos to Supercopa De Espana 2020 Final.
As the Los Blancos won the game 3-1 but it was the goal Kroos that was praised by the social media users. Isco chipped in with another goal at the 39th minute of the game. Whereas Luka Modric added yet another one at the 65th minute of the game. Team Valencia finally found the net in the 92nd minute of the game when Daniel Parejo converted the penalty into a goal. For now, check out the video of the goal below.
Toni Kroos's golaso from this point of view 😍 pic.twitter.com/ZVB00cmgAI

— Sami 🇲🇷 (@SamiZaiiin) January 8, 2020
The goal evoked a few reactions as well. Check them out below:
When I say I love Toni Kroos,I mean this 😍✨ https://t.co/4UT2EoACeN

— widademir (@emiridad) January 9, 2020
Super
👏👏👏 Süper💪

— Mustafa Arıkan (@Mustafadiyarr) January 9, 2020
Fantastic goal
Fantastic goal from my super hero Toni Kroos. I call him Mr. Tape line

— Tijan Danso (@danso_tijan) January 9, 2020
Bravo
Bravo 👏🏾👏🏾👏🏾👏🏾👏🏾👏🏾👏🏾🇩🇪🇩🇪🇩🇪🇩🇪🇩🇪

— Jamal Givens (@devon__305) January 9, 2020
Last one
You use internet explorer or did ya wake up now?

— Shashi (@shashika_ds) January 9, 2020
With this win, Real Madrid will either face Barcelona or Atletico Madrid in the finals of the Supercopa De Espana 2019-20. The match will be held on January 12, 2020.