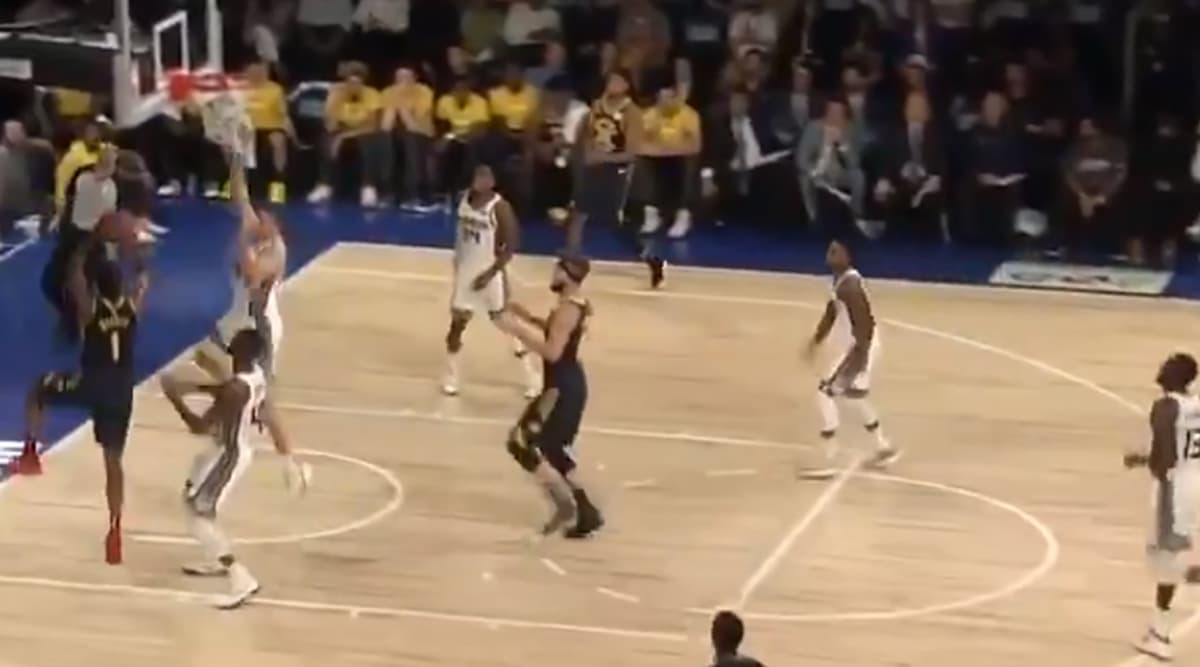 Indiana Pacers fought back from a 21-point deficit to beat Sacramento Kings 132-131 in over-time in their first pre-season friendly at the NSCI Dome in Mumbai, Maharashtra. The North American Basketball sports outfit for the first time travelled offshore to come to India and play. And on a historic night for the nation, the Indiana Pacers and Sacramento Kings showed just what the NBA meant as a sport. The two teams – both preparing hard for the upcoming 2020 NBA Games – played an intense affair of the highest quality and competitiveness. The Pacers eventually put up a brilliant fightback to register their first victory in the pre-season ahead of the main NBA season. Indiana Pacers vs Sacramento Kings, NBA India Games 2019: Kids Turn Up Heat As First-Ever NBA Games 2019 Kick Off at NSCI Dome in Mumbai.
Right from the moment when popular singer and comedian Bhuvan Bam sang the national anthem, the stadium was lit as fans braced themselves to witness something they have never before. Sacramento Kings were off to a start with a three-pointer straight-way signalling that the pre-season wasn't going to let them lose the NBA taste back home. Indiana Pacers replied with a two-pointers to get themselves going.
Sacramento Kings, Indiana Pacers Set Mumbai Alight
▪️ 30 PTS

▪️ CLUTCH triple to force OT

▪️ @Pacers win@TonyWarrenJr put on a show in the first-ever NBA game in India! #NBAIndiaGames #NBAPreseason pic.twitter.com/xA9x8H9K6B

— NBA (@NBA) October 4, 2019
Onto Over Time
T.J. Warren ties it in the final seconds! #Pacers #NBAIndiaGames

Watch now on FSI and FSGO. pic.twitter.com/0YSiRv99K4

— FOX Sports Indiana (@FSIndiana) October 4, 2019
Myles Turner Gets the Crowd Roaring
🚨 CLUTCH 🚨

TJ Warren's GAME-TYING triple & Myles Turner's HUGE DENY sends @Pacers/@SacramentoKings into OT in Mumbai! #NBAIndiaGames 🇮🇳 pic.twitter.com/T9TZusrl4t

— NBA (@NBA) October 4, 2019
The Best Pre-Season Game
Maybe the best pre season game I have ever seen. Great effort for the first ever NBA game in India!

— Detlef Schrempf (@Dschrempf) October 4, 2019
Unbelievable Performance
Unbelievable performance by @Pacers & @SacramentoKings in Mumbai as the match goes into overtime !! #NBAIndiaGames #NBAPreseason #NBAInMyBackyard #NBATwitter

Oh I wish I was in Mumbai !! Love for Basketball will always be there <3 :)@NBA pre season game in India...

— Anirban Chakraborty (@anirban_thestar) October 4, 2019
NSCI Dome is Buzzing
Preseason playoff atmosphere #NBAIndiaGames pic.twitter.com/d9ynsAdBMu

— Hoopistani (@Hoopistani) October 4, 2019
But the Indiana Pacers looked way behind their rivals, who found it rather easy to work around the opponents and find the basket on regular occasions. Sacramento finished the first quarter leading 53-38 and increased it to 72-59 at the end of the second. But by the time the first NBA half drew to an end, the Pacers had pulled the plug back and were only behind by a single point. They continued the resurrection to eventually cup off the narrow one-point victory. Both teams meet again on Saturday.