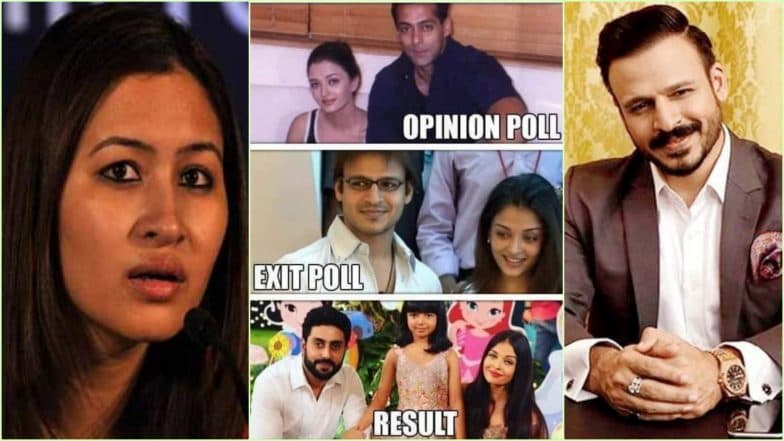 A day after TV news channels presented the exit poll for the 2019 Lok Sabha elections, Bollywood actor Vivek Oberoi took to Twitter and shared a meme which featured his ex-flame Aishwarya Rai Bachchan. However, former badminton star Jwala Gutta criticised Vivek and called his tweet "extremely absurd" and also felt disappointing. Vivek Oberoi Shares a 'Creative' Meme on Aishwarya Rai Bachchan, Salman Khan and Abhishek Bachchan, But is it Really Funny?.
Gutta in reply to Vivek's tweet wrote, "extremely absurd of you to tweet this!! Disappointing!" The meme which Vivek shared states Salman Khan and Aishwarya's relationship as the 'opinion poll', and the Vivek and Aishwarya's past affair as the 'exit poll' and finally Abhishek Bachan, Aishwarya and Aaradhya's photo as the 'final result'
And surprisingly, it was Vivek who shared the meme. "Haha! creative! No politics here....just life," wrote Vivek while sharing the meme. It will be interesting to see if Salman Khan and Abhishek Bachchan will react to the meme or not. Exit Poll Results: Modi Wave Still Intact? Here Are Key Takeaways From Predictions For Lok Sabha Elections 2019.
Here's the exit poll meme which Vivek Oberoi shared
Haha! 👍 creative! No politics here....just life 🙏😃

Credits : @pavansingh1985 pic.twitter.com/1rPbbXZU8T

— Vivek Anand Oberoi (@vivekoberoi) May 20, 2019
Here's Jwala Gutta's reaction
Extremely absurd of you to tweet this!! Disappointing!

— Gutta Jwala (@Guttajwala) May 20, 2019
The exit poll for general election predicted another huge win for the Narendra Modi government. Most of the exit polls forecasted that the BJP-led NDA will return to power in 2019 with NDA tipped to win 317 seats out of 543. The final result, however, will be declared on May 23. PM Narendra Modi Biopic: Vivek Oberoi Starrer Gets a Brand New Poster and Trailer, Ahead of May 24 Release.
Meanwhile, Vivek is awaiting the release of his new movie PM Narendra Modi which is a biopic on the prime minister. The new poster of the movie was launched earlier and it reads "Ab aa rahe hai dobara, PM Narendra Modi. Ab koi rok nahi sakta (Now, PM Narendra Modi is returning to power, now no one can stop him)."