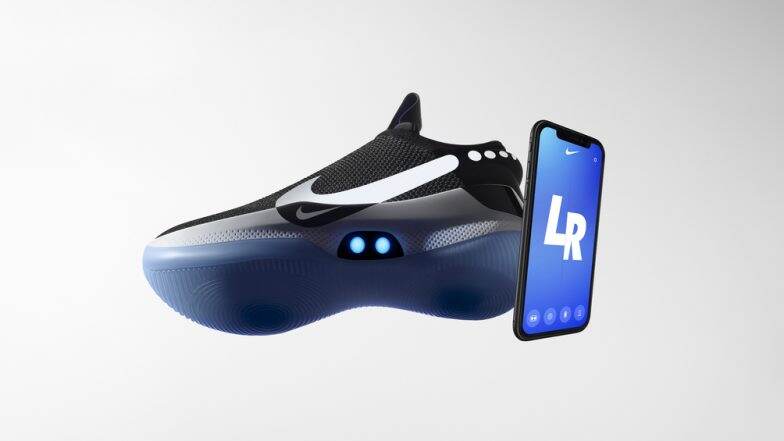 It seems like Back to the Future film franchise's statement is coming true which suggested that in future everyone will be wearing self-lacing sneakers. Make it true, one of the most renowned sports apparel brand Nike has recently introduced its new shoe 'Nike Adapt BB' which can be controlled from a smartphone. The futuristic shoe comes with 'power laces' that can loosen or tighten at the single press switch on the shoes or through its smartphone connected app. Nike Unveils Kaepernick.
According to official Nike blog, the sportswear is designed for basketball, where, the sportsperson can programme it to various fit setting and can switch between different situations, like resting or playing a game. When a foot is placed inside the shoe, the platform senses the movement and adjusts the fit accordingly to keep the foot snug. The shoes also have two LEDs and lighting colours can be customised using the connected application. Nike Receives Backlash for Featuring Colin Kaepernick in New Ad; #JustBurnIt and #BoycottNike Trends on Social Media.
Nike's new Adapt BB shoes lace themselves pic.twitter.com/kztx3y9We0

— Reuters India (@ReutersIndia) January 18, 2019
"We picked basketball as the first sport for Nike Adapt intentionally because of the demands that athletes put on their shoes. During a normal basketball game, the athlete's foot changes and the ability to quickly change your fit by loosening your shoe to increase blood flow and then tighten again for performance is a key element that we believe will improve the athlete's experience," says Eric Avar, Nike VP Creative Director of Innovation.
The batteries in shoes which power the gear train, motor, and connectivity with the smartphone and the LEDs, will last for nearly 14 days, suggested Nike. The new Nike Adapt BB will go on global sale next month and will be priced at 350 dollars (Rs 24886). The exact price of smart shoes in India is still not confirmed and the release date is awaited.