The rumoured OnePlus Pad has been reportedly spotted on the EUIPO (European Union Intellectual Property Office) website. The Chinese tech company has a whole lot of products under its product portfolio including smartphones, fitness bands, smartwatches, earphones and TVs. OnePlus now plans to enter the competitive tablet segment which is presently dominated by Apple and Samsung. The listing on the certification website reveals the trademark filing of the OnePlus Pad with the number 018504798. It was filed on July 1, 2021, by OnePlus Technology Co.Ltd (Shenzhen). OnePlus 9T 5G With ColorOS 11 Global Tipped To Be Launched in Q3 of This Year: Report.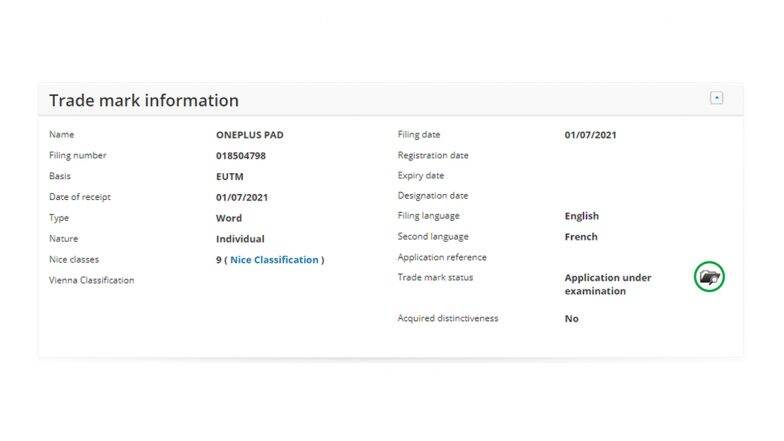 Apart from this, no other information has been revealed in the trademark filing. OnePlus started its journey with smartphones and then later proceeded into wearables, wireless earphones, power bank, wireless chargers and TVs. The company also recently announced its partnership with Oppo to merge OxygenOS with ColorOS to improve efficiency and standardise the software experience.
This merged operating system will be reportedly called ColorOS 11 Global and might be seen in the upcoming OnePlus 9T smartphone. It has also been said that OnePlus announced that OxygenOS will remain the operating system for global OnePlus users.
(The above story first appeared on LatestLY on Jul 06, 2021 11:22 AM IST. For more news and updates on politics, world, sports, entertainment and lifestyle, log on to our website latestly.com).