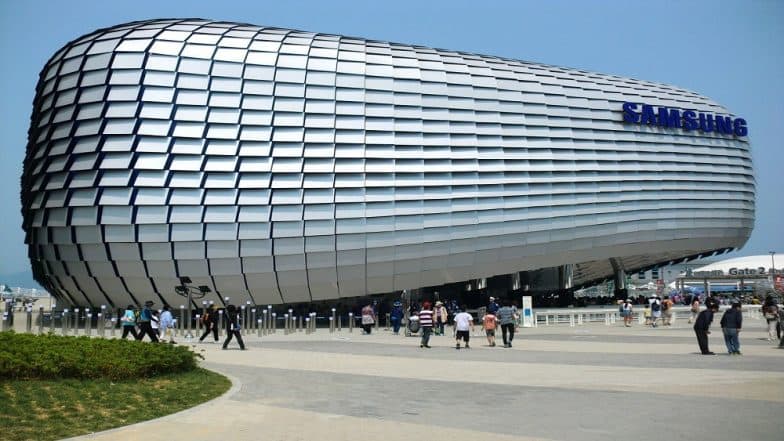 Seoul, Oct 5: Samsung Electronics on Friday announced it broke the record for the highest profit in a single quarter, registering 65 trillion won ($57.5 billion) in revenue in the third quarter of 2018. It earned 17.5 trillion won ($15.4 billion) in operating profit. The revenue is an over 20 per cent increase (year on year) and nearly 12 per cent high from the first quarter of this year, apparently on the back of robust returns from its chip business. Instagram Testing Location-Sharing Feature With Facebook.
Operating profit rose from 14.53 trillion won posted a year earlier, the South Korean tech giant said in a regulatory filing, Yonhap news agency reported. Sales advanced 4.7 percent to reach 65 trillion won over the cited period, the company added. Samsung Galaxy S9+ and Galaxy Note 9 Smartphones Gets New Colour Variant.
The operating profit was above the market's expectation of 17.1 trillion won, based on a survey conducted by Yonhap Infomax on 21 South Korean brokerage houses. The sales estimate stood at 65.1 trillion won.
The July-September performance marked the highest quarterly figure ever posted by Samsung Electronics. The previous record was 15.6 trillion won achieved in the first quarter of 2018. The operating profit to sales ratio came to 26.9 percent, also a record high. Motorola Moto G7 Specifications Leaked Online; Render Video Reveals Design Ahead of Official Announcement.
Samsung did not announce the net profit for the third quarter, nor the performances of respective business divisions. The finalized earnings report will be announced later this month. The record earning was apparently attributable to its chip business, industry watchers said. OnePlus Smartphones More Popular Than Apple iPhones Among Millennials According to CMR Report.
The third-quarter operating profit of the chip business is expected to have hovered above 13 trillion won for the first time ever. Despite the weaker outlook over the global chip industry, industry watchers said Samsung still sought to expand sales by finding new business opportunities, while also enjoying strong seasonal demand. Honor Dussehra Sale: Massive Discounts & Exciting Offers on Honor 9N, Honor 7S & Other Honor Smartphones.
With the area responsible for around 80 percent of Samsung's quarterly operating profit, however, industry watchers said the company will need to diversify its portfolio to evade potential pitfalls down the road. The smartphone business is expected to have posted a weaker performance compared to a year earlier. Nobel Prize-Winning Physicist Sold His Medal for USD 765,000 To Pay Hospital Bills.
Local analysts estimate Samsung earned around 2.3 trillion won in operating profit from the IT and mobile division, which marks a sharp drop from around 3.3 trillion won posted in the same period last year. Samsung Electronics launched the Galaxy Note 9 in August, but intensifying competition in the global market, especially by Chinese rivals, weighed down on the South Korean tech giant. Nokia 7.1 Smartphone With PureDisplay Launched; Price, Features, Specifications: All You Need to Know.
Hana Financial Investment estimated the shipment of the Galaxy Note 9 came to 1.38 million units in the first month, which is roughly 65 percent of the tally for the previous year's Note 8 phablet. The decreased earnings followed an increase in production costs, along with expanded expenditures in marketing projects, industry watchers added. WhatsApp & Reliance Jio Organise Campaign to Educate People for Using App on JioPhones Responsibly.
The South Korean tech giant is widely expected to revitalise its smartphone business by releasing fifth-generation network and foldable models next year. The display business is expected to have also posted an improvement following increased shipments to China. The consumer electronics division is thought to have remained stable. Discount on OnePlus 6: Get OnePlus 6 Smartphone with Rs 5000 Discount During Amazon Great Indian Festival Sale.
Samsung Electronics, meanwhile, is anticipated to face a slight decrease in its operating profit for the fourth quarter in line with changes in global prices of memory chips, industry watchers added. For the whole of 2018, the company is forecast to rake in an operating profit of 65 trillion won, beating the 53.6 trillion won posted in 2017.
Shares of Samsung Electronics closed at 44,700 won on Friday, unchanged from the previous session. The third-quarter report was announced before the market started trading.