As the deadline of December 29 for the implementation of new TRAI rules fast approaching, a list of 332 channels has been declared with their respective prices. Going by the listing, Star India is the most expensive followed by Zee and Sony. Taking the average numbers into consideration, the highest number of pay channels are with the Zee Group followed by Star India and TV18 groups. These pay channels include news channels as well as entertainment ones. TRAI Chief Says New Broadcasting Framework Will Reduce Rates, Slams Fearmongering Attempts.
Out of the estimated TV channels, approximately 800, only 332 channels have already declared their prices. The remaining channels are expected to be 'free-to-air' channels or we can call them FTA.
Zee Group has a total of 41 Channels wherein 19 channels are priced at Rs 19 each. While, the average price for a Zee entertainment pay channel is approximately Rs 12.32 each month, according to the market reports. The customers purchasing Zee entertainment's pay channel one by one and they will have to pay Rs 505 every month.
Star India group has around 51 pay channels that include its subsidiary - Asianet Communications. Out of these pay channels, 23 channels are priced at Rs 19 each, and only five channels are priced at Rs 1 each.
Concerning average price, Sony Pictures is at the third place wherein the company has declared 25 pay channels. Out of these pay channels, the average price of each channel is Rs 12 each month. If the customers, individually purchased these channels, they will have to pay Rs 301 every month.
Sun TV occupies the Fourth position in terms of average pricing of the channels. The broadcaster has a total of 33 channels priced at an average of Rs 11 per month. The last major broadcaster is Viacom 18 that has 33 pay channels. The average pay channel from the broadcaster is only Rs 7.8 every month.
Moreover, other broadcasters like Discovery, TV18 News, Times Group, Zee News and NDTV all charge much lower for their channels. For example, Times Group will be charging around Rs 7 per month for its 11 channels. On the other hand, Discovery communications and National Geographic costs an average of Rs 3 per channel.
As far as the news channels are concerned, TV Today's average price is Rs 1.3 whereas NDTV's is priced at Rs 2 followed by News18, which costs Rs 0.90. Out of 332 pay channels, 232 are standard definition or SD, while the remaining 100 are HD channels.
Here is the complete list of rates submitted to TRAI-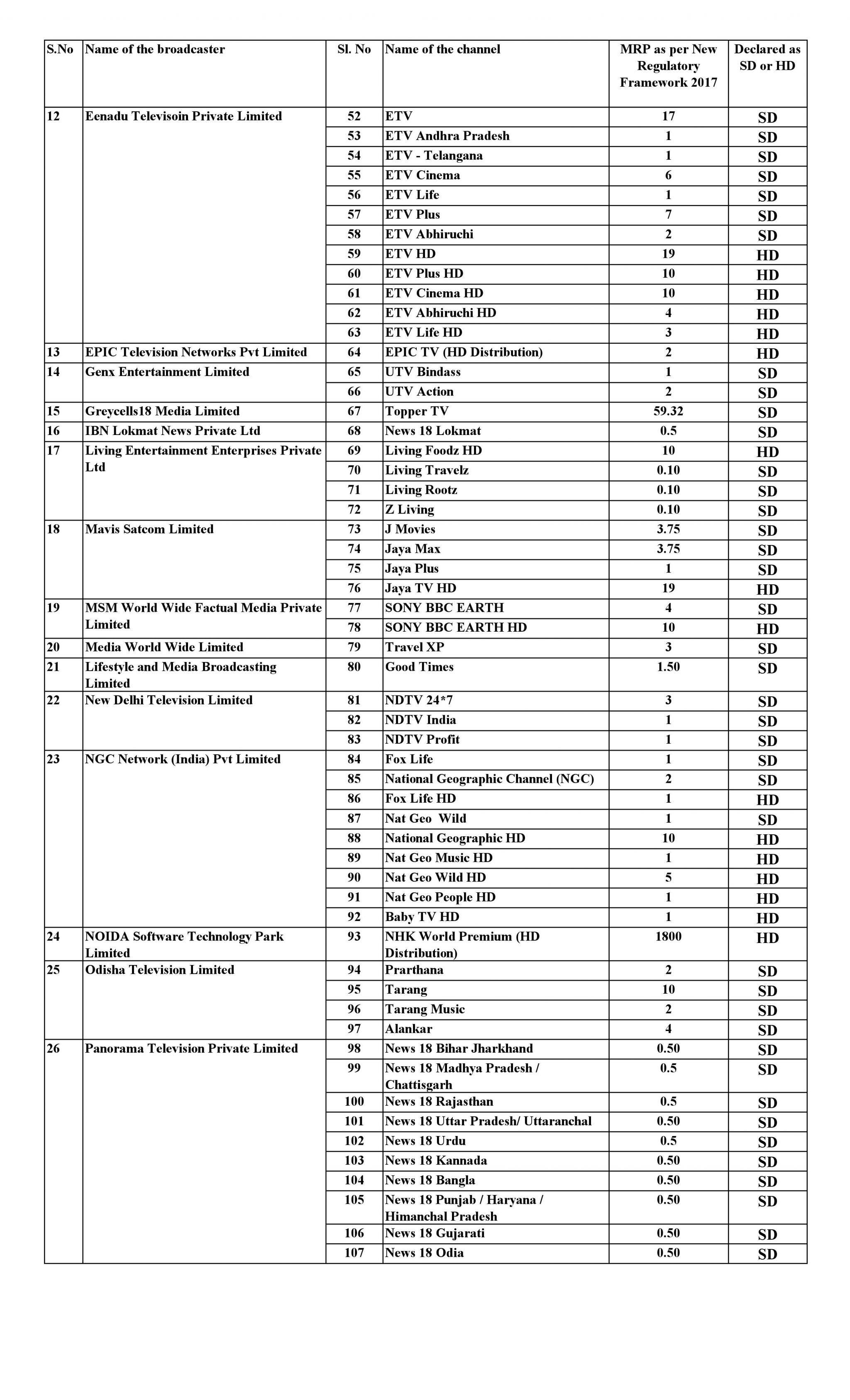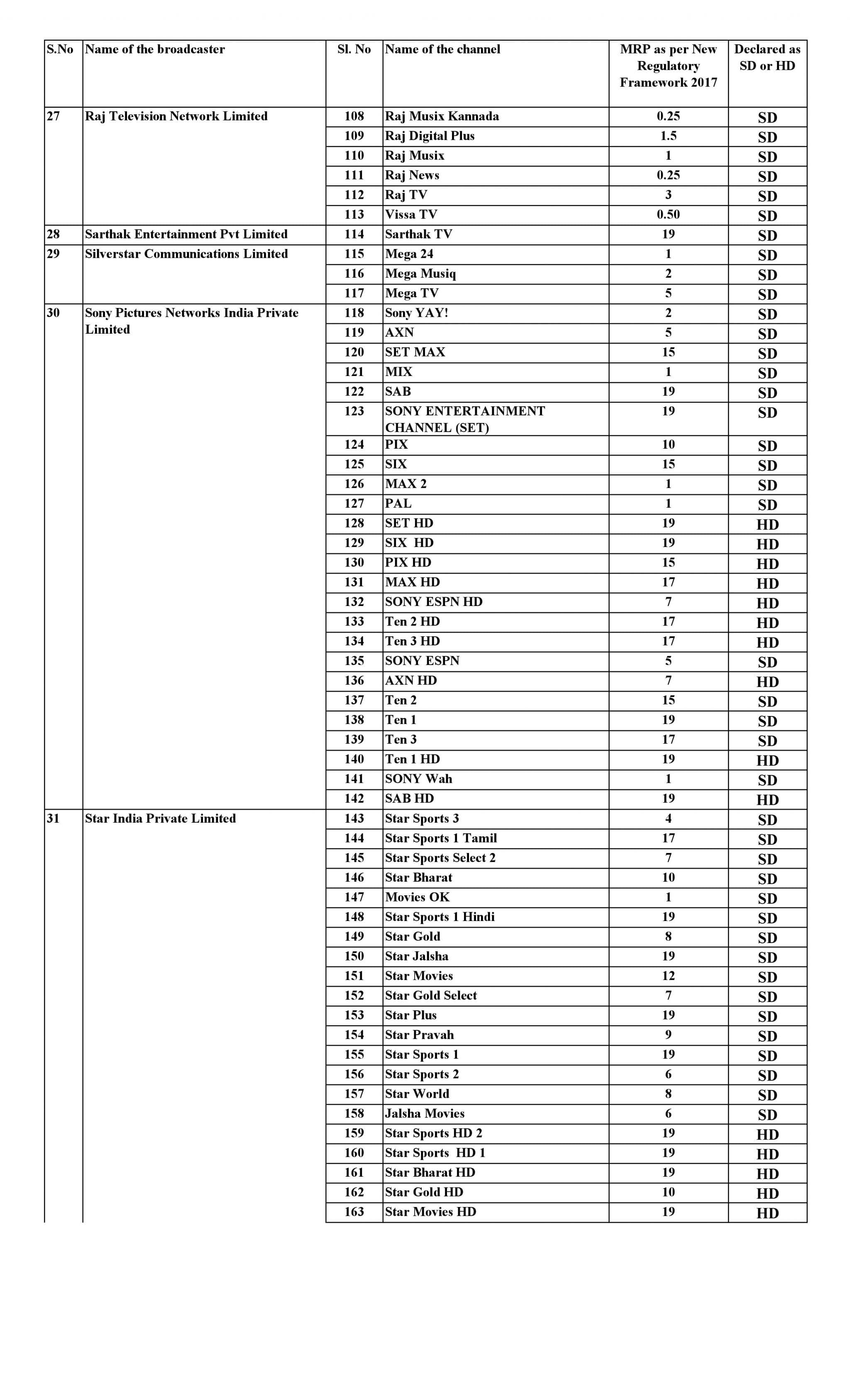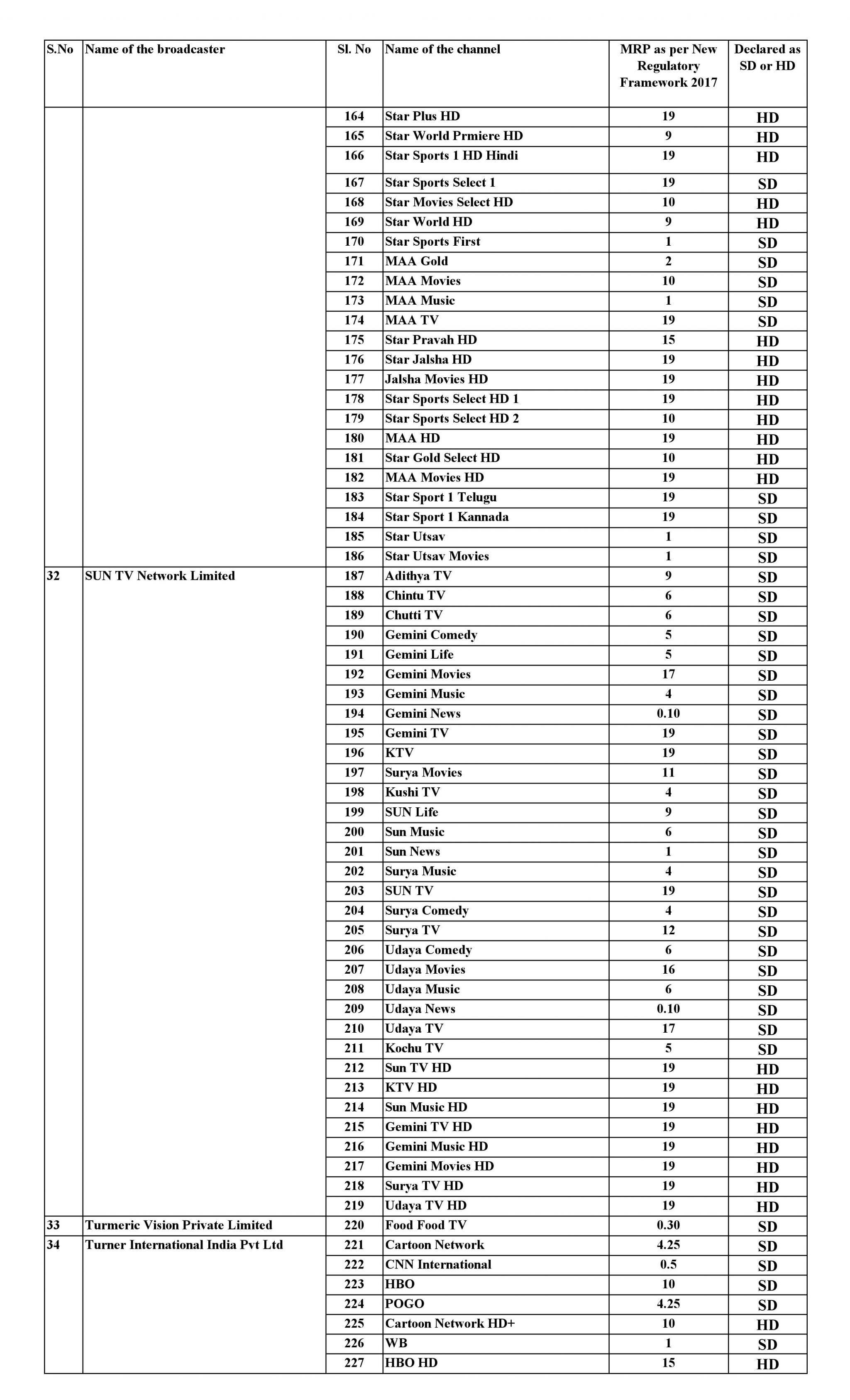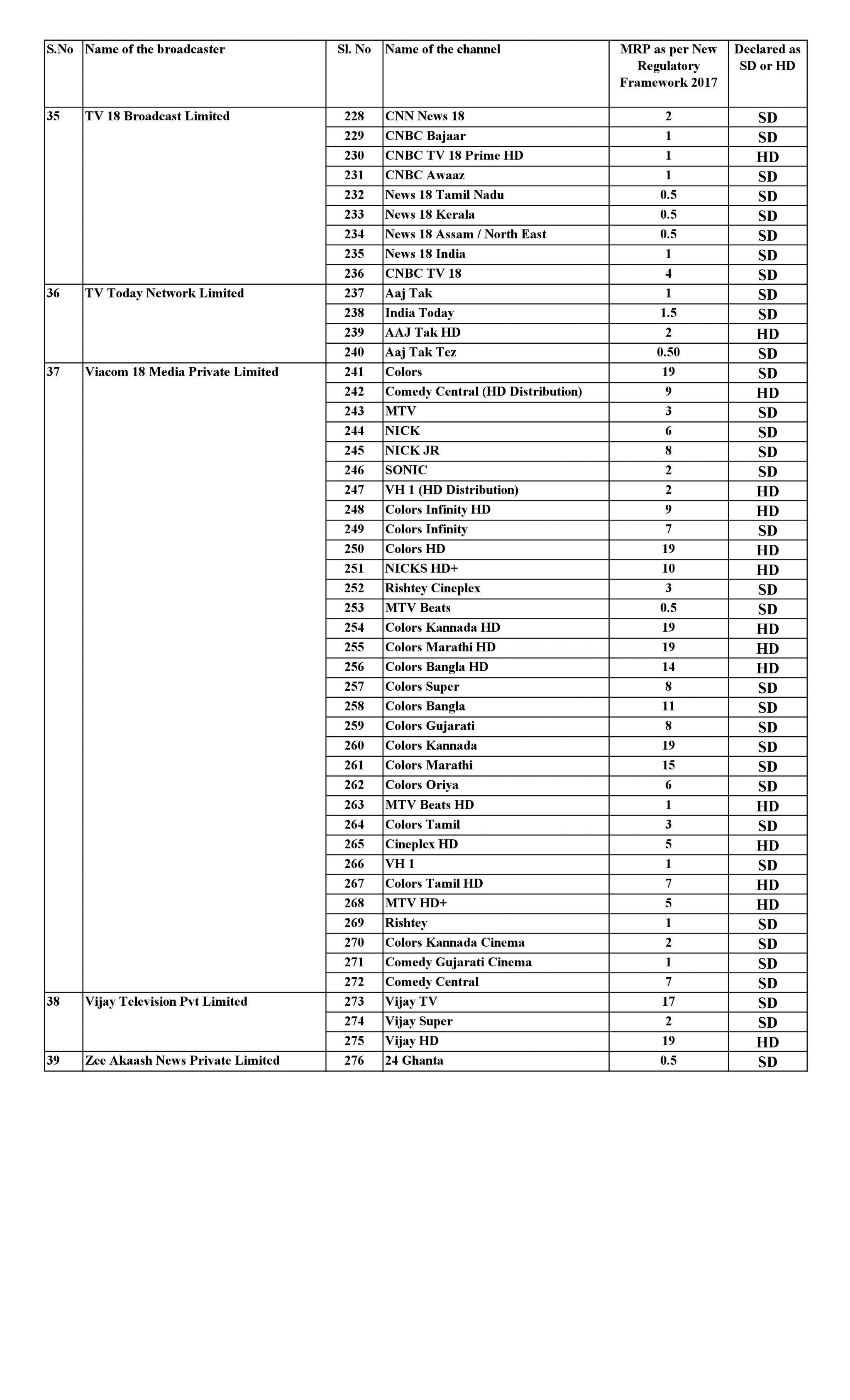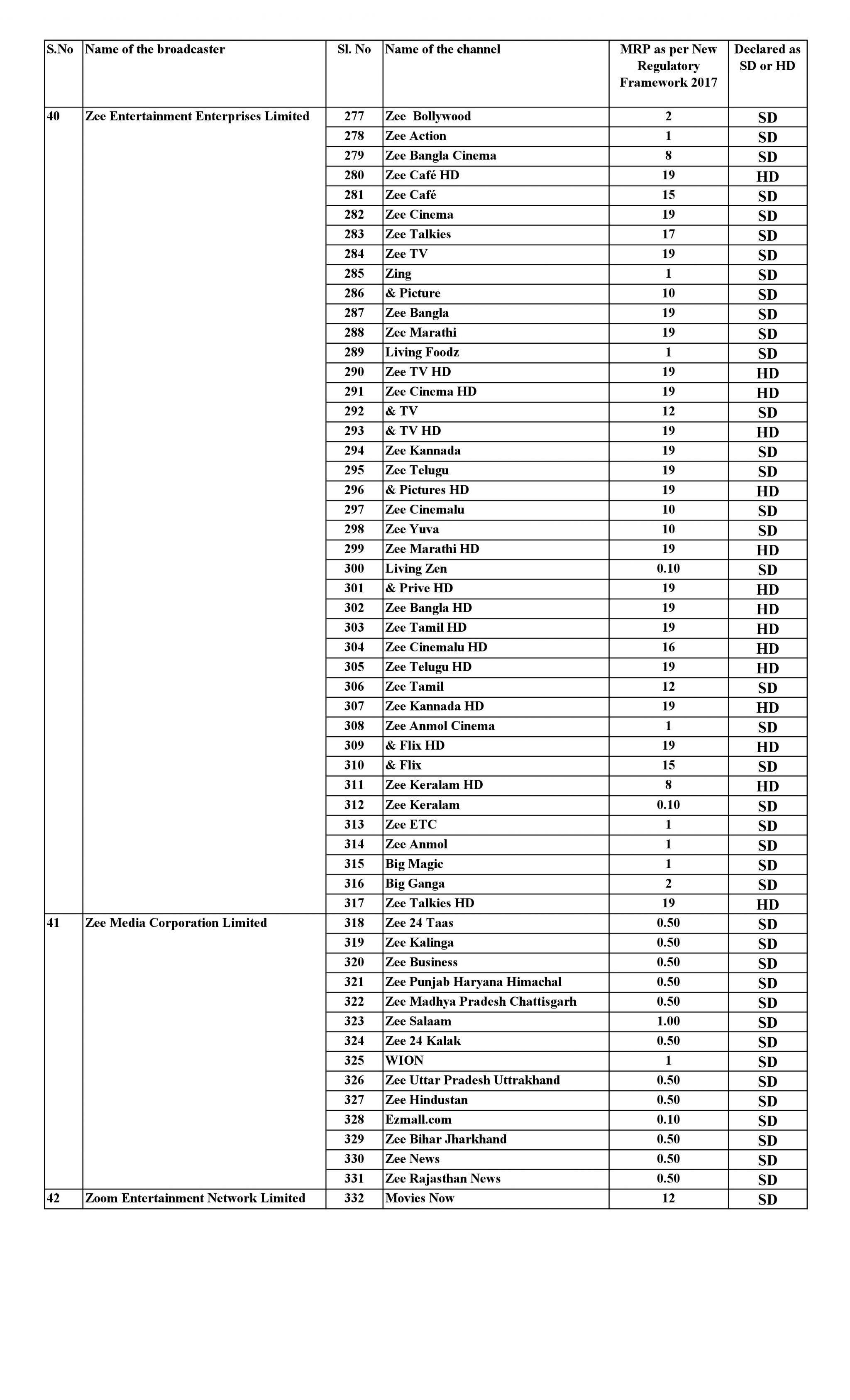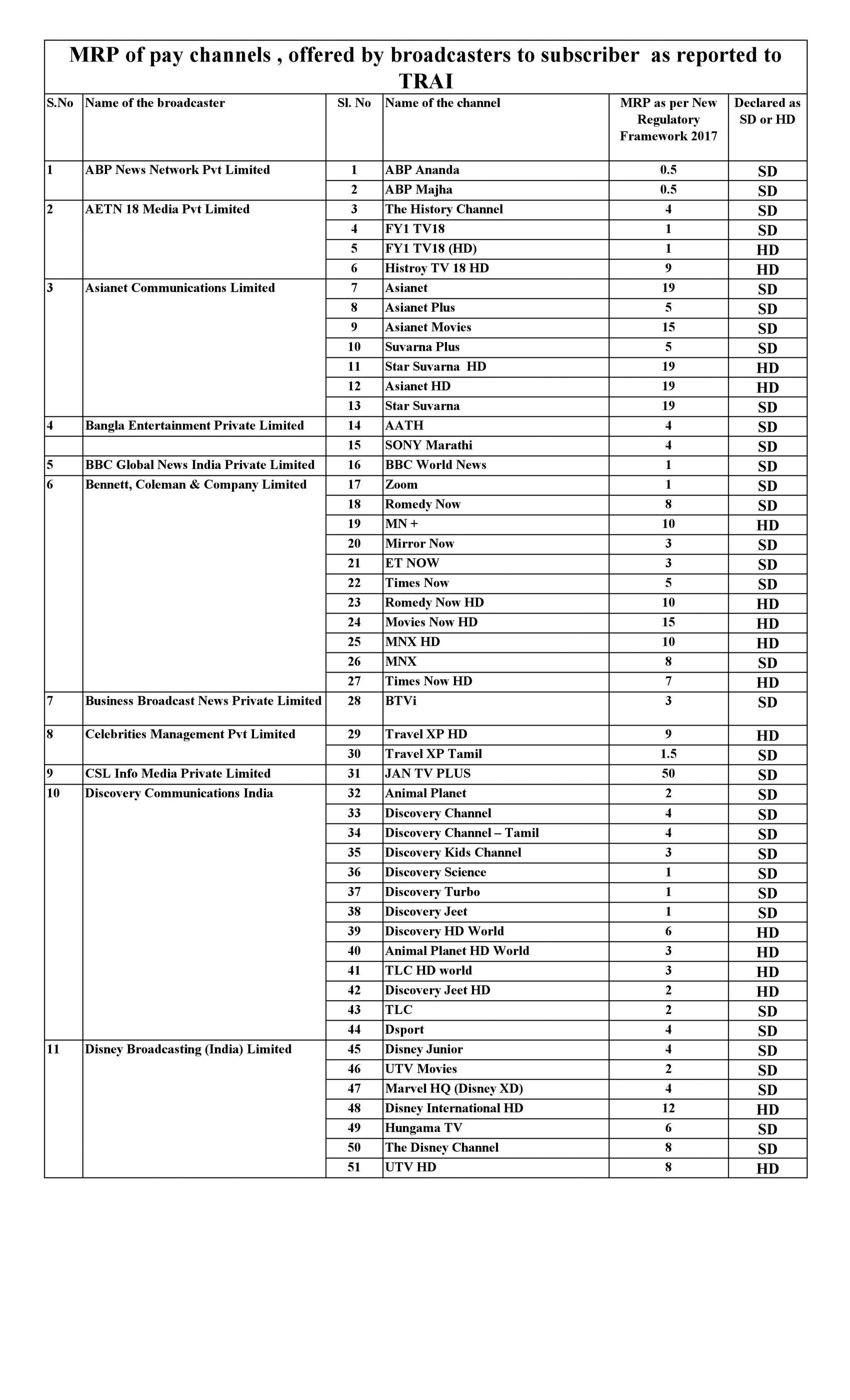 With the new norms coming into effect, customers will have to pay around Rs 440 every month for basic package with no premium channels and no regional HD channels. Going by the current rules, the users shell out Rs 200 to Rs 250 for Phase 3 and Phase 4 towns. The same costs around Rs 350 to Rs 400 in big cities for more than 250 channels inclusive of sports and regional channels.